Trojan T102 history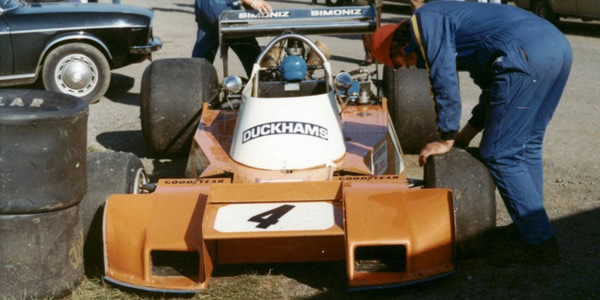 For 1974, Trojan teamed up with ex-Brabham designer Ron Tauaranac to built a new car for Formula 5000, the Trojan T102. it proved very troublesome when raced by Keith Holland, despite some impressive early speed, and was soon abandoned.
The Trojan T102 was a completely new design by Ron Tauranac, with no connection to the McLaren-based Trojan 101 that had proved so successful in 1973. The front of the car was similar to the Tauranac's 1971 F1 Brabham BT34, with small radiators either side of a central wing. Front suspension was outboard, a concept Tauranac seemed totally wedded to, and at the back also followed a familiar pattern with single top link, dual bottom link, and twin radius arms attaching to the back of the monocoque. The monocoque was fabricated from L72 aluminium alloy, with 18-gauge inner skins and 16-gauge outer skins. Tubular subframes surrounded the carburetted Alan Smith Chevrolet engine, which was bolted to the back of the monocoque. The gearbox was also a standard element, a 5-speed Hewland DG300. With the benefit of hindsight, the car is an interesting midpoint between the 1971 Brabham BT34 and Tauranac's 1975 Ralt RT1. After the car was shown to the press in November 1973, it was tested by Keith Holland, under the watchful eye of Tauranac's young assistant Patrick Head, and later by Tim Schenken. Plans were mentioned to build half a dozen cars, but no sales were announced and Trojan's focus turned to the F1 T103 project instead.
Meanwhile, Holland had signed for Ian Ward Racing, who had a McRae GM1 extensively redeveloped by former Malaya Garages and Graham McRae employee Ken Stepney, but testing by Holland at Silverstone in March 1974 showed that the 'Ward KS1' was no championship contender, and the Trojan T102 was quickly acquired instead. The Trojan was found to have lost some of its components to Trojan's F1 T103 project, and these had to be hurriedly reclaimed. Holland only managed four laps in practice for the opening round of the Rothmans F5000 series at Brands Hatch, but set an impressive time of 1m 39.7s, the fastest at that point in practice. Unfortunately, he skated off into the sleepers at Paddock, and the car could not be repaired in time for the race. Holland was again quick in practice at Mallory Park a week later, but a hub spindle thread stripped and prevented a bid for pole position. He still qualified fourth alongside Brian Redman's Lola T332. The first start was red flagged, and Holland was unable to take the restart when the metering unit failed during a warm-up session. Yet more problems intervened at Silverstone: after Holland had set the fifth best time in practice, an oil surge problem was identified and the car was withdrawn. After a lack of available mechanics prevented the car going to Oulton Park on Good Friday, Holland set ninth fastest time at Easter Monday's Brands Hatch race, and finally started the race, running in sixth place until an electrical problem forced him into the pits.
With a five week break until Thruxton, the team could do some development, and the T102 was wearing a new Chevron-like nose when Holland took it out to practice. Unfortunately, the throttles jammed open and he went off early in practice, leaving him ninth on the grid. For once the race was free of incident, and Holland finished sixth. The car was exhibiting "diabolical understeer" at Zolder, leaving Holland again ninth on the grid. He battled well in the race, chasing Chris Craft for fourth place, before the engine let go. This was the final straw, and the car was reportedly sold off, with Holland taking the opportunity to replace the injured Guy Edwards in his Lola T332. Later in the year a deal was done with Race Engine Services for Steve Thompson to drive it in the last four races of the season, but he fared no better and the car was not seen again in F5000.
Chassis
History
Current owner
Built in late 1973, but unsold until March 1974. To Ian Ward Racing for Keith Holland to race in UK in 1974. It proved fast in practice, but due to variety of problems failed to start its first five races. It had only started four races when Ian Ward withdrew from F5000 in late June. The team and car reappeared at the last four races of the season for Steve Thompson to drive. After that, the car was acquired by Mick Hill, who used the front suspension and the whole back end for his 1976 "VW Beetle" super saloon project. Everything he didn't use was eventually acquired by Roger Hurst (Folkestone, Kent) and he advertised this in 1984. The whole project was acquired by Tim and Tony Barry (Sittingbourne, Kent) in 1985 and has been owned by them ever since. Tim Barry raced the car in libre in 1987 and 1988, and also in HSCC racing in the 1990s. He returned to the Trojan for HSCC Derek Bell events since wrecking the brothers' March 76A in an accident in 2005, but Tim describes it as "as much of a pain in the butt as it was when new".
Driven by: Keith Holland, Steve Thompson and Tim Barry. First race: Mallory Park (UK R2), 24 Mar 1974. Total of 9 recorded races.
Tim and Tony Barry (UK) 2020
Please contact Allen Brown (allen@oldracingcars.com) if you can add anything to our understanding of these cars.
These histories last updated on .