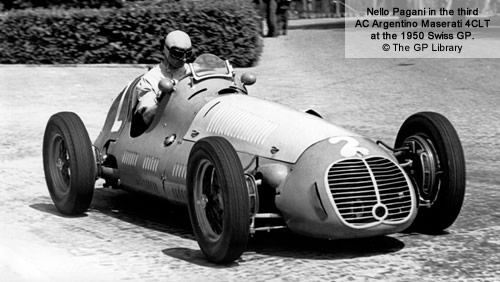 Formula 1 1950
After skipping 1949 for reasons that are still not well understood, Alfa Corse returned to Formula 1 in 1950 with the Alfetta 158. With Achille Varzi, Count Felice Trossi and Jean-Pierre Wimille all dead, their places in the team were taken by Giuseppe 'Nino' Farina, Juan Manuel Fangio and Luigi Fagioli. With an average age of 45, this was hardly an injection of youth.
The FIA had announced a new World Championship for 1950, consisting of the five Grandes Épreuves from 1949 plus the Monaco GP. This competition climaxed at Monza with Farina clinching the title after Fangio had two Alfas break under him during the race.
The main competition was from Ferrari, who tried to overwhelm Alfa with numbers at the start of the season, and Maserati's 4CLT. Neither the lumbering Lago-Talbots or the new Simca-Gordinis were anywhere near as quick although reliability sometimes brought some rewards. The Alfetta were dominant: the first three places on almost every grid and enough reliability to be running 1st and 2nd at almost every finish. Only the new Ferrari 375, emerging towards the end of the season, looked like a serious rival.
The 21 races below are the significant F1 races of the 1950 season but other races were held for F1 cars or included F1 cars in a libre field. The six World Championship events of 1950 are shown in bold.
The races
10 Apr 1950 > Richmond Trophy at Goodwood
10 Apr 1950 > Grand Prix de Pau
16 Apr 1950 > Gran Premio di San Remo at Circuito di Ospedaletti
30 Apr 1950 > Grand Prix de Paris at Montlhéry
13 May 1950 > British Grand Prix at Silverstone
21 May 1950 > Monaco Grand Prix
04 Jun 1950 > Swiss Grand Prix at Bremgarten
15 Jun 1950 > British Empire Trophy at Douglas
18 Jun 1950 > Belgian Grand Prix at Spa-Francorchamps
02 Jul 1950 > Grand Prix de l'ACF (French Grand Prix) at Reims
09 Jul 1950 > Gran Premio di Bari
13 Jul 1950 > Jersey Road Race at St Helier
16 Jul 1950 > Grand Prix d'Albi
23 Jul 1950 > Dutch Grand Prix at Zandvoort
30 Jul 1950 > Grand Prix des Nations at Geneva
12 Aug 1950 > Ulster Trophy at Dundrod
15 Aug 1950 > Gran Premio di Pescara
26 Aug 1950 > International Trophy at Silverstone
03 Sep 1950 > Italian Grand Prix at Monza
30 Sep 1950 > Goodwood Trophy at Goodwood
29 Oct 1950 > Gran Premio de Penya Rhin at Pedralbes
World Drivers' Championship events shown in bold