Surtees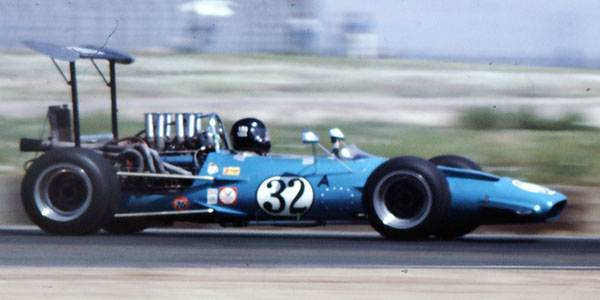 Although Team Surtees is better known for its Formula 1 cars, the team started life in 1965 to allow John Surtees to race in categories in which his employer Ferrari were not involved. Big John raced a Lola T70 in Can-Am racing, and also raced Lola's F2 cars for the next three seasons, even racing a Lola T90 Indy car on one occasion. After Surtees' relationship with Honda ended, he struck a deal to take over Len Terry's 1969 Formula 5000 project, and production of this car was moved to Team Surtees' new base at Edenbridge in Kent. The sophisticated and successful TS5 was slightly, almost imperceptibly, upgraded in 1970 as the TS5A and then followed by the Formula 1 TS7 design that summer. The Formula 5000 design was a great success, though Team Surtees may have made a mistake by not taking a more significant step forward with their 1970 car. For 1971, a F5000 adaptation of the neat little TS7 was sold as the TS8. Sales declined noticably but the old TS5s and TS5As still made Surtees one of the most numerous on US grids.
In 1972, Team Surtees again built a F5000 car based on the previous season's F1 car, this being the TS11 based on the side-radiator TS9B. Although successful on the track, the TS11 attacted few buyers and Surtees' attention turned to his highly successful Formula 2 TS10 and the later TS15s.
Rumours swirled of a TS17 F5000 car for 1974 but it was never seen and almost certainly never built.
All and any help would be gratefully received. Please e-mail Allen at allen@oldracingcars.com if you can add anything.
Sources include A-Z of Formula Racing Cars (David Hodges)
Total number built: approximately 27