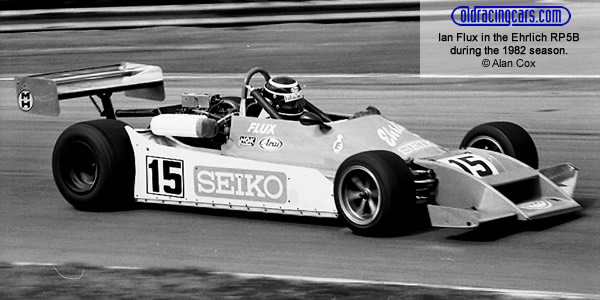 British Formula Atlantic 1982
Ray Mallock moved on again after dominating the 1981 season so the stage was left to Alo Lawler, who retained his Ralt RT4 for a third season, and the new cars from Tiga and Chevron. Unfortunately for the championship, the new Chevron B56 was a complete flop and the new Tigas were only midfield runners.
Lawler's domination was almost total: eight wins from ten events and pole position at each of the first nine races. His only defeats came at Silverstone in June when Ian Flux in the evergreen Ehrlich RP5B took the chequered flag and at Oulton Park in October when Trevor Templeton visited from Ireland with a much newer Ralt RT4/82 and dominated the event. Mike Catlow returned with his five-year-old ex-hillclimb Ralt RT1 which was quick enough and reliable enough to take a series of minor placings and secure second place in the championship.
The races
12 Apr 1982 > Castle Combe
03 May 1982 > Silverstone
31 May 1982 > Mallory Park
06 Jun 1982 > Silverstone
03 Jul 1982 > Aintree
01 Aug 1982 > Brands Hatch
14 Aug 1982 > Oulton Park
30 Aug 1982 > Mallory Park
19 Sep 1982 > Brands Hatch
16 Oct 1982 > Oulton Park
1982 British Formula Atlantic Championship table
| | | | | |
| --- | --- | --- | --- | --- |
| 1 | Alo Lawler | Ralt RT4/80 - Ford BDD Smith | 143 pts | 8 wins |
| 2 | Mike Catlow | Ralt RT1 - Ford BDD | 92 pts | |
| 3 | Ian Flux | Ehrlich RP5B - Ford BDD | 83 pts | 1 win |
| 4 | John Sheldon | Tiga FA81/82 - Ford BDD Nicholson | 74 pts | |
| 5 | Duncan Bain | March 78B - Ford BDD Nicholson | 69 pts | |