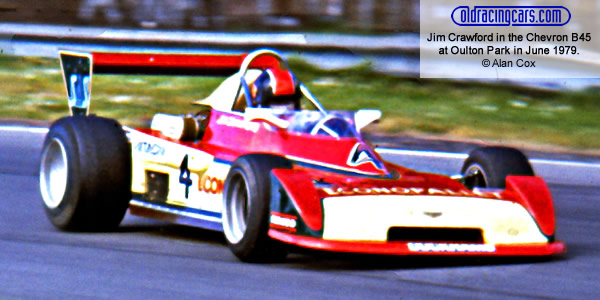 British Formula Atlantic 1979
Formula Atlantic's most successful period in the UK had been 1974-1975 which had coincided with a thin period for Formula 3 as it moved from 1600c to 2000cc. As F3 was revitalised, Formula Atlantic lost support, lost its sponsorship, and lost its way. The misguided Indylantic experiment of 1976 hastened its decline and no series was held in 1977. The cars continued in Group 8 that season but after they were thrown out of there too, their only outlet in 1978 was libre racing and the flourishing Irish Atlantic series. After a successful experimental race at Donington in 1978, a new series was organised by the BRSCC for 1979.
Despite sponsorship from Hitachi, prize money was poor and support was low although Ray Mallock and Jim Crawford took the opportunity to remind the country of their talent. Alo Lawler won the rain-soaked opener at Mallory Park in the Lola T760 wing car but Ray Mallock dominated the rest of the season in his Ralt RT1, formerly a Ralt-Ferrari F2 car. Crawford was his closest competitor in the ex-Keke Rosberg Chevron B45 with Paul Smith putting in some strong performances in his updated March 782.
The races
11 Mar 1979 > Mallory Park
01 Apr 1979 > Thruxton
08 Apr 1979 > Silverstone
15 Apr 1979 > Brands Hatch
29 Apr 1979 > Brands Hatch
07 May 1979 > Castle Combe
28 May 1979 > Mallory Park
17 Jun 1979 > Silverstone
30 Jun 1979 > Oulton Park
08 Jul 1979 > Snetterton
15 Jul 1979 > Donington Triple Crown Atlantic Race at Donington Park
22 Jul 1979 > Barratt Formula Atlantic Trophy Race at Ingliston
29 Jul 1979 > Mallory Park
27 Aug 1979 > Silverstone
08 Sep 1979 > Oulton Park
14 Oct 1979 > Brands Hatch
Hitachi British Formula Atlantic Championship events shown in bold
1979 Hitachi British Formula Atlantic Championship table
1
Ray Mallock
Ralt RT1 - Ford BDA
Ralt RT4 - Ford BDA
114 pts
8 wins
2
Jim Crawford
Chevron B45 - Ford BDA
82 pts
5 wins
3
Phil Dowsett
March 782/79B - Ford BDA
40 pts
4
Paul Smith
March 782 - Ford BDA
28 pts
5
Andrew Jeffrey
Chevron B49 - Ford BDA
27 pts