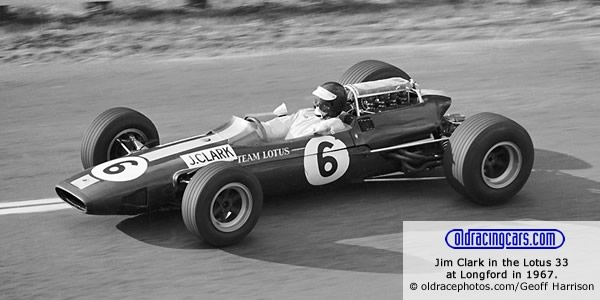 Tasman Cup 1967
After the success BRM had achieved in 1966 with a 1.5-litre F1 car with enlarged engine, Jim Clark and Lotus tried the same approach and returned in 1967 with a Lotus 33 fitted with one of the very rare 2-litre Climax FWMV V8 engines. BRM hadn't rested on their laurels and had enlarged their P60 V8 engines from last season's 1930cc to 2070cc and had three BRM P261s on standby for Jackie Stewart and Richard Attwood. Completing the strongest line-up yet for the Tasman Cup, Jack Brabham was back for the full season with teammate Denny Hulme and a two-car team of Brabhams with full 2.5-litre Repco V8 engines.
Stewart was very quick in his BRM but a series of gearbox failures left him with just two victories, ironically at the high-profile national Grands Prix. The Brabham-Repcos were also horribly unreliable although Jack was able to use his exra horsepower to dominate at the very fast Longford circuit. So that left Clark largely unchallenged as the Lotus-Climax finished every race and won five of them, including three that counted for points.
Frank Gardner had the best of the local cars, Alec Mildren's ex-F2 Brabham BT16 with 2.5-litre Climax engine and tied for second in the title race after a string of third and fourth places. Kevin Bartlett also ran well in Mildren's second string Brabham BT11A and Leo Geoghegan finished an excellent second at Sandown in his ex-Clark Lotus 39-Climax.
For more on the 1967 Tasman season, see '1967: Hulme, Stewart and Clark: Levin, New Zealand Tasman and beyond…' on Primotipo.
The races
07 Jan 1967 > New Zealand Grand Prix at Pukekohe
14 Jan 1967 > Levin International
21 Jan 1967 > Lady Wigram Trophy
28 Jan 1967 > Teretonga International at Teretonga Park
12 Feb 1967 > Lakeside "99"
19 Feb 1967 > Australian Grand Prix at Warwick Farm
26 Feb 1967 > Sandown Park Cup
05 Mar 1967 > South Pacific Trophy at Longford
Tasman Cup events shown in bold
1967 Tasman Cup table
1
Jim Clark
2-litre Lotus 33 - Climax FWMV V8
45 pts
3 wins
2=
Jackie Stewart
2.1-litre BRM P261 - V8
18 pts
2 wins
2=
Jack Brabham
Brabham BT22 - Repco V8
Brabham BT23A - Repco V8
18 pts
1 win
2=
Frank Gardner
Brabham BT16 - Climax FPF
18 pts
5
Richard Attwood
2.1-litre BRM P261 - V8
10 pts
6
Kevin Bartlett
Brabham BT11A - Climax FPF
9 pts
7
Leo Geoghegan
Lotus 39 - Climax FPF
8 pts
8=
Denis Hulme
Brabham BT7A - Climax
Brabham BT22 - Repco V8
7 pts
8=
Chris Irwin
2.1-litre BRM P261 - V8
7 pts
10=
Jim Palmer
Brabham BT22 - Climax FPF
3 pts
10=
John Harvey
1650cc Brabham BT14 - Ford twin cam
1860cc Brabham BT14 - Ford twin cam
3 pts
12
Graeme Lawrence
1.5-litre Brabham BT18 - Ford twin cam
2 pts
13=
Dene Hollier
1.5-litre Lotus 27 - Ford twin cam
1 pt
13=
Roly Levis
1.5-litre Brabham BT18 - Ford twin cam
1 pt
All cars are 2.5-litre Tasman formula cars unless otherwise noted.