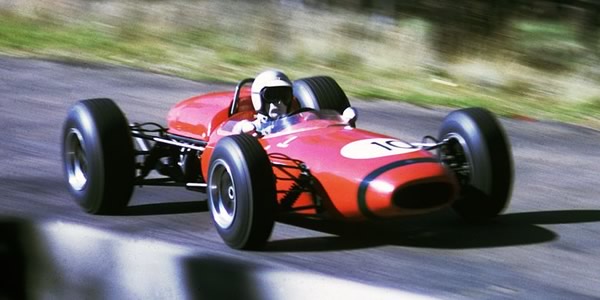 Tasman Champions
Back in the days when motor racing was for fun, a driver's idea of a close-season holiday was to run in the races in New Zealand and Australia. Once these races were formalised into a championship, the top drivers of the day competed for the Tasman Cup. Everyone to win the World Championship from 1959 to 1971 took part at some point.
As the F1 season expanded and the winter break shrank, the Tasman series reduced in importance at the end of the 1960s and was competed by local drivers during the F5000 period of the 1970s.
Tasman Cup Champions (2.5-litre era)
1964
Bruce McLaren
Cooper T70 (both FL-2-64 and FL-1-64)
1965
Jim Clark
Lotus 32B [8]
1966
Jackie Stewart
BRM P261 [2617]
1967
Jim Clark
Lotus 33 [R14]
1968
Jim Clark
Lotus 49T [R2]
1969
Chris Amon
Ferrari 246T/69 [008]
Driver stats: 2.5-litre era 1964-1969
Race wins
Jim Clark
14
Chris Amon
6
Jack Brabham
5
Bruce McLaren
5
Jackie Stewart
5
Graham Hill
4
Jochen Rindt
2
Piers Courage
2
Denny Hulme
1

Most starts
Frank Gardner
38
Jim Clark
29
Roly Levis
28

Jim Palmer

28
Graham Hill
23
Denny Hulme
21
Jack Brabham
20
Chris Amon
19
Bruce McLaren
19
Graeme Lawrence
19

Most points*
Jim Clark
185

Frank Gardner

95
Graham Hill
93

Bruce McLaren

84
Chris Amon
80

Jack Brabham

80
Jackie Stewart
69
Jim Palmer
65
Piers Courage
56
Richard Attwood
39
The statistics above only include the 44 races that were official rounds of the Tasman Cup. Three other races, Lakeside in March 1965, Levin in Jan 1967 and Teretonga also in Jan 1967 were full Internationals with major fields and are included in the results section.
Driver stats: Tasman Cup 1964-1975
Race wins
Jim Clark
14
Graham McRae
13
Chris Amon
7
Jack Brabham
5
Frank Matich
5
Bruce McLaren
5
Jackie Stewart
5
Graham Hill
4
Niel Allen
3
Warwick Brown
3
Graeme Lawrence
3
John McCormack
3

Most starts
Graeme Lawrence
54
Kevin Bartlett
54
Graham McRae
49

Frank Gardner

49
Max Stewart
43
Frank Matich
40
Ken Smith
34
John McCormack
33
Chris Amon
32
Jim Clark
29
David Oxton
29

Most points*
Jim Clark
185

Graham McRae

158
Frank Gardner
140

Frank Matich

120
Chris Amon
112

Graham Hill

93
Graeme Lawrence
86
Bruce McLaren
84
Jack Brabham
80
Max Stewart
79
Of the regulars, Jim Palmer gained an impressive 65 points from his 28 starts but never placed higher than third. Kenny Smith only gained 14 pts from his 34 starts but that's still better than Frank Radisich's single point from 26 starts.
The statistics above only include the 44 races from the previous section plus the official rounds of the 1970-1975 Formula 5000 Tasman Cup.
*Points are based on the traditional 9-6-4-3-2-1 system.