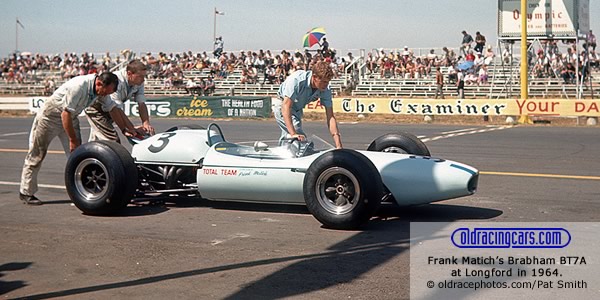 Tasman Cup 1964
The first Tasman Cup was a battle of the expats as a two-car team of Brabhams led by Australian Jack Brabham faced a two-car team of Coopers led by Kiwi Bruce McLaren. McLaren won three of the four New Zealand races but when the teams moved to Australia for the second half of the series, Brabham won the first three of those. It sounds like a Hollywood set up for a thrilling finish but the points system denied that, as Brabham was unable to improve his score and McLaren emerged as champion.
The most successful of the locals was John Youl with six finishes in the top 5, a fabulous performance in a three-year-old car. Bib Stillwell only competed in three Australian races and twice pipped Youl, including a remarkable second place in the Australian Grand Prix at Sandown Park. Frank Matich was very quick in his new Team Total Brabham BT7A, taking pole position at Warwick Farm and leading until his suspension broke, but he retired five times in total and finished only once: third place at Longford ahead of both Stillwell and Youl.
The races
04 Jan 1964 > Levin International
11 Jan 1964 > New Zealand Grand Prix at Pukekohe
18 Jan 1964 > Lady Wigram Trophy
25 Jan 1964 > Teretonga International at Teretonga Park
09 Feb 1964 > Australian Grand Prix at Sandown Park
16 Feb 1964 > Warwick Farm "100"
23 Feb 1964 > Lakeside "99"
02 Mar 1964 > South Pacific Trophy at Longford
1964 Tasman Cup table
1
Bruce McLaren
Cooper T70 - Climax FPF
39 pts
3 wins
2
Jack Brabham
Brabham BT7A - Climax FPF
33 pts
3 wins
3
Denis Hulme
Brabham BT4 - Climax FPF
23 pts
1 win
4
John Youl
Cooper T55 - Climax FPF
21 pts
5
Tim Mayer
Cooper T70 - Climax FPF
20 pts
6
Graham Hill
Brabham BT4 - Climax FPF
12 pts
1 win
7
Bib Stillwell
Brabham BT4 - Climax FPF
10 pts
8
Jim Palmer
Cooper T53 - Climax FPF
9 pts
9
Tony Shelly
Lotus 18/21 - Climax FPF
Lola Mk4A - Climax FPF
8 pts
10
Frank Matich
Brabham BT7A - Climax FPF
4 pts
11
Frank Gardner
(ANF1.5) 1.5-litre Brabham BT6 - Ford twin cam
3 pts
12=
Roly Levis
1650cc Lotus 22 - Ford pushrod
1 pt
12=
Glyn Scott
(ANF1.5) 1.5-litre Lotus 27 - Ford
1 pt
12=
Lex Davison
Cooper T62 - Climax FPF
1 pt
All cars are 2.5-litre Tasman formula cars unless otherwise noted.