Chevron Formula 5000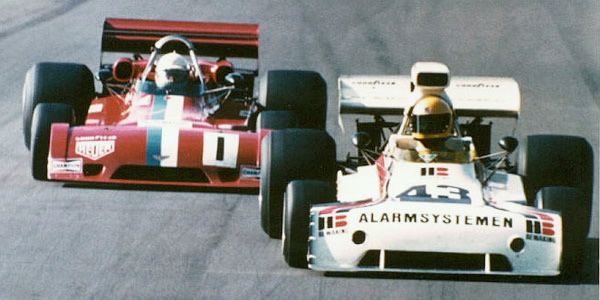 Derek Bennett Engineering was formed in 1966 to produce Clubmans Formula cars but it was not long before the idea was floated of 'putting a roof on one' and moving into GT racing. The GT Chevron B3, like Bennett's B1 the year before, won on its debut and the little cars from Bolton began to make a big reputation.
At the end of 1967, a prototype Formula 3 car appeared in the hands of a young Peter Gethin and a first toe in the waters of F2 followed in 1968. The company consolidated its position in sports racing with a highly successful series of cars: the B16 and B19 also winning on their debuts. Single-seater success came in F3 and in US Formula B and the company returned to F2 with derivatives of these smaller cars.
Early in 1972, Brian Redman asked Bennett if he could build a F5000 car. Just ten weeks later, the B24 continued the Chevron fairy tale with a debut win at Oulton Park. A production run of B24s followed in 1973 but customer sales dropped away with the B28 and B30 that followed. A final one-off F5000, the B37, appeared in 1976 as did the one-off hill climb B32 along similar lines. The company had meanwhile managed to break through in F2, the B40 and B42 being perhaps the most numerous, if not the most successful, F2 cars in 1977 and 1978, and continued their sport racing success with the B21, B23, B26, B31 and B36.
In March 1978, with Chevron perhaps at its peak, Derek Bennett died following a hang gliding accident. The company reorganised and brought in Tony Southgate to design a ground-effect version of the B42 for 1979 but both the F2 and F3 cars flopped and new Managing Director Dave Wilson pinned Chevron's hopes on a Can-Am design, the B51. With sales disappearing in their traditional markets, the company went into liquidation early in 1980. The assets of the company passed to Robin Smith's consortium and later, in 1983, to Roger Andreason and Tim Colman.
All and any help with the F5000 Chevrons would be gratefully received. Please email Allen at allen@oldracingcars.com if you can add anything.
Original source: Chevron: The Derek Bennett Story (David Gordon)