McLaren M21 car-by-car histories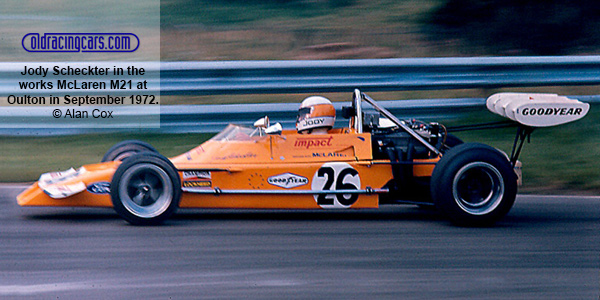 McLaren returned to Formula 2 in 1972 with the McLaren M21, the works car being driven by Jody Scheckter. None were sold to customers, so McLaren wound up the production relationship with Trojan.
McLaren had attempted Formula 2 once before, in 1967 with the McLaren M4A, but despite the best efforts of Bruce McLaren and Piers Courage, had not won a single Formula 2 race. For 1972, Ralph Bellamy designed the McLaren M21, a low monocoque with standard outboard suspension front and rear. It was flatter and squarer in profile than any previous McLaren but continued to have the main radiator in the nose, ducting out the top. There was a plan to put the M21 into production via Trojan, but none were sold.
Jody Scheckter was selected to drive the works Formula 2 car, the young South African having impressed in Formula Ford and Formula 3 in 1971, his first season in Europe. As a works entry, the McLaren team was able to secure one of the rare Cosworth BDF engines that had been prepared for the new 2-litre Formula 2. At 1927cc, it was the largest capacity to which a BDA engine could be stretched before it broke, but the BDF still broke regularly. 1972 was a highly competitive season in Formula 2, with regular contenders March, Brabham, Lotus and Chevron joined by new entrants Surtees, GRD and Tui, as well as the returning McLaren. Scheckter was troubled by handling problems as well as engine failures in the early races, but the car benefited from a test session with McLaren's F1 driver Denny Hulme at Goodwood in May, and with the rear wing moved back the car was much more stable in practice for the Crystal Palace race on 29 May. Scheckter was second behind Mike Hailwood's Surtees TS10 in Heat 2, after Carlos Reutemann had won Heat 1 in a Brabham BT38 from Vic Elford's Chevron B20. Scheckter led the opening laps of the final from Hailwood but the Surtees driver squeezed past on lap 12 and the Surtees led until its rear anti-roll bar broke and Scheckter started to reel him in. With just a few laps to go, Scheckter forced his way into the lead and gave McLaren its first-ever victory in Formula 2. After that, the McLaren had to use smaller 1800cc Cosworth BDEs or Racing Services' less powerful 1927cc Ford BDAs, and there would be no more success for the M21 in F2.
If you can add to our understanding of these cars, or have photographs that we can use, please email Allen at allen@oldracingcars.com.
Chassis
History
Current owner
New for Jody Scheckter to race in the 1972 F2 series as a works Bruce McLaren Motor Racing entry (won at Crystal Palace in May). Sold to Yves Martin (Rennes, France) and used in French hillclimbs during 1973 and 1974. Crashed heavily at Montgueux in September 1974. Rebuilt during 1975 with new bodywork and entered for Gilles Péquegnot as the Guépard in the last few months of the 1975 season. Sold to Didier Bonnet (Besançon, France) for 1976, and fitted with a 1600cc engine. The later history of this car is unknown. Note that the three cars restored in the 1990s are all believed to be Trojan-built cars, and none are the ex-Scheckter car.
Driven by: Jody Scheckter, Yves Martin, Gilles Péquegnot and Didier Bonnet. First race: Mallory Park (R1), 12 Mar 1972. Total of 71 recorded races.
Unknown
1972, 1973 and 1974
Trojan's planned production for 1972 consisted of the Formula 2 McLaren M21, the Formula 5000 McLaren M22, and the Can-Am M8FP, a productionised version of the 1971 M8F. Nine Can-Am cars were sold, but the F5000 M22 - effectively just an updated M18 - was a complete disaster, with only VDS choosing to buy a car. The M21 also sold very poorly, and as McLaren had decided to pull out of the Can-Am series for 1973, the relationship with Trojan was brought to an end.
McLaren M21s in Formula Atlantic
Trojan used the M21 chassis as the basis for the company's own Formula 5000 product in 1973, the Trojan T101. It was effectively a M21 front end and a McLaren M22 rear end, and proved very successful, winning the SCCA's L&M Formula 5000 championship in the hands of Jody Scheckter. The success of that model went to Trojan's heads somewhat, and two new models were built for 1974, a T102 Formula 5000 and a T103 for Formula 1, both designed by Ron Tauranac. Ian Ward Racing bought a T102, but that was the only one that sold, and the F1 cars turned out to be completely uncompetitive. In October 1974, Peter Agg announced Trojan's withdrawal from motor racing.
Lurking about the factory while all this was going on were a couple of unsold McLaren M21s, and when the stock was sold off after Trojan's withdrawal, two cars were sold to Steve Prior in November to be used in British Formula Atlantic. The team was to be called Team Astor, named after Prior's Berkeley Square night club.
Chassis
History
Current owner
One of two cars entered by Astor Club Racing International in British Formula Atlantic in 1975, this car was raced by Steve Prior. Prior returned for Indylantic in 1976, now sponsored by Capital Radio and Applied Racing Techniques. This car is then unknown until acquired at auction by Chris MacAllister in the late 1990s. Retored by Kerry Adams for MacAllister, at the same time another car was restored for Jody Scheckter with help from McLaren International who owned the ex-Tony Trimmer car. As none of the three cars had chassis plates, McLaren International gave MacAllister a '3' chassis plate. MacAllister sold the M21 to James King in 2012. James raced it in US historic racing until 2019, when the engine blew apart at Road America. In late 2020, it was in a west coast preparation shop, awaiting its new alloy BDG engine. Raced by King at Laguna Seca in May 2021. In October 2022, the car was on display in the Petersen Museum (Los Angeles, CA)
Driven by: Steve Prior. First race: Croft, 4 May 1975. Total of 10 recorded races.
James King (USA) 2022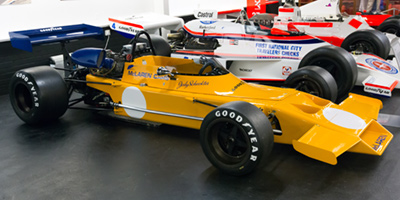 One of two cars entered by Astor Club Racing International in British Formula Atlantic in 1975, this car was raced by Roberto Alvarez at Silverstone on 13 April, and then by Tony Trimmer later in the season. This car was next seen when acquired by Tony Dunne, who raced it in the British Formula Atlantic series in 1982. Dunne then entered Alo Lawler in Dunne's McLaren M30 in BRSCC libre in 1984 and 1985, and traded the M21 back to McLaren International in 1986 for the spare M30 monocoque. McLaren International rebuilt the car to Scheckter's F2 configuration, and the car was on display in the Donington Museum for many years. When the other two cars were restored in the late 1990s and none were found to have a chassis plate, McLaren International issued this car with a '1' chassis plate. The McLaren International car was still in Donington in October 2018.
Driven by: Roberto Alvarez, Tony Trimmer and Tony Dunne. First race: Silverstone (R4), 13 Apr 1975. Total of 8 recorded races.
McLaren International (UK) 2018
1977 to 1996
One of the cars returned to the tracks in 1982 for a few races, but by this time it was such an antique that McLaren International expressed an interest in acquiring it for their collection.
The late 1990s restorations
In the late 1990s, McLaren collector Chris MacAllister acquired the very tatty ex-Steve Prior M21 at auction, and this led to a review of where all the M21s had gone. The real ex-F2 car could not be found, but McLaren International had the ex-Trimmer car, MacAllister had the ex-Prior car, and there was also a leftover monocoque from Trojan's production. Jody Scheckter also wanted a car for his collection, and by combining all the parts, it was possible to build three cars. The recreation and restoration project was handed to Kerry Adams. As none of these three cars had chassis plates, McLaren International issued new plates: '1' for their own car, '2' for Scheckter's and '3' for MacAllister's.
Chassis
History
Current owner
An unused McLaren M21 monocoque that remained at Trojan after the other cars were sold. In the late 1990s, it was built up by Kerry Adams at the same time that the ex-Tony Trimmer car was restored for Chris MacAllister. McLaren International gave this car a '2' chassis plate. The car has been in Jody Scheckter's collection since then.
Jody Scheckter (UK) 2017
Acknowledgements
My thanks to David McKinney, Chris MacAllister, Tony Nicholson, Dan Rear, Steve Cook for their help with this subject, and to Alan Cox for the use of his photograph.
These histories last updated on .