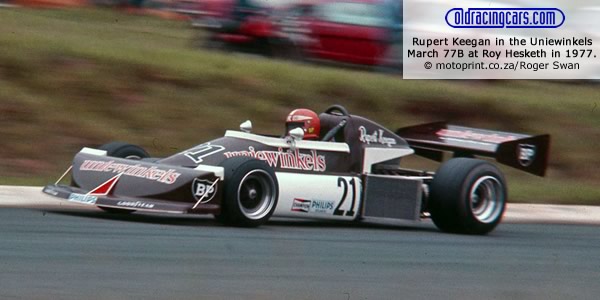 South African Formula Atlantic 1977
Champion Ian Scheckter went into 1977 as overwhelming favourite to retain his title. His dominance during 1976 had secured him a seat in the March F1 and he would have a new works-supported March 77B for the 1977 South African season. Also in March 77Bs were Ralt refugee Roy Klomfass and a guest driver, the British F3 star Rupert Keegan. Chevron had also organised a guest driver for their new B39, the Canadian and IMSA Formula Atlantic champion Gilles Villeneuve who, like Scheckter and Keegan, was tipped for a F1 ride in 1977. Chevron's local representation was led by Tony Martin in a second B39.
Scheckter's performances against the highly-rated Villeneuve and Keegan were hugely impressive, winning each of the opening three races from pole, and despite needing to miss several races because of his F1 commitments, he tied up the title with two races to spare. Roy Klomfass continued to impress in his March and such was the dominance of the 77B that two more were sold, to Alex Blignaut for Nols Nieman and to Bobby Scott.
The races
15 Jan 1977 > Datsun Summer Races at Roy Hesketh
29 Jan 1977 > Highveld "100" at Kyalami
05 Feb 1977 > Goldfields "100" at Goldfields Raceway (Welkom)
19 Feb 1977 > Cape South Easter Trophy at Killarney
19 Mar 1977 > Scribante Summer Trophy at Aldo Scribante
30 Apr 1977 > Brandkop Trophy
11 Jun 1977 > Republic Day Trophy at Kyalami
26 Jun 1977 > Rhodesian Grand Prix at Donnybrook
20 Aug 1977 > Goldfields Trophy at Goldfields Raceway (Welkom)
05 Sep 1977 > Natal Spring Trophy at Roy Hesketh
01 Oct 1977 > Rand Spring Trophy at Kyalami
15 Oct 1977 > False Bay "100" at Killarney
1977 South African Formula Atlantic Championship table
1
Ian Scheckter
March 77B - Ford BDA Nicholson
63 pts
6 wins
2
Roy Klomfass
March 77B - Ford BDA Swindon
54 pts
4 wins
3
Tony Martin
Chevron B39 - Ford BDA Nicholson
36 pts
1 win
4
Nols Nieman
Wheatcroft R18 - Ford BDA Nicholson
March 77B - Ford BDA
33 pts
1 win
5
Len Booysen
March 76B - Ford BDA
25 pts
6
Dave Charlton
March 76B - Ford BDA Swindon
23 pts
7
Bobby Scott
March 77B - Ford BDA
20 pts
8
John Gibb
March 77B - Ford BDA Swindon
18 pts
9=
Kevin Stopford
Modus M3 - Ford BDA Nicholson
8 pts
9=
Basil van Rooyen
Chevron B34 - Ford BDA Swindon
8 pts
11
Gilles Villeneuve
Chevron B39 - Ford BDA Swindon
6 pts
12=
Evan Boddy
Chevron B34 - Ford BDA Nicholson
2 pts
12=
Rupert Keegan
March 77B - Ford BDA Swindon
2 pts
14=
Mike Domingo
March 76B - Ford BDA
1 pt
14=
Grant Maben
Wheatcroft R18 - Ford BDA Nicholson
1 pt