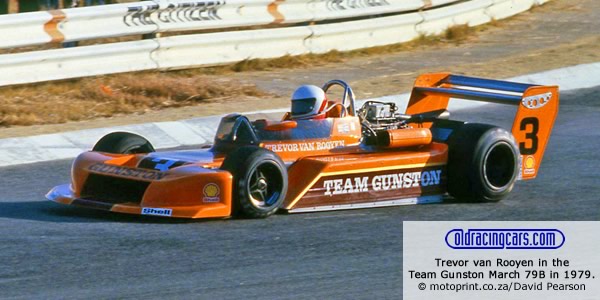 South African Formula Atlantic 1978-79
This final season of South African Formula Atlantic racing started in October 1978 and ran until May 1979. Ian Scheckter continued to run his 78B at first but Roy Klomfass upgraded his older 77B for a new 79B as soon as the prototype was available. Scheckter decided to upgrade as well but instead of the 79B, a very evolutionary update of the 78B, he decided on the 79A, a car built to order for Formula Atlantic based on the new ground-effects Formula 2 792. In the US later in 1979, this car would prove entirely ineffective but in Scheckter's hands it worked perfectly well and he immediately reeled off three more victories.
From 1 January 1979, engines built in South Africa were allowed alongside the BDA and three options were given: pushrod engines up to 3000cc, such as the Ford Essex V6; Mazda rotary engines; or twin-cam two-valve engines up to 2000cc such as the Alfa Romeo, Fiat and BMW powerplants. Then, after 31 May 1979, only South African engines were allowed. The cost of maintaining the Ford BDA was given as the main reason for the change and the new engines were expected to produce around 220 bhp, compared with the BDA's 200. Permitted engine modifications followed the rules for the Modified Saloon series. All the main runners stayed with their Cosworth BDD engines until the end of the series in May.
The races
10 Oct 1978 > Rand Spring Trophy at Kyalami
28 Oct 1978 > False Bay "100" at Killarney
11 Nov 1978 > Goldfields "100" at Goldfields Raceway (Welkom)
02 Dec 1978 > Roy Hesketh
27 Jan 1979 > Highveld "100" at Kyalami
10 Feb 1979 > Goldfields "100" at Goldfields Raceway (Welkom)
24 Mar 1979 > Cape South Easter Trophy at Killarney
14 Apr 1979 > Coronation "100" at Roy Hesketh
12 May 1979 > Rand Autumn Trophy at Kyalami
1978-1979 South African Formula Atlantic Championship table
1
Ian Scheckter
March 78B - Ford BDD Nicholson
March 79A - Ford BDD Nicholson
74 pts
8 wins
2
Trevor van Rooyen
March 77B - Ford BDD
March 79B - Ford BDD Nicholson
36 pts
1 win
3=
Bobby Scott
March 77B - Ford BDD
24 pts
3=
Roy Klomfass
March 77B - Ford BDD
March 79B - Ford BDD
24 pts
5
Mike Domingo
March 76B - Ford BDD Nicholson
19 pts
6
Tony Martin
Chevron B34 - Ford BDD
Chevron B45 - Ford BDD
18 pts
7
Clive Cooke
March 78B - Ford BDD
9 pts
8
Bernard Tilanus
Wheatcroft R18 - Ford BDD
5 pts
9=
Basil van Rooyen
March 77B - Ford BDD
4 pts
9=
Yunus Domingo
Modus M3 - Ford BDD Nicholson
4 pts