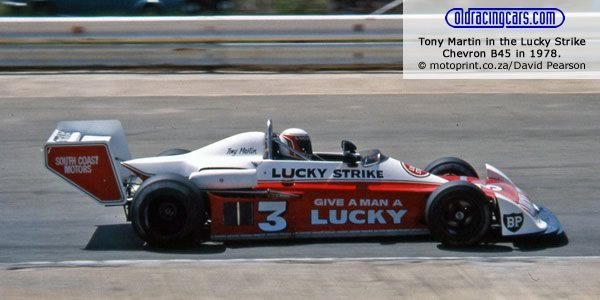 South African Formula Atlantic 1978
The third season of Formula Atlantic started by following a similar trend: Ian Scheckter went to Europe and bought the best available car and then won the opening race of the season from pole position. Competition could be expected as usual from Roy Klomfass but he had left Team Gunston and was now driving the Team Uniewinkels March 77B, as driven in 1977 by Rupert Keegan and then John Gibb. His seat in the Gunston-liveried March 77B was taken by Trevor van Rooyen who had made his name beating Nigel Mansell to the 1977 RAC British Formula Ford title. Tony Martin remained committed to Chevron and bought one of the few Chevron B45s to leave the factory but could not compete with the three leading Marches.
For once there was dramatic tension. After six races, Scheckter led by just three points from Van Rooyen with Klomfass seven points further back, but a dominant win in the penultimate race sealed a third successive title. This time the season was completed in May, before the South African winter, and a new season would begin in September.
The races
07 Jan 1978 > Cape South Easter Trophy at Killarney
04 Feb 1978 > Highveld "100" at Kyalami
11 Feb 1978 > Goldfields "100" at Goldfields Raceway (Welkom)
25 Feb 1978 > Scribante Summer Trophy at Aldo Scribante
25 Mar 1978 > Easter "120" at Roy Hesketh
08 Apr 1978 > Brandkop Trophy
29 Apr 1978 > Rand Autumn Trophy at Kyalami
27 May 1978 > Roy Hesketh
1978 South African Formula Atlantic Championship table
| | | | | |
| --- | --- | --- | --- | --- |
| 1 | Ian Scheckter | March 78B - Ford BDD | 45 pts | 3 wins |
| 2 | Roy Klomfass | March 77B - Ford BDD Swindon | 35 pts | 3 wins |
| 3 | Trevor van Rooyen | March 77B - Ford BDD Swindon | 34 pts | 2 wins |
| 4 | Bobby Scott | March 77B - Ford BDD | 21 pts | |
| 5= | Nols Nieman | March 77B - Ford BDD | 17 pts | |
| 5= | Tony Martin | Chevron B45 - Ford BDD Swindon | 17 pts | |
| 7 | Mike Domingo | March 76B - Ford BDD | 9 pts | |
| 8 | Dave Charlton | March 76B - Ford BDD | 7 pts | |
| 9 | Clive Cooke | Donnelly JD201 - Ford BDD | 6 pts | |
| 10 | Keith Zeeman | Wheatcroft R18 - Ford BDD | 4 pts | |
| 11 | Evan Boddy | Chevron B34 - Ford BDD Nicholson | 3 pts | |
| 12= | Len Booysen | Kauhsen 2J - Ford BDD Richardson | 1 pt | |
| 12= | Bernard Tilanus | March 76B - Ford BDD | 1 pt | |