Ellen Lohr interview
by Richard Jenkins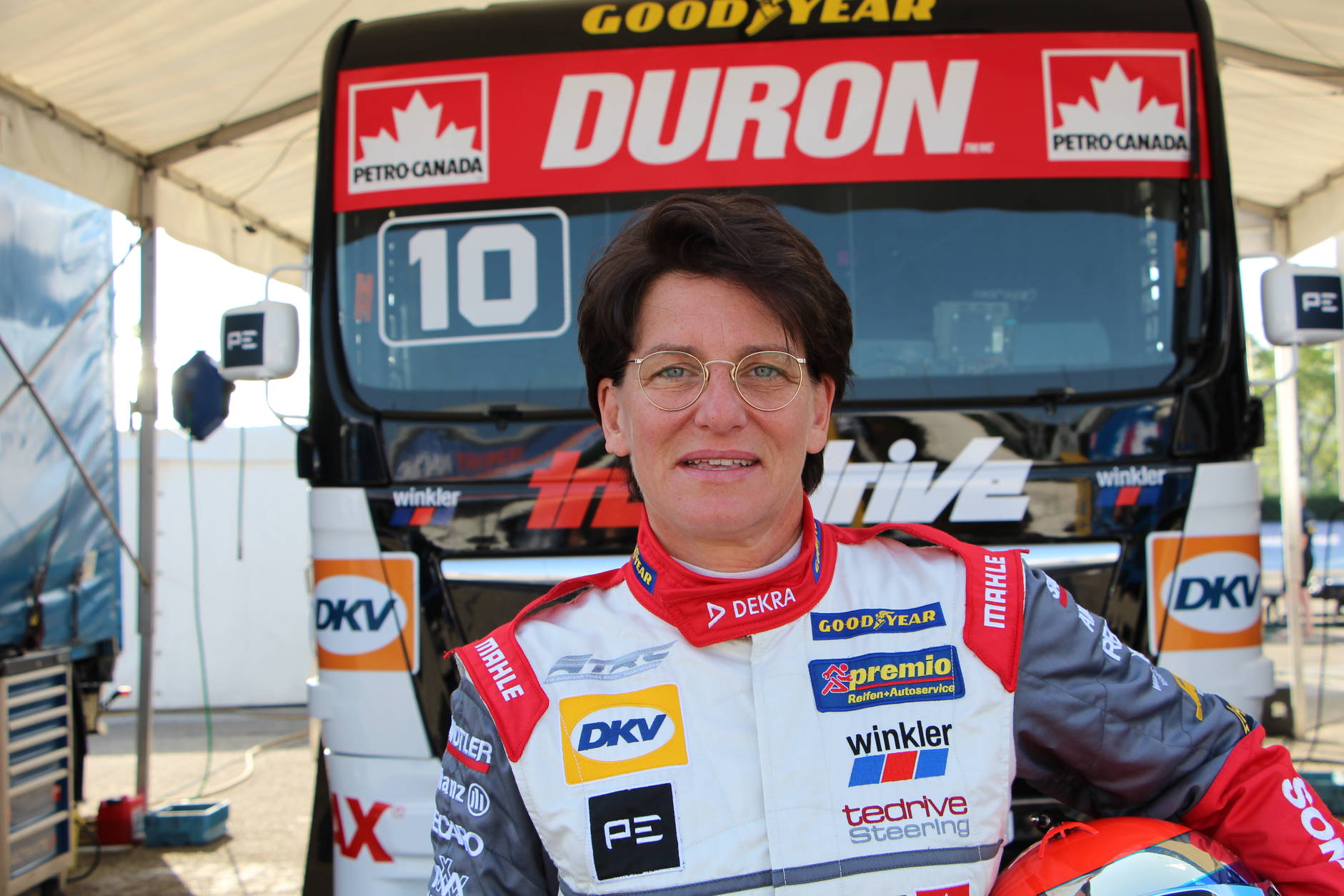 RJ: What attracted you to racing initially?
EL: Initially it was through my family, because my father did karting, and he took his children to the kart track. So, for me, the spark was there from the beginning – not for my brother mind you - but it was for me.
RJ: 1987 was the breakthrough year for you as you won the Formula Ford 1600 series that year, you raced in German F3 and you also raced in the DTM. Did you find that the extra racing you did helped your single-seater career?
EL: Absolutely. Those times back then, when racing, it was totally different. I remember, that at one of my favourite tracks, the Salzburgring, that I finished fourth in the Formula Ford race there, but on the same weekend, I was doing the DTM for BMW and I finished second in this race. So, nowadays, you couldn't imagine; actually, I have to say it is getting a little bit like that again, with Mattias Ekstrom doing rallycross and the DTM together at the same weekend at Hockenheim; but no-one would normally do that nowadays. Of course, everything you do helps with every aspect of racing. I really like that in the thirty years I've been racing, I've experienced so much; I think I've raced in almost everything. Actually, not everything, rallycross is missing! But every race, every experience, it helps you as a driver, you learn each time you race.
RJ: Who was your toughest opponent when racing in Formula 3 and Formula Ford 1600?
EL: Well, they were tough years. You have to remember that I was part of the "Baby Boom" generation. There was Michael Schumacher, there was Heinz-Harald Frentzen, there was Karl Wendlinger, there was Michael Bartels; so many guys who enjoyed a successful career afterwards and I mean, really successful. So, they're all racing at the same time, in the same championship, the same races – Mika Hakkinen too I remember - and you look at how strong that generation was and you look back at your results and you think "not bad" when you see who you raced against.
RJ: You raced for a former racer with Bertram Schafer in 1990. Did you notice a difference between racing for a former racer compared to someone who wasn't a racer?
EL: Bertram was the entrant for the official Volkswagen factory team and so for me, this was a big step up. In Formula Ford, we often had to do it ourselves. My father helped me, with a little transporter; it was a very rusty thing! I remember we went through the season with 20,000 Deutschmarks, which is about 10,000 Euros, which sounds a lot, but it isn't. With Bertram, now I was part of the factory team, I could just concentrate only on the racing, and it even allowed me the opportunity to study chemistry in my spare time and I enjoyed the experience of being a semi-professional racer. I learnt a lot from Bertram but also I learnt a lot from being with a professional team and this made me a much better driver overall.
RJ: Your Formula 3000 spell was short and didn't go well. What went wrong?
EL: Well, the problem for me is that back then, you needed funding, maybe not as much as nowadays, but the problem was I never had a manager, I never had a company that supported me, I was always doing everything by myself, and of course, you cannot focus too much on racing money when you are a student. Funding also helps you develop. So, as you say, it was short, one race in Formula 3000. I got the seat through Dr. (Helmut) Marko as it was spare because Karl Wendlinger was off racing in sportscars for Sauber. I did a very, very brilliant job in testing, really fantastic. So we went to the race at the Le Mans Bugatti circuit. I did quite well in first qualifying, as it was raining. I qualified somewhere in the middle of the field. The second qualifying was dry and after one-and-a-half laps, my gearbox broke, so I fell down the field, and didn't qualify. It just shows that you need luck to progress. I only had bad luck, as I feel I could've done a good race and it's easier to get in further when you're connected to someone like Dr. Marko, who even back then had so many connections.
RJ: Were there no other Formula 1 or Formula 3000 opportunities at that point?
EL: Well, just after my Formula 3000 drive, I got the offer from Mercedes to race in the DTM. Believe it or not, I thought long and hard about saying yes to this offer, because racing with a roof on was not really what I was aiming for at that time. But I weighed it up. I could earn some money, I could be a factory driver and so I went with that offer.
RJ: A lot of your career has been with Mercedes – what do the marque do that makes them so successful?
EL: Well, like all the big factory teams, they are very professional. There's a lot of people with engineering experience but also, they are inspired by their history. All those incredible achievements and incredible stories. But also, Mercedes try and make people happy, and of course, that then breeds success.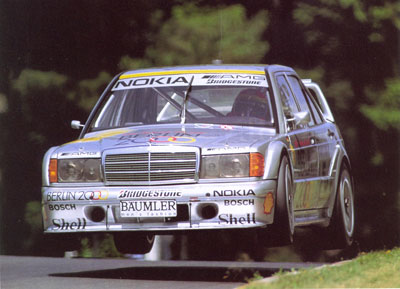 RJ: You raced at Dakar when it was in Africa, and you've been involved in the South American "Dakar". What have you found to be the main differences between the two setups and what is it about the event you enjoy so much?
EL: Well, yes, I raced four times in the Dakar race when it was in Africa, and I've never raced – yet – in South America. I've been involved as a team manager or something similar but with the "real" Dakar, well, it was MUCH more fun. The days are very long – and indeed very short as the sun goes down very early that time of year and when you finished a stage, the next stage was another 300 kilometres in the sand or some other kind of off-road terrain. In South America, you go off-road for about 10 kilometres and then you're back on asphalt. Almost everything is on asphalt there. In Africa, for every single competitor and for the service team, it was much tougher. The sand got everywhere, you're driving cars, buggies, bikes, big trucks even into sand dunes. Nowadays, it's not the same. It's almost like a World Rally event, lots of little stages. Maybe that's better? Maybe not, I don't know but it's such a pity that we can't go back to Africa.
Now, for my next project, as I said earlier, I am a team manager for the Dakar event. It's my 31st season of racing next year and I have decided to quit at the end of the 2017 season. However, if there is any chance at all to do the Dakar rally in a race car again for 2018, then I will take it. I think the chance is about 50/50 at the moment but it would be my dream to do the Dakar rally again.
RJ: Will that be in a rally car, not trucks – as you're racing trucks at the moment?
EL: Oh car, definitely! Doing the Dakar rally in a truck.. whoh.. no, no, it'll be too much!
RJ: Do you feel that it's important to have any female Formula 1 driver or do you feel it has to be one that's right? Obviously Suzie (Wolff, former Williams F1 test driver who was sitting a few seats away from Ellen at the time) came close. For example, do you feel having a female racer that hasn't had the results would do more damage to women racing in the sport?
EL: A token female in the sport, like Miss (Carmel) Jorda (test-driver for Lotus' F1 team in 2015), is not good at all. There's been a bit of a backlash as she doesn't deserve to be in Formula 1, but there are plenty of girls who do have the ability to be there and it's bad for them they can't get there. As for Suzie, I think I'm more disappointed than she is about not making it to Formula 1. I cannot understand it because she did well in testing and she deserved to be there. It could've such an impact on the sport. Obviously more human beings are woman than men, but more importantly, around 40% of Formula 1 fans are women, so we need a woman in Formula 1. I remember that there was such a push around me when I had success in the DTM, not as high a level of Formula 1 of course, but it was still a big push. Suzie was our chance, but now, I'm not so sure. I am sure there will be a woman racing in Formula 1 again. As for the series for women that was suggested, don't ask me about that! We want to compete with the men up to the highest possible level that we can. But it's a man's game, it's a man's game.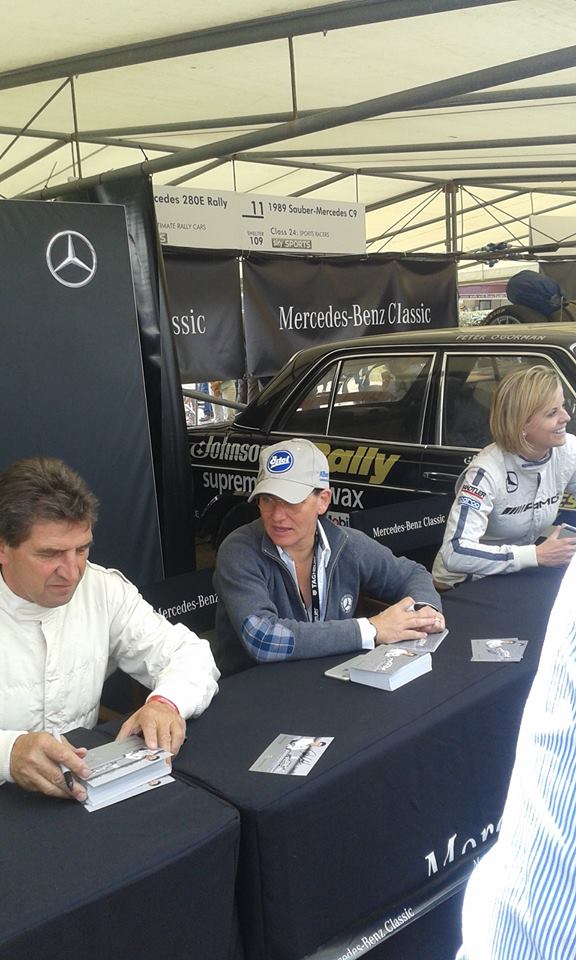 RJ: What, for you, is the most enjoyable thing about racing trucks?
EL: It's motorsport as I like it. It's like Goodwood. All the drivers are accessible, all the trucks are accessible, you can meet anyone, you can touch the trucks and we are not in the pits, we're open. Everyone can see us do everything. I hate the way that teams hide everything from the spectators, come on! Formula 1, I totally understand, but all the rest I do not understand. I enjoy truck racing as it's a very tough kind of racing, lots of action, lots of pushing and people love that! We have many spectators and that's great, because to race in front of empty grandstands, you don't feel so good. You want to share the experience.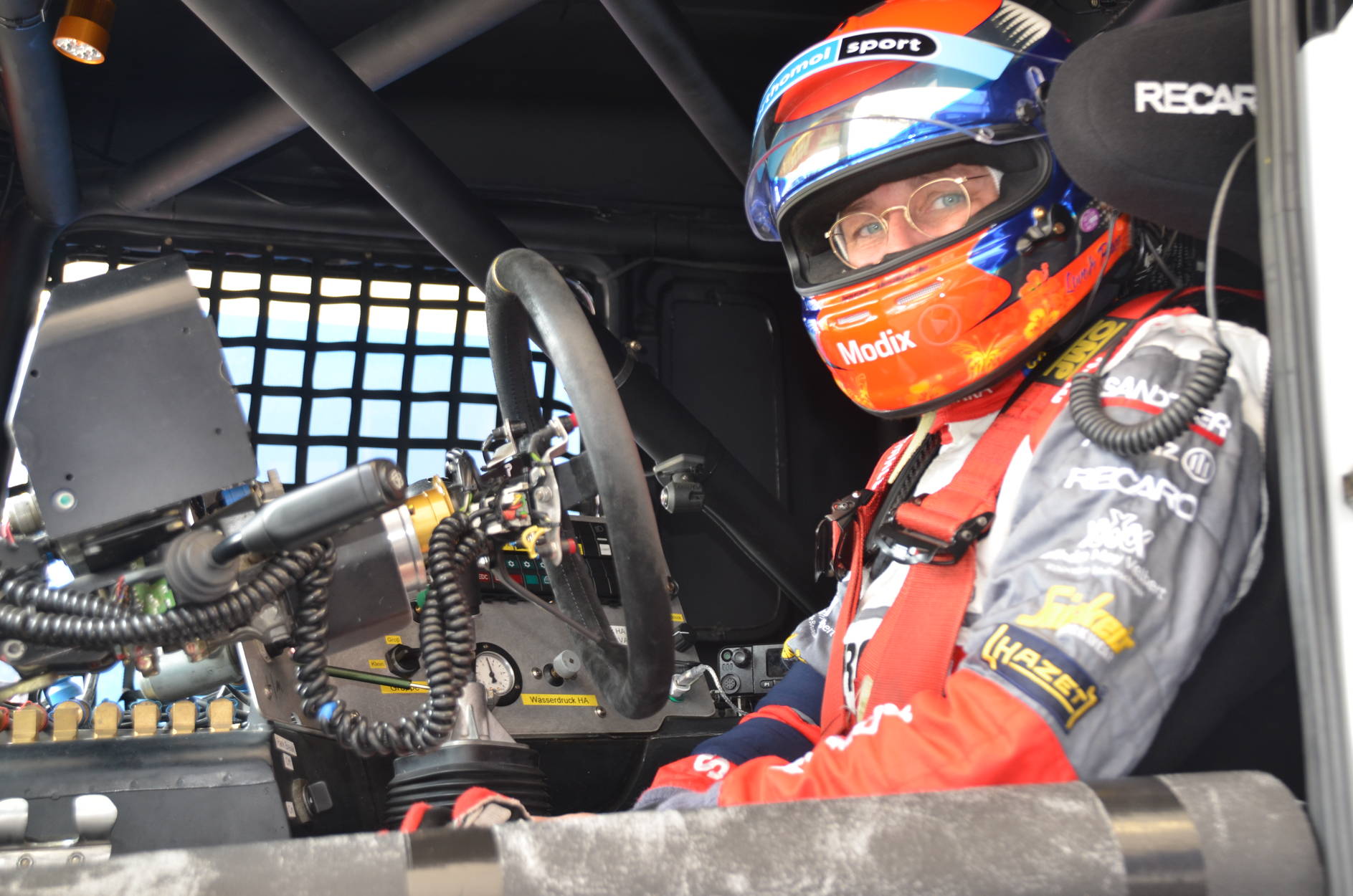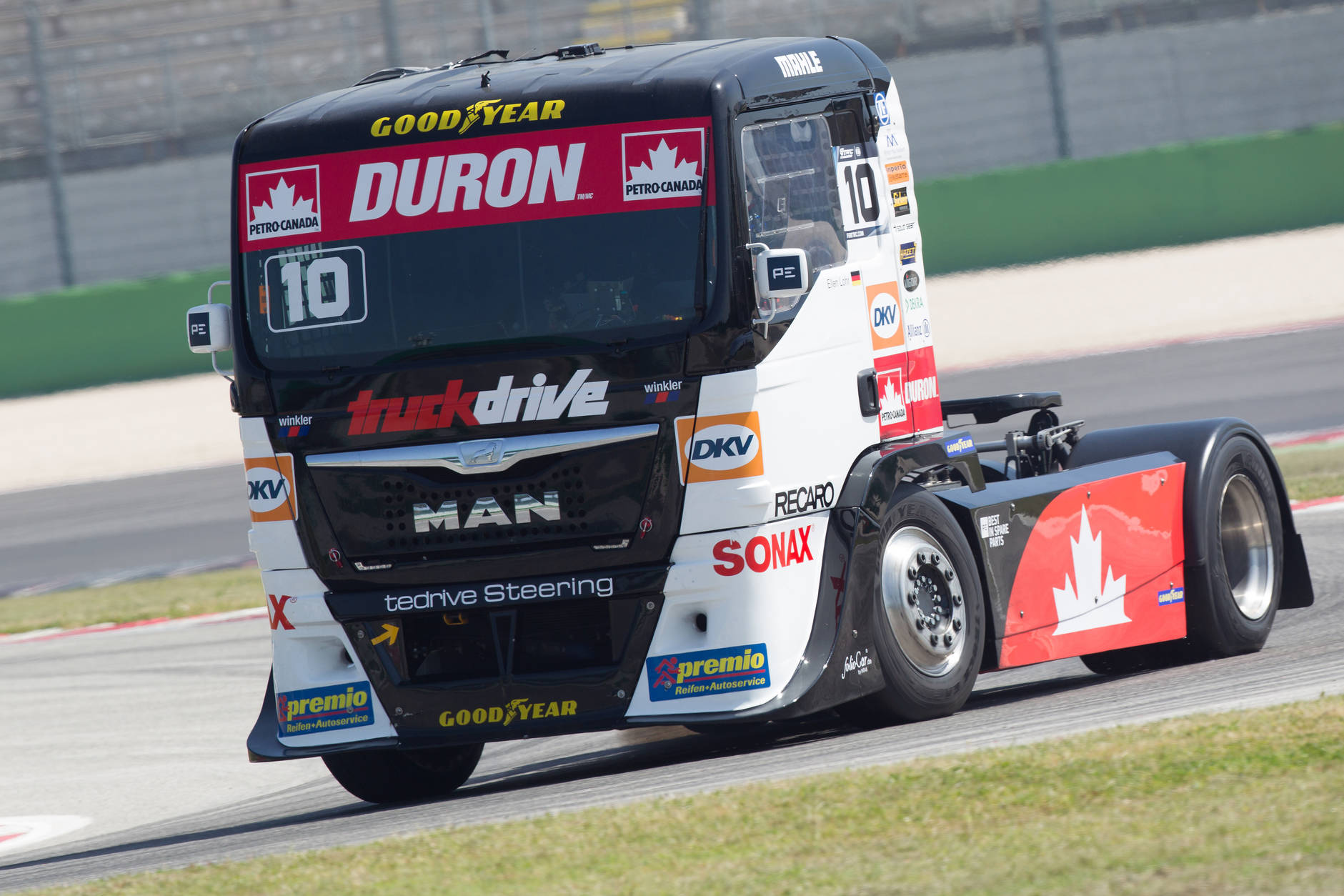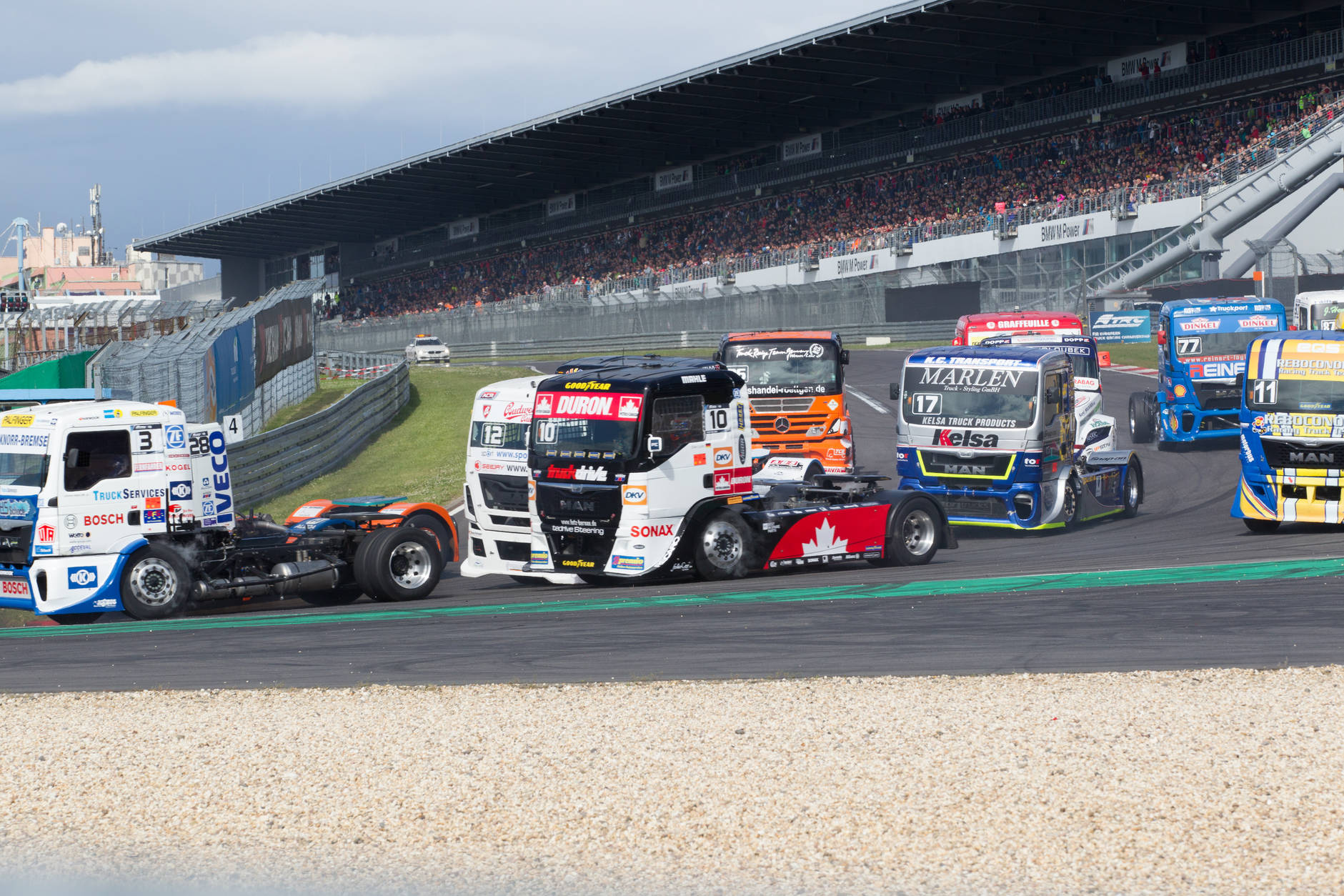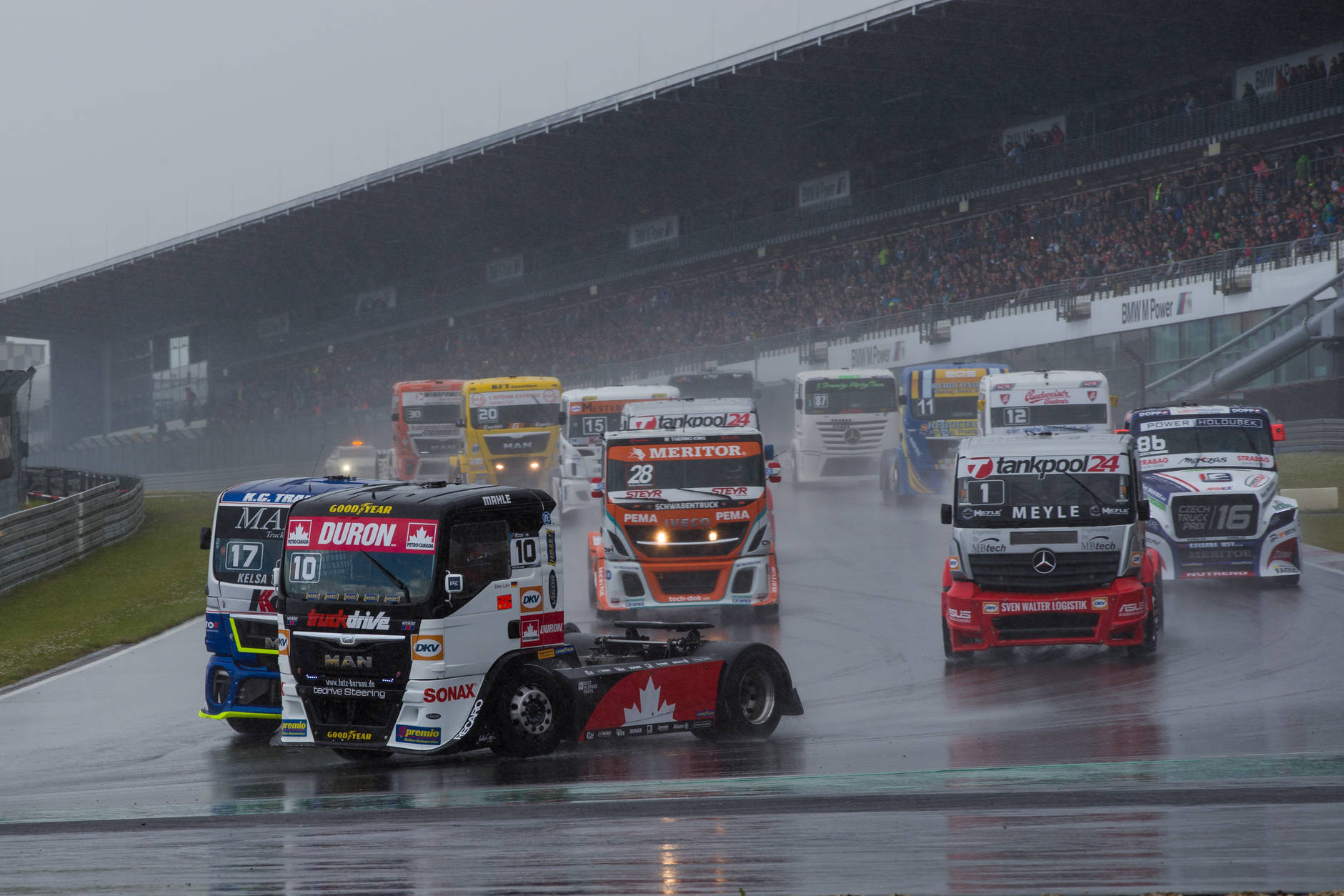 RJ: Is there anything you would've liked to have raced in but never did, or couldn't?
EL: Yeah, I'm missing an appearance at Le Mans, and I'm missing the fact that I never, ever, drove a Formula 1 car. I was invited once by Sauber-Mercedes but it was cancelled after Karl's accident (RJ Note: Karl Wendlinger, the Sauber F1 driver at the time in 1994 crashed heavily at Monaco and was in an induced coma for some while). So these are the two things I would've really liked to have done. Also, like I said earlier, I would love to race in rallycross, in the World Rallycross series, but it won't happen now.
RJ: What do you enjoy the most about events like this at Goodwood?
EL: Oh, the atmosphere. I think a lot of events follow Goodwood and they must've visited Goodwood a lot because they try and do it the same. I like the fact that people come here because they love the cars and they share their passion for the sport and all the types of cars – not just Formula 1 cars, or sportscars, but any type of racing car. It's great, it's just fantastic.
Interview conducted by Richard Jenkins at the Goodwood Festival of Speed, 24th June 2016. Thanks to Ellen for her kindness and patience and thanks too to the Mercedes PR team for allowing me to interview Ellen in the Mercedes paddock.
Photo Credits:
1. Provided by Ellen Lohr. Photo taken by Birgitt Dietel, Permission given to Ellen Lohr to use as necessary, subsequent permission given by Ellen to use to ORC.com
2. Ellen Lohr. Press photo supplied by BMW; copyright free to use, print owned by Richard Jenkins, 2013
3. Copyright Carlos Ghys (www.carlosghys.be). Used with permission.
4. Copyright Richard Jenkins and www.oldracingcars.com
5. Provided by Ellen Lohr. Photo taken by Birgitt Dietel, Permission given to Ellen Lohr to use as necessary, subsequent permission given by Ellen to use to ORC.com
6. Provided by Ellen Lohr. Photo taken by Richard Kienberger, Permission given to Ellen Lohr to use as necessary, subsequent permission given by Ellen to use to ORC.com
7. Provided by Ellen Lohr. Photo taken by Richard Kienberger, Permission given to Ellen Lohr to use as necessary, subsequent permission given by Ellen to use to ORC.com
8. Provided by Ellen Lohr. Photo taken by Richard Kienberger, Permission given to Ellen Lohr to use as necessary, subsequent permission given by Ellen to use to ORC.com
Last updated by Richard Jenkins on 24 Nov 2018.
All text is copyright Richard Jenkins 2018 - 2023.