Riccardo Patrese interview
by Richard Jenkins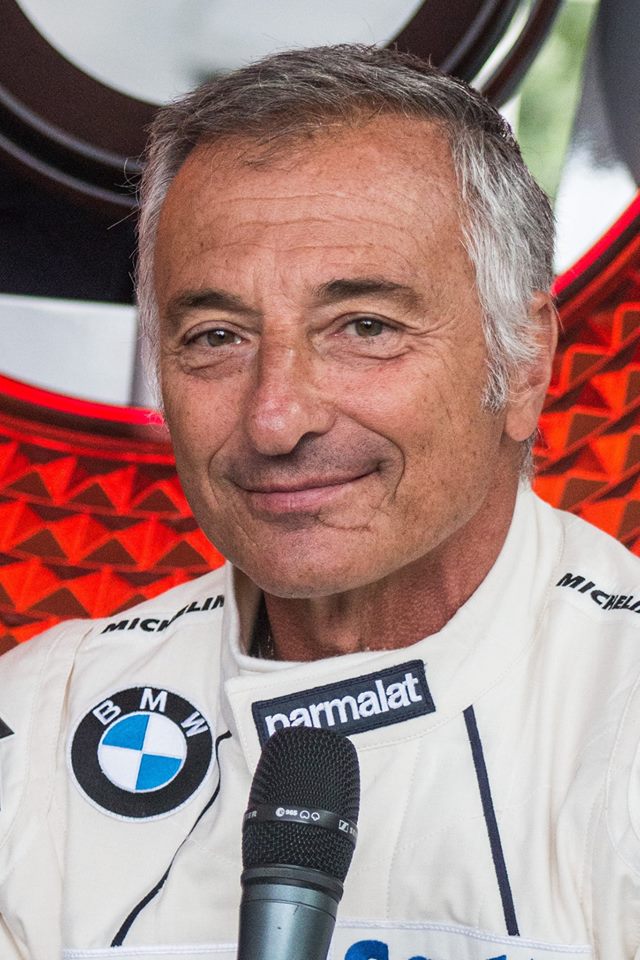 RJ: How did you start getting interested in racing?
RP: It was a family thing initially; my older brother was interested and so was my father. My father was always talking about cars. He became a mechanical engineer and he worked for Alfa Romeo. So, it was in the blood really, cars and motor racing formed part of my life when I was a boy. In 1961, my father bought a go-kart which I started driving when I was only seven, and my racing started properly from there.
RJ: How influential were the skills picked up in karting when it came to racing cars?
RP: Karting is the best way to learn how to drive a racing car, even from the Formula Ford or Abarth cars, say, because you are very close to the ground. By the end of my karting career, when I raced for an official team, I was reacting like a professional racing driver as I was doing precise thinking, but the biggest thing was learning about weight distribution for braking, as well as the systems and mechanics of the kart and this helped me a lot when I moved up, and was still helping me when I was in Formula 3.
RJ: How much did the Shadow & Arrows dispute affect you and your racing preparations?
RP: Well, it affected me a lot, as before they took away my car, it was great! The team did brilliantly after the car was banned as they had a build a car in only 45 days. Because of that, there was then the catch-up and lack of development, so we had problems with the car throughout 1978. The politics aspect of it, I was kept informed, I understood what was going on throughout. In the first part of the season I had a car that could win Grand Prix's but the second part of the season the car was… not so good. Of course, there was Kyalami (RJ Note: The South African Grand Prix, the 2nd race of the 1978 season) where I was leading by 40 seconds, way ahead of everybody, when the car failed with 12 laps to go. If I had won that, I would've won only my seventh Grand Prix. It was the closest Arrows & I came to winning, although we also had a chance in the Long Beach Grand Prix in 1981, where I took pole position and was also leading in that race before I had a problem with the car and had to retire.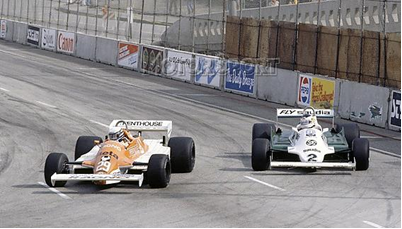 RJ: You were the last winner of the Monaco Grand Prix whilst Princess Grace (Kelly) was alive. What are your memories of meeting her?
RP: I remember the experience very well. Because I was the winner of the Grand Prix, there was a gala event in the evening for the winner. So I attended the gala, and I felt like a little boy in some ways, I was in awe. I sat on the table of Prince Rainier and Princess Grace. She was very kind, a real Princess who treated this boy as an equal. But I tell you now, the most difficult thing that weekend was to come. Suddenly they announced that the winner of the Grand Prix was to do the opening dance with the Princess, and what was worst, was the dance was going to be a waltz and I had never danced a waltz! I was dying inside when they said this!
RJ: No-one warned you then?
RP: No! It was easier to win the Grand Prix – and of course it was difficult to win that Grand Prix, with the rain and all the things that happened at the end (RJ Note: The end of the Grand Prix was one of the most dramatic ever – the leader Prost crashed with 2 laps to go, Riccardo then led, spun and stalled. Didier Pironi took over the lead but ran out of fuel, as did Andrea de Cesaris and another leader, Derek Daly had to retire. Patrese had restarted his car by rolling downhill and went on to take his first Grand Prix win), but that was nothing compared to having to dance with Princess Grace! I would've done two Grand Prix's that day rather than that. So, the Princess saw that I was afraid and said to me "Come with me, follow what I do", but she also got people to dance with us almost straightaway and then there were so many people on the dance floor that I could finally relax. But I have to finish by saying that it was a big moment in my life, a special moment for me.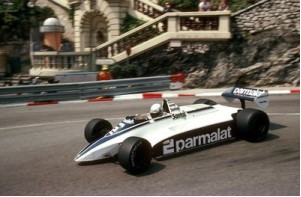 RJ: How quickly did it become apparent that Brabham in 1986, were not going to be as successful as when you left them in 1983?
RP: Well, obviously I had just come from Alfa Romeo, which was a very difficult two years and I was very lucky that I had a fan in Bernie (Ecclestone). Those two years were so poor that there wasn't a lot of interest in me and it was good for me that Bernie wanted me back. Anyway, in 1986, we had this car, the BT55, which Gordon (Murray) had designed and there was a lot of expectation but it didn't work out and then the following year, in 1987, with a more conventionally designed car powered by a BMW engine, we had a lot of car failures. Gordon had gone as well but we did get a 3rd place at Mexico at the end of the season, and that was a lucky break for me because shortly after, Nigel (Mansell) had his big accident in Japan and Williams needed a driver. Bernie knew then – although we didn't – that he was going to sell the team, so he spoke to Frank (Williams) and offered my services to him, saying something like "Why don't you try this guy, he's not too bad!?" As you know, I then signed for Williams for the following year, stayed with them for 5 years and it was my most successful period of racing. So although the Brabham experience in 1986 and 1987 was not so good, thanks to Bernie, I then regained some momentum in my career, so looking back, it was all worthwhile.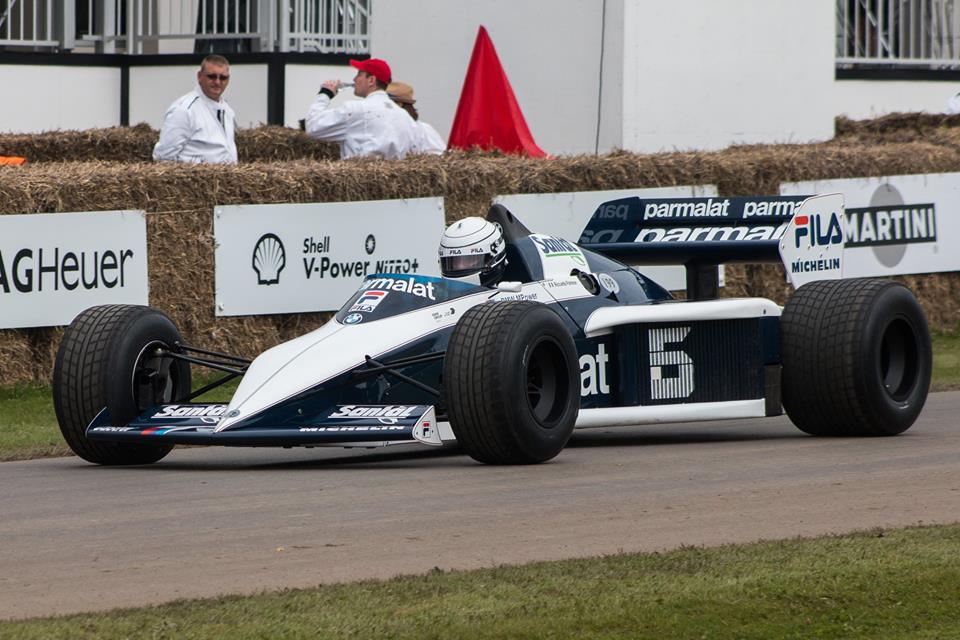 RJ: It was still a very dangerous time when you raced and obviously you lost your team-mate Elio de Angelis in 1986? How difficult was it to motivate yourself to carry on?
RP: Very difficult. We were two Italians who wanted to succeed and if I'm truthful, we treated each other with a little bit of suspicion as a result initially. But then as things went along, the relationship became better and better. I was performing better than Elio in the car; I could find more speed than him. We had the test on the Wednesday at the Paul Ricard circuit and originally, I was down to do the test. But then Elio, who had just had a retirement at Monaco, came to me and said "Do you mind if I do the test, I've got a problem with the car and I'd like to test to become more comfortable with the car". Well both the team and I agreed, Elio went to the test and I stayed at home. So, as you know, he went to the test, unfortunately had the mechanical failure and he died.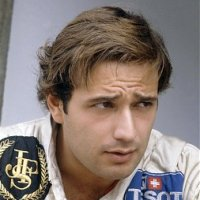 It was so difficult to go to the next race and into the car. Bernie helped me a lot here as I was very down and didn't particularly want to drive the car. He spoke to me very nicely, reassured myself and that was enough for me to go on, and the more I went on, the easier it became.
RJ: The technological advances from 1977 to 1993 were immense. What was your favourite new bit of technology and what did you not enjoy?
RP: I think I was probably the driver that went through the most technical changes in Grand Prix history. When I started in 1977, the cars, technologically, were still largely similar to the cars that raced in 1972, 1973, with a lot of downforce, a big and heavy car. When I finished racing, the cars had active suspension and it was all electronic. In between, I raced cars with skirts and then of course, the turbo era. Then the telemetry came in, and then the automatic gearbox came in, and so on and so on. So from starting in Grand Prix's driving a car similar to Jackie Stewart's car, I finished driving something similar to what Michael Schumacher would go on and drive in the late 1990's. Of course, I also always liked the fact I drove against many generations of drivers as well.
What I liked the most? It's difficult to say, but the challenge of the turbo car was something I enjoyed as it allowed me to drive much faster than I had done before, with so much power behind you; for me, it gave me a lot of emotion to drive like that. With the electronic era, well, it made the job of the driver a much easier one. I remember when they gave me the automatic gearbox to drive, I said "oooohhh" (RJ: Riccardo said that similar to how a child in a sweet shop would react initially!). There was much less effort for me, it meant we had less chance to break the engine as the gearbox meant you couldn't override the engine any more, and I liked that!
But now, what's happening in Formula 1… I don't say that a Formula 1 car now is easy to drive, but I think the way the cars are now probably allows a lot more drivers who perhaps wouldn't have made it in my era to make it and then drive the car. Not all of them: the best drivers now are good, and they would've been good in the 1980's and 1990's, but I feel that the drivers I raced against were better drivers overall as you learnt more about the car, learnt more about the mechanics of the car and had to drive a lot longer to become more experienced and comfortable with the car. But also, you learnt a lot, maybe the most you learnt in fact, by making mistakes, a missed gear or so on. Now you sit a boy in the car, teach him how to drive the car and the engineers tell them everything they did well or badly in the car. In my time, I had to learn everything myself, and through mistakes, like accidents. Obviously I was risking my life as well as it was a more dangerous time, now, it's a lot safer – generally – and it's not the same.
But I really enjoyed the era that I did race in. Nowadays it's a different approach to Formula 1 – the technological advances are superb, but the challenge isn't there, I feel.
RJ: What was your favourite Grand Prix circuit?
RP: When I was driving? Imola. I consider Imola to be my home circuit, but I love the characteristics of the circuit. If I could choose one track to race on which I never had the chance to in Grand Prix's, it would have to be the old-style Nurburgring. This is because it was a big challenge, but also it held a good memory for me as it helped launch me into Formula 1. When I drove there in 1977 in Formula 2, a lot of the Formula 1 drivers were invited to drive as well, so on that specific occasion, you had the likes of Jochen Mass, Clay Regazzoni and Alan Jones. I got pole position, three seconds in front of everybody else. Just days later, after the race, I got a phone call from Shadow; "Hey! Do you want to come along and test our car?" Two weeks later, I was in Formula 1 and I stayed there until 1993!
RJ: Do you feel, in retrospect you did the right thing turning down a return with Williams in 1994? Do you regret it?
RP: No, no regrets. What happened is that I came back to visit the Williams team at Imola for the San Marino Grand Prix in 1994 as Ayrton (Senna) asked me to visit. I didn't have a drive, and wanted to keep in touch with F1, because the relationship with (Flavio) Briatore in 1993 was very rough. The team, or Briatore, didn't appear to like me very much and I said that if you don't trust me, I'll leave, so I stopped. All their attention was on this young boy, who as we know, was Michael Schumacher. Obviously no-one knew then how good he would be! Briatore used Schumacher as a reason to get rid of me, saying "look this young guy from nowhere can come and beat Patrese easily", so he had no patience with me. I was unhappy when the season started because I didn't want to leave Formula 1 the way I did and I still had the will to carry on.
So I spoke to Bernie to keep in touch as well as Ayrton and the team and obviously Williams had a lot of problems in the first two races, and Michael won them both. So I went there so I could help the team as I was the last driver who raced for the team with the more conventional suspension they were using; even Damon (Hill, Williams other F1 driver) didn't have that much experience with that kind of suspension, because when he was employed as a tester, he tested the active suspension and didn't have much experience with the more conventional car; he knew a lot about the active car but not so much about the passive car. So I went to Imola and spoke to Frank (Williams) and Patrick (Head) and I offered my services to do some testing with the car because of the experience I had with the car in 1991. I kept fit and did training and I said to them, "I'm sure I'm fit enough to come back to racing should you want me for 1995 instead of Damon". They were all positive about the testing and Ayrton was enthusiastic about it as we could work together, which we hadn't done thus far.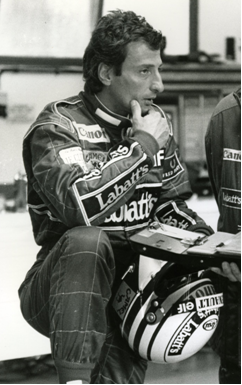 So I left Imola on the Saturday with this idea that they would call me to help them with their problem and we'd go from there. Well, as you know, Ayrton died the next day. So, then the plan changed, and instead of being a test driver, I was now likely to be the driver to replace Ayrton. But over the following two weeks this idea wasn't making me very happy and I was doing a lot of thinking about it. I kept thinking about what happened to Ayrton and in my mind I was thinking "He was the best driver and the Williams team the safest I've ever raced for, so how could this happen?" I considered Williams the safest team I raced for because they were always very professional and had a lot of attention to detail. The difference was before whenever I thought about the fact that I might die driving a racing car, because I was racing you kind of push it to one side, you forget about it as there's a lot going on, but here, I wasn't driving and so I had more time to think about it.
I went to Monte Carlo for the next Grand Prix and Frank said "Okay, you remember that discussion we had with you at Imola, considering the possibility of putting you in the car? Are you still available?" I said to him, whilst I was at Monte Carlo, "Yes, I'm available, Frank if you want me, then I thank you very much for the chance". But I still wasn't quite that excited and my main concern was that I was worried that if I went in the car and couldn't perform as well as I did before because of everything going on in my mind, that I cannot be as good as I want to be. So the following Tuesday or Wednesday, I got a call from a few journalists who had heard the news that I was returning to Formula 1 in the Williams. I thought about it and decided there and then I wasn't happy with the idea, so I said to them "I'll tell you now, I'm not going to drive any more Formula 1. I don't have the desperate desire to go and drive and I don't feel the same inside and you can print that."
So I put the phone down and called Frank and said to him "I'm sorry, but I'm not right inside, I'm not ready to come back and please don't consider me as a possibility." So that was over. Now, I say I have no regrets because I know I took the right decision at the time, because I didn't have that enthusiasm to push to continue any more.
RJ: Was that part of the reason that you largely stayed away from racing pretty much after leaving Formula 1? Looking back, would you have liked to do more racing like sportscars?
RP: I did do Le Mans with Nissan in 1997, of course, but that was a one-off. Yes, I didn't really have the enthusiasm. I did have lots of offers both when I was racing in Formula 1 and when I left, including working with Tom Walkinshaw, but I didn't really like racing sportscars, I like racing Formula 1 much more. Because I wasn't in Formula 1 any longer, I didn't really want to race in anything else and walked away. When I did return to a Formula 1 track to watch for the first time in about 2007, I suffered a little bit because I never really enjoyed Formula 1 as a spectator.
RJ: Has your wife, Francesca, forgiven you for scaring her so publicly when driving around Jerez in a Honda Civic?
RP: Er (RJ Note: Riccardo was momentarily lost for words; Francesca was sitting opposite us on the same table)… well it was a surprise for everybody, it was a surprise for me! I did a test in 2008 in a Honda RA107 because Rubens (Barrichello) had overtaken my Grand Prix entry record and did 257 starts, so they decided to let me drive at Jerez. Now the Honda Civic, they put a camera in, so that I could speak about the experience and about the car. I did this in the morning and the car was put away. In the afternoon, I really wanted to drive it because I was feeling quite emotional about driving round the circuit. I said to her "Francesca, come with me and I'll show you round the circuit". Well, I forgot the camera was there and anyway, even if I remembered, I didn't think it was switched on. But the camera was on, and the video came out and well… (Riccardo laughs). If you click Riccardo Patrese into video sites or search engines, the video comes up first. Not the seventeen years I spent in Formula 1, forget that, none of that is important any longer!
RJ: What I love about the video is you appear to be driving like it's a leisurely drive on a Sunday afternoon, totally relaxed and Francesca is well… petrified!
RP: Well, I will admit I did a little bit extra, I decided to go onto the kerb a couple of times because I knew the circuit very well and she didn't, and at the end, well! But she's still here with me, she still loves me! (Riccardo laughs again)
RJ: You still have a base in Padua, where you were born. What do you enjoy the most about the place?
RP: Well, yes, although I have also lived in Monte Carlo since 1980 and usually I travel up and down from the two places. Anyway, I like this part of the World, as you have Padua, you have Venice and you have Cortina d'Ampezzo where I go ski-ing in the winter. It's the place where I was and I think it's a good place for me as there's a lot of good memories of my childhood.
RJ: What do you enjoy doing these days, I understand you're involved in showjumping?
RP: My new passion is horses. Yeah, I did showjumping competitions for some years. I don't do competitions any more but I'm still involved as my son is riding. He started on ponies, rode them every day and now he rides horses. I train the horses from the athletic point of view, the physical side, which I really enjoy. I like to transport the athletic information I picked up when racing – my fitness regime if you like – to the horses. The horses love to jump, they like to perform, but not much work goes into the physical perspective. Doing this helps the horse perform better, especially to last longer and have more stamina. The horses are trained continuously on how to jump but if you have a tired horse, they make mistakes, so a greater stamina makes them jump better and so this is my new passion. We're based just outside Padua and my boy; he's only 10 years old but he was riding ponies when he was three. Now he's riding against other boys, some older than him, and he does very well and that makes me proud.
RJ: Finally, what do you enjoy the most about being here at Goodwood?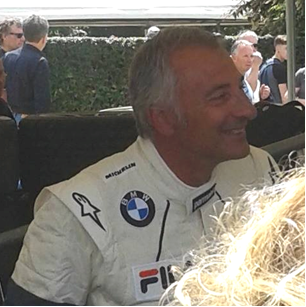 RP: I always enjoy coming here but I remember many years ago the third edition – I think it was the third – and I was invited. I came but before I came, I didn't really know what I was going to benefit from it. So I came in the morning and asked myself "Am I at the British Grand Prix?!" because there were so many people! I liked it immediately, the atmosphere is so relaxed. I enjoy it because you can meet old friends, and you can be really close to the fans. The fans; the pictures they have are unbelievable. They give you or ask you to sign pictures that you've never seen before and I look at the pictures and say "Yes, I did that, and I did this" and you are reminded of how much you did; sometimes you forget what you drive or what you achieved in your career.
But the other thing I like about Goodwood is how friendly it is and Lord March's friendship, which has lasted a long time now, is very special, he is very kind. He has created something that has grown to be unique. Many try and copy Goodwood, but it's unique in the World. I suggest to every motor racing fan to come here and worship the event; it's fantastic. You can see the best cars in the World, the drivers, both the old drivers and the current Grand Prix drivers, you can see everything. It's nice that different generations of drivers are excited about seeing older generations of drivers, they become fans themselves. It's great!
Interview was undertaken in the Goodwood Drivers Club 25th June 2016. Thanks to Riccardo and his family who let me interrupt their lunch for their time and patience. Thanks too to Anouska and the rest of the Goodwood Festival of Speed media team for their efforts to secure an interview with Riccardo.
Photo Credits:
Riccardo Patrese, Goodwood Festival of Speed, 24th June 2016. Copyright Jiri Innemann.
Patrese leads Carlos Reutemann at the US Grand Prix West, 15th March 1981. Copyright LAT Photographic, used with Permission.
Patrese leading the Monaco Grand Prix, 23rd May 1982. Copyright LAT Photographic, used with Permission.
Riccardo Patrese, Goodwood Festival of Speed, 24th June 2016. Copyright Jiri Innemann.
Riccardo Patrese, 1991. Copyright Ferret Fotographics, used with permission.
Elio de Angelis, Italian Grand Prix, Monza, 13th September 1981. Copyright LAT Photographic, used with Permission.
Riccardo Patrese, Goodwood Festival of Speed, 24th June 2016. Copyright Richard Jenkins.
See also: /driver/Riccardo_Patrese
Last updated by Richard Jenkins on 24 Nov 2018.
All text is copyright Richard Jenkins 2018 - 2023.