Roberto Moreno
Interview by Richard Jenkins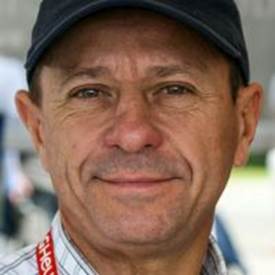 I originally tried to get an interview with Roberto at the Goodwood Festival of Speed in June 2015.However, Keiji Hoshino crashed a Mazda whilst going round the hillclimb and Roberto?s time for an interview was cut short. All was not lost however, as about two weeks later, Roberto rang me to do an initial two hour phone interview, which was followed up by many hours of conversation over the following two weeks. He asked for no money and no other demands ? he only wanted to speak his side of the story, and was, as I always had imagined him to be, very pleasant and forthcoming. I actually spoke more in the below conversations than it appears, but I?ve kept my words to a minimum so people can enjoy what Roberto has to say. I hope you enjoy it.
RJ: So, what fired your passion for racing originally? You were the son of a civil servant so there wasn't a racing background as such was there?
RM: Yes, my father worked in the central bank in Brazil, so there was no racing background there. However I?m going to answer your question in a particular way, as I need to set the scene. For those who don?t know, I grew up in Brasilia. It was a new city, built in 1960, and this new President (Juscelino Kubitschek) decided to make it the capital of Brazil, moving away from Rio, which was getting very busy with all the tourists visiting there. I was born in Rio, and we used to live right on the Copacabana Beach. Well, in 1970, anyone who worked for the central bank, who decided they wanted to live in Brasilia was given a loan for a new apartment by the central bank to encourage people to move there. My father, because he worked at the bank for a long time, had already received one loan as a reward for his loyalty, but was then offered a second loan as part of a package that included a full pension and remuneration, medical benefits and so on. With these two loans, my father decided to try living in Brasilia. I was really disappointed to be leaving the beach to go somewhere where there was nothing to do!
Nothing that is, except to ride motorcycles. You see, at the time Brasilia was a city built for half a million people, but because the roads were built before the apartments, and because only approximately 70,000 people lived there at the time, there was often no traffic, so there were no cross junctions, no traffic lights ? it was like a racetrack in itself. Before we moved to Brasilia, I had a V?loSoleX which is a bicycle with an engine on the front. I loved to take it apart and put it back together again, so when we moved to Brasilia, my dad, after a lot of persuading by me, bought me this moped ? a Puch Maxi - and I started riding this with all the guys that had motorbikes in Brasilia, and that included some important people, because all the people riding mopeds and motorbikes were sons of someone important in Brasilia, including members of the government ? the whole government was moved to Brasilia, so a lot of people who lived there were involved in the government in some way. After a couple of years, my father then allowed me to have a Yamaha FT1 Mini Enduro, which was the first trial bike that was legal to use on the road. The only shop that sold these bikes and go karts, as well as being the only tuning shop for cars in Brasilia was called Camber owned by Alex Dias Ribeiro, who later got to Formula 1.
I used to go to this shop, Camber, to look at the bikes. I liked to take my bike apart, and I used to go to the mechanic there and asked him lots of questions about ?how do you do this?? and ?how do you do that?? He was very patient and he taught me, and later became a great friend ? or rather as he?s seven years older than me, more like a brother ? and his name was Nelson Piquet! Nelson was the only mechanic in Brasilia authorised by Yamaha to work on motorbikes. Nelson and Alex wouldn?t always let me work on everything there, though. I remember when Camber received the Yamaha RD350 and the Yamaha XS 650 which was a really big event for Alex and his three business partners. They said to me ?You?re not working on these, Roberto, you just watch!?
However, for whatever reason they couldn?t quite figure out the correct wiring connections inside the headlights. Anyway, one Sunday, they all went for a long lunch, and because it was Sunday, the shop was closed to the general public. I?d hidden myself in the bathroom and I was left on my own, so I decided to look at the motorbikes. Back then, I was so small, I was able to sit on the front fender and put my weight on it without breaking anything! I figured out what was wrong, put all five bikes together and everything was working perfectly! I heard them come back to the shop, so I ran away and hid in the bathroom again because I was afraid they?d shout at me. They all noticed someone had worked on the bikes, worked out that it was me and began to look for me to tell me off for touching the bikes. Well, I was saved by Nelson, because he looked at the bikes and he noticed that everything was now working fine and said ?whoever did this did a good job?. Well, they were all delighted and it was only then that I decided to show up! They then, as a reward, let me ride a brand new Yamaha XS 650, the only one in Brasilia. It was a good thing that Brasilia, like I said earlier, was like a racetrack, with so few cars, no traffic lights and so on, as because I was so small, it needed two people to help keep the bike upright when I got on and off it! I didn?t stop for thirty minutes and raced it like a maniac ? I didn?t even wear a helmet ? but, boy, what a reward that was! A couple of years later from my first meeting with Nelson, when I was 15 years old, I took Nelson?s job when he went racing Formula Super Vee?s around Brazil. So that?s how I started, I wanted to be a motorcycle rider ? that was my dream, so much so that if I died young, I wanted, on my tombstone, a motorcycle on it, but with me riding it!
I was an extremely good rider, one of the best in Brasilia and I had a passion for bikes. So did Nelson, who still has this passion to this day. I learnt from him, so I naturally followed Nelson step by step and I started racing go karts like he did. I started karting in 1974 which I carried on until 1978. But I had a year out because on March 28th 1976 ? I?ll never forget that date - I broke my leg whilst on a motorcycle, so I quit racing motorcycles in 1976. After that, it was only go karts. My motorcycle was put away in my house and never touched until about 6 or 7 years ago. It?s remarkable, when you think about it, that this shop, a motorcycle workshop in Brasilia, that three people got to Formula 1!
Just to add really that Nelson was heavily involved with the go-karts and asked a friend to go with him, buy a kart and race it. Initially, he bought two karts, one for him and one for his friend. However this friend never turned up! So instead Nelson took me with him karting, and then later on, to hone his skills for Super Formula Vee. I liked racing karts, Nelson thought I was very good at it, and we convinced my father to buy me a kart and there you go. So, it all started from there, and I also became a good mechanic and rebuilt karts for others and so I found a bit of money from that to go racing.
RJ: Early in your career, you made a habit of winning the big races in lower formulae - the 1980 Formula Ford Festival, the 1981 Selangor Grand Prix, you won in Australia and New Zealand and so on. Did you approach these races differently than other races during the season? How do you cope with the pressure of the importance of these races towards your career?
RM: ?Well, I never really planned for the racing career ? as such ? I went to Europe because I needed to make some kind of living back home ? I felt that, when I went to England in 1979, if I came home at the end of the year having learnt English, then that would be a success for me. But in the end, my career ended up being racing! ?I did quite well in my first year, in Formula Ford, but the only money I had was put together by friends at home to race this one season in Formula Ford. Nelson was telling people about how great I was and how they should pay for me to go to England! At the time it cost $25,000, more or less, to race for Ralph Firman, whose team at the time was the best Formula Ford team in England. This would pay for 25 races and 25 tests, but this was excluding living expenses.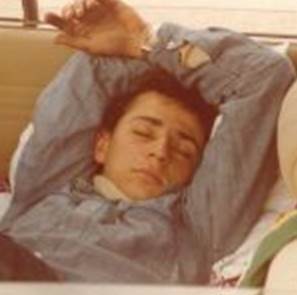 I only took to England $13,000 which had to cover both racing and living expenses for that year, and I did 22 races and 22 tests, and so I would often sleep in a car to save money at most races. Every time I slept in a car, I saved ?10 which would be the equivalent of staying in a cheap hotel, but it was also equal to the cost of one tyre. So a fortnight where I didn?t sleep in a hotel would buy a new set of tyres for my car. I had my own car, my own trailer and I was my own mechanic. However, Nelson helped again because he asked Greg Siddle (Peewee) to help me out. Peewee took the gamble to help me for free wherever he could. Peewee was such a huge help in my career, without him I would never have gone as far as I did. He managed to negotiate, on my behalf, a free drive for 1980, with the three best manufacturers in Formula Ford at that time ? Van Diemen, Royale and PRS, helped by my results in 1979.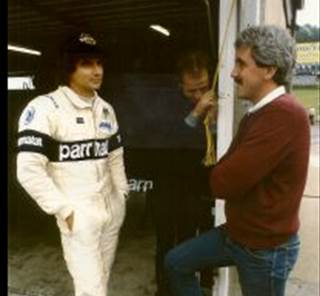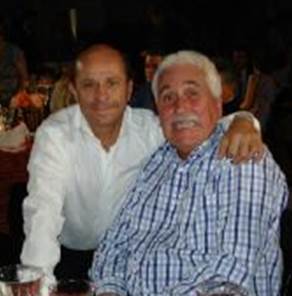 If I was going to stay with Van Diemen in 1980, thus extending my stay in England for another year, I needed to find money for living expenses. Ralph Firman asked me to drive the factory van and that way, I had money to live. So I had a free works drive and money to support myself. It wasn?t much, but it kept me busy and driving his van all around England, I learnt how to drive the outskirts of London, Norwich, and Huntingdon. He also bought me parts for the racing car and so I would drive around picking up parts!
At the end of 1980, I had nothing lined up, so I went back to Brazil, and I had no hope whatsoever to continue as I had no money or means to race any further. It cost around ?80,000 to race in Formula 3. But Colin Chapman, after a suggestion by Peter Collins, thought I would be a great asset for Team Lotus, and so they hired me as a test driver for three years, paying me ?10,000 a year for 3 years ? 1981, 1982 and 1983. This was great, but it meant I wasn?t racing much. Testing, largely, was a two day stint of going up and down the straight at Snetterton for fuel tank evaluation, but I did do some other testing at Silverstone and Rio. But 1981 was the first year ? as early as that ? where my name ?SuperSub? came about.? I had half-a-season in Formula 3 with Barron Racing after his driver (Glenn Bosch) had a car accident in the winter. Initially, they put (Michael) Bleekemolen in the car, but the team manager wasn?t pleased with him. The team manager?s name was Kees van de Grint who later worked with Bridgestone. Kees wasn?t happy with Bleekemolen as, in his opinion, he wasn?t a good test driver. He gave three drivers a test half-way through the season at Brands Hatch. I went extremely well, especially considering it was my first time in a Formula 3 car, and so I then had a drive for half the season!
So, even though I?d not really planned for it, my racing career was coming along quite well. There was never pressure on me that I couldn?t handle. The pressure was there right from the beginning ? in 1979 ? I either did well or I went back home. So after 1979, there was no extra pressure, as I had now learnt how to deal with it and, for me, it was just another part of my life. Because it was never part of my plan to win a race, or the championship and so on, and because I never took things for granted, I didn?t really think about the pressure ? the driving, in fact, was the easy part!
RJ:? How did the racing in Australia, New Zealand and the Far East come about?
Greg Siddle - who in case you don?t remember, was from Australia - was asked by Bob Jane to bring over Nelson Piquet, who was of course, the newly-crowned 1981 World Champion, to race in the Australian Grand Prix in Formula Pacific cars. Bob was putting the event together in the hope that one day it would be a Formula 1 race. Greg and Nelson suggested to Bob that I come along as well, and he agreed. As well as Nelson, Bob invited Alan Jones, who had just won the most recent Grand Prix in Las Vegas in 1981, as well as Geoff Brabham, Alain Prost, Larry Perkins, Jacques Laffite and so on. So, I went over for four races, and won 3 of the 4 races! I know that Alan took defeat quite badly ? it was his home Grand Prix ? and he was quite embarrassed about losing to me! The one I didn?t win I lost only to Alain Prost and Jacques Laffite ? in that race, there was a hiccup at the start and so I had to be push-started from the back of the grid, and yet I still finished 3rd. Both basically those races were the catalyst for the Australian Grand Prix to become a F1 event a few years later.
Now, Alan Jones at the time was sponsored by Teddy Yip, the Theodore team owner. We all had brand new Ralt Formula Pacific cars, so everyone had the same car and engine but Alan Jones had different tyres to try out. Peewee then did something really clever, as he knew engineers from Goodyear. Goodyear had just left Formula 1, so a lot of their best engineers moved to Avon, and Peewee knew he was dealing with excellent tyre engineers, so he asked them to put some tyres together for Nelson Piquet. The deal was Nelson was the only one allowed to have qualifying tyres and then Avon could sell the race tyres to anybody they wished. I qualified on pole, beating Alan Jones and Nelson, with Nelson?s old qualifying tyres ? after he had used them. So I asked my engineer ?Ask Nelson if I can use his old tyres, at the very least, can I use them for one lap of qualifying?. Nelson let me use them and so I won my first Australian Grand Prix, my first Formula Pacific race, beating all those champions! That then led to racing at Macau as Teddy Yip was so impressed with my performances that he decided to let Alan Jones stay in Australia and took me to Macau and Kuala Lumpur instead as well as taking Peewee?s team under the Theodore umbrella for these events.
Eventually Peewee put a deal together for us to go to New Zealand as well, which was for 4 races for the New Zealand Championship ? the Aurora Championship. The New Zealand Grand Prix was part of that series, but also counted for the FIA Formula Pacific World Cup. All of these races - the four Grands Prix ? Australia, New Zealand, Macau and Selangor, as well as the New Zealand Championship, helped tremendously for my superlicence for the future. I won three of those four Grands Prix and the New Zealand Championship. Because of this, we found sponsorship and that helped us tremendously. But I had to win the first race, in New Zealand, to carry on, because the local press said ?The champion is going home? because we couldn?t carry on. We got enough sponsorship from that to then carry on for the rest of the races.
RJ: What are your memories of Colin Chapman?
RM: Well, my memories of Lotus aren?t really about Colin Chapman, although he was a great man and seemed to be a great person. My contact with Colin was always very positive. He sort of inspired me to always be positive, always to say the right things. I was always pleased to speak to Colin. I remember this very positive person who led this team with many great people involved. Colin employed the right people and listened to their ideas. They listened to him and he gave them inspiration to go the next step.? There were so many fantastic people there, so many great mechanics there, but I also met three really great engineers there - Nigel Stroud, Dave White, who was involved with hydraulics and Steve Hallam, who later worked for McLaren. Also there at the time were Peter Collins and also Peter Windsor, who was helping Nigel Mansell. Of course, Lotus for me was a way to stay in Europe. The ?10,000 I got every year allowed me to stay in England and look at some other opportunities. Peter Collins was the key person that helped me get the Lotus deal. He was a good friend of Peewee, like Peewee, he was also Australian, and he saw me driving at the Formula Ford Festival which I dominated in 1980, and really believed in me and my future, and he pushed really hard for me to be given the opportunity at Lotus.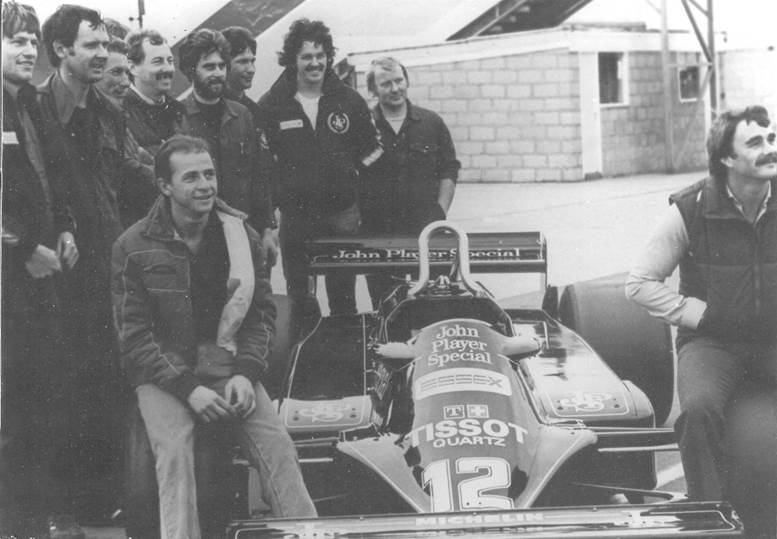 Unfortunately the main scenario I remember which concerns Colin, was when McLaren ? or rather Paddy McNally at Philip Morris initially ? offered me a two year contract in Formula 1, but before that I would finish the season in European Formula 3. They would put me a Philip Morris-backed car, probably with Paolo Pavanello?s Euroracing team (RJ: As you will see later on the interview, Roberto and Paolo Pavanello did end up working together in 1990), as I didn?t have the money myself to race in the series. Then I would race for them in Formula 1 for the next two years. Without talking to anyone else first, I went to see Colin myself. He told me that Elio de Angelis was going to leave the team at the end of the year and I was going to take over his place. So, I went back to Philip Morris and said ?Thank you very much for the offer, but no thank you, I?m already set for the future?.
That was the single biggest mistake that I ever made in my career. I should?ve let Phillip Morris have a word with Colin and negotiate the deal as I had a guaranteed ride for the next two and half years! I turned that down on a possibility on Colin Chapman?s word. So, what happened? Elio decided to stay, mainly because Lotus had secured the Renault turbo engine, and I had nowhere to go! I must say though, Colin was always very good to me, but obviously I did have to give up the one opportunity that would?ve changed my career for the better.
RJ: You raced with so many under-funded or so-called small teams for reasons of necessity, but you always seemed to relish the challenge. What was the attraction of racing for a smaller team, both in F1 and for Bromley in Formula 3000? Was it the challenge to take on the big boys that appealed to you?
RM: My whole life has been about taking challenges on, overcoming them and then enjoying the satisfaction of overcoming them. I enjoy the success and achievement, regardless of what the actual result may be. As far as I can see, I?ve won in life. I started racing with pretty much no money and no budget and no career path aspirations, and yet I?ve enjoyed a wonderful and long career. It?s not always about winning races. For me it was about the enjoyment of the tremendous sense of achievement that came from these challenges. It?s a priceless emotion.
Getting into Formula 1, for example, was a challenge for me. When I didn?t qualify for the Dutch Grand Prix in 1982 ? where I was asked to replace Nigel Mansell at the Dutch Grand Prix - at the last minute without properly testing the car, with a car with very, very heavy steering, well, it put my career back big time in the eyes of Formula 1 team managers.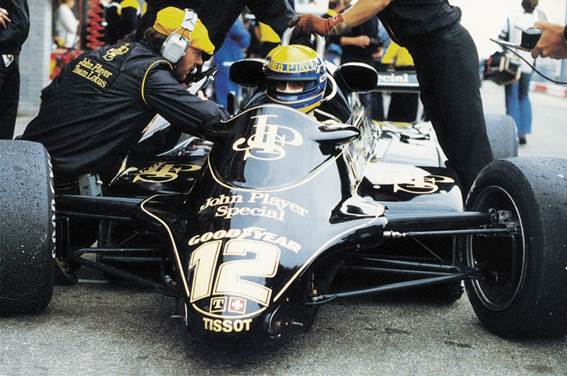 I had now lost the McLaren drive as well, so I was going to race in Formula 3 in 1984, but then I got a call from Ron Tauranac. I was in the Ralt-Honda in Formula 2, with Mike Thackwell. I nearly won the championship, and so in 1985, Ron asked me to stay with them in the new Formula 3000 series. But I had been testing with Toleman and it looked like I was going to get the F1 drive there. But then they told me that they couldn?t get a tyre deal. (RJ note: Toleman couldn?t get a tyre supplier initially to carry on racing in F1 in 1985 after they stopped using both Pirelli tyres during the 1984 season and, previously, stopped using Goodyear tyres, switching from them to Pirelli, in Formula 2. When Michelin left Formula 1 in 1984, it left Toleman without any tyres until Benetton, Toleman?s sponsor, bought the disbanded Spirit team and transferred their Pirelli contract to Toleman. By the time it was all sorted out, it was, unfortunately, too late for Roberto to reclaim a chance of a drive with them.)
So once again, I found myself without a drive. However, Rick Galles, who ran his Indycar team, was a friend of mine and he called me all the time to do some testing in America for him. He also wanted me to race a full season of Indycars in 1985. It took 3 months of him ringing me to sign me up. The trouble was for me twofold. I was trying not to lose him, but also trying not to lose the Toleman drive. The trouble for Rick was he was running out of time to sign sponsorship for the season, so there were a lot of phone calls between us! I was so near to achieving the challenge I had set myself to get back into Formula 1 racing, that I just didn?t want to lose another chance.
So when it all fell apart, Rick didn?t forget about me, he got in touch again. Pancho Carter, Rick?s driver, had a long-standing hip injury from a large shunt some years previously, so he was having trouble driving the road and street courses. So he asked me to do the five road and street races there. By this time I was also in Japan, also for 5 races, for Nova engineering, which Nobuhiko Kawamoto at Honda helped me with as he was disappointed that I hadn?t got the Toleman drive. Racing in Japan and America was really difficult, extremely difficult. I didn?t want to race in Japan. I didn?t want to race in America ? I only wanted to race in Formula 1!
To help achieve that Formula 1 dream, Kees van de Grint was so good with helping me ? he was running Adrian Campos in Formula 3000 and he had a spare Tyrrell Formula 3000 car which he kept trying, somehow, to find a way for me to race in Europe. He was so good because sometimes the team would only have enough mechanics to run one car, but he still tried to help me with the second car in whatever way he could. For example, at Silverstone, Kees agreed a deal with Ken Tyrrell for Ken?s mechanics and engineers to help him, including Brian Lisles, so all of a sudden, overnight, I had a full crew! So there I was trying to make a living through racing, but as I wanted to race in Europe, I was also now racing in Formula 3000 ? I raced at Silverstone, Thruxton, Estoril and Vallelunga. Just to mention, that in 1986, I was with Rick again then eventually got back into Formula 1 in 1987.
RJ: Your 2nd place at Suzuka is an obvious career highlight, but how did the Benetton drive come about?
RM: Well, first of all, I need to rewind a little bit because it happened in stages. Back then, you?ll remember they had pre-qualifying and then qualifying. If you got through pre-qualifying, you pretty much qualified for the Grand Prix in many cases. This meant the team would have to spend money rebuilding the engine and numerous sets of tyres. Unfortunately, my team, EuroBrun, had next to no money, so we often failed to pre-qualify. This caused a lot of tension within the team and unfortunately, both myself and Kees van de Grint, who was there as my race engineer, didn?t always agree with Paolo Pavanello, the team owner, about the best way to maximise our chances of pre-qualifying and then racing. The lack of money made it difficult for us all to progress.
So, although there were two races left where I would still do a job for EuroBrun, I knew I needed to move on for next season, so I began looking around for a drive in 1991. One of the teams who I knew had a seat available was Brabham, so I called Herbie Blash (Brabham team manager) on the Wednesday and he was very enthusiastic and said to me ?Sure, we?d love to see you, come over tomorrow to England and I?ll meet up with you?. On Thursday, before I flew over to England and left my house, I rang him again. Herbie was a little busy so he said ?Don?t fly today, come and see us tomorrow?. On Friday, instead of checking with Herbie, I flew over from Nice to Heathrow Airport and rang Herbie. ?Hi Herbie, I?m here, I?ve come to see you, what do you want me to do next?? Herbie said ?Oh, Roberto, you?ve arrived without telling me. You shouldn?t have come, you should?ve called me before you left Monaco, I?m busy. I have so much going on - I tell you what, though, come over at 4pm and I?ll try and see you then?.
Well, by this time it was 10am. I thought to myself what was I going to do until 4pm? Well, I decided to open my contact book and see who else I could ring. I called Mr (Nobuhiko) Kawamoto, who used to be head of the research & development at Honda and had just become CEO. I called Ron Tauranac, I called Gary Anderson and then I decided to call John Barnard at Benetton, who I worked with at Ferrari, of course. I told him all about my situation and he decided to invite me to sit on a mock-up car for the 1991 season that he was about to finish, because if I did, it would save Nelson (Piquet) and Alessandro Nannini a trip ? they could stay in Europe before going out to Japan instead of coming to the factory. He knew he would get it done there and then, so it suited us all. Little did I know that was the car I?d be driving next year! I said ?Buy me a cup of tea, and I?ll come?.
When I got to the Benetton factory in Godalming, before John could speak to me, the phone was already ringing all the time. The first guy to call was the chief of Ford Racing, Michael Kranefuss, since Benetton had Ford engines. Kranefuss was talking about having Michael Andretti in the car, I was overhearing. Then that phone conversation finished and another phone call came in, which was Andrea de Cesaris, who talked another 10-15 minutes with John. When John finished the conversation with Andrea, he put the phone down, pulled the wire from the phone and off the hook so no-one would disturb our conversation. I still didn?t know what was going on.
John said ?Roberto, at 2pm today, Alessandro Nannini had a helicopter crash and lost his arm. Under normal circumstances, we wouldn?t run a 2nd car but due to contractual and sponsorship reasons, we have to. Some people have already rung, and others will ring. However not only are you the only driver to have contacted us before Nannini?s accident to meet up and chat, and to do us a favour and you?re also the only driver I can trust. Would you like the drive?? A lot of people say that Nelson got me the seat. Not true, not at all! But the team phoned him and he was pleased.
Now obviously I had a contract with EuroBrun still, and John asked me to ring them. I told them the situation and they said they had decided ? on the same day ? to not go to Japan and Australia. I asked them to please send a fax saying as such to the Benetton fax machine. A few minutes later, we got a fax, but it was to say that we needed to call the representative of EuroBrun in England, who was in Switzerland that day for their meeting where they?d decided not to compete in the last two races. So I rang him and he said to me ?If you?re in England tomorrow, I?ll be arriving mid-day at Heathrow, and I?ll give you this letter to say that the team would not go to the last two races?.
Well, then once I had the letter, I would go on to Monaco, make a race suit at the weekend with Sparco in Turin, and then once that was done, I could go to Japan. So, when I met the guy on Saturday, I picked him up and was driving. He didn?t bring me the letter as Eurobrun decided they would possibly still like to have competed at the last two races, and as well as that, there were other complications. After that, I told John Barnard what had happened, and he told me to continue doing what I was going to do and meanwhile I?ll get someone else as a stand-by just in case you cannot drive and they don?t release you.
RJ: Who were Benetton going to get if you didn?t get the release from EuroBrun?
RM: Well, John Barnard mentioned to me that it would be Martin Brundle. I don?t know if he ever went to Japan or whether John actually contacted him.
RJ: Then what happened after that?
RM: Well, I couldn?t sleep because not only did I think I?d lose the seat, but if EuroBrun turned up in Japan, I?d miss out on my big chance. After my fitting with Sparco in Turin, I went to see Stefano, one of the team managers at EuroBrun and told him the situation. Stefano was a young guy, a nice guy, a friend. We worked out what the last flight to Japan was, that in theory, both I and the team could take, and so I said to him ?Can I call you an hour after the flight leaves (RJ Note: Roberto is referring to the last flight that EuroBrun could?ve realistically taken to ensure they would compete at the Japanese Grand Prix) to make sure everything is okay??? When he told me the cars hadn?t left, I knew everything was okay and it was only then could I relax. So, I arrive at Suzuka and I felt knackered after the first day! I got in touch with my old friend from my karting days in Brasilia, Emanuele Basily Garakis, who was now a karate expert and I said to him ?Look, I haven?t actually driven a race for ages this year, I?m really tired, I don?t think I can do a full race distance on my current fitness level, is there anything I can do?? Well, he said to me, read Psalm 23.
Psalm 23 - A psalm of David.
The Lord is my shepherd, I lack nothing.
He makes me lie down in green pastures,
he leads me beside quiet waters, he refreshes my soul.
He guides me along the right paths for his name?s sake.
Even though I walk through the darkest valley,
I will fear no evil, for you are with me;
your rod and your staff, they comfort me.
You prepare a table before me
in the presence of my enemies.
You anoint my head with oil; my cup overflows.
Surely your goodness and love will follow me
all the days of my life,
and I will dwell in the house of the Lord forever
I said to him ?Oh come on, I don?t need help spiritually, I need help physically!? Emanuele said to me, ?Just trust me, spiritually, Psalm 23, read it over and over again?. I still wasn?t sure but when it came to Saturday, I felt twice as tired. So I read Psalm 23 over and over about 100 times. Well, it then came to the Sunday. It didn?t start well, as my car had a hiccup on the warm-up lap on the way to the grid, so I had to move to the spare car, which was set up for Nelson, of course. It wasn?t easy with Nelson?s set-up, but we had a good start, firstly for me personally initially, as I passed the Williams and was then behind Nelson, and then when Senna and Prost crashed on the 1st lap of course. Berger had a shunt on the 2nd lap whilst in the lead, Mansell went out and so it?s all going well for us! Nelson decided that we weren?t going to make a stop because the harder tyre was working. I told him I?ll follow you, whatever you do, I will do the same. So about half-way through the race, I was just knackered. I wanted to stop, it was hard to move the steering wheel, I wasn?t thinking straight and of course I could?ve had an accident. So I just remembered Psalm 23 for nothing else to lose and half-a-lap later, I felt like I had a second wind, felt lifted up, and gave me the chance to physically recover and go through to the end to come 2nd behind Nelson.
Of course, I was really emotional. My tiredness was one reason, Benetton had also got its first ever first and second place and because of that, I felt I was thanking Nelson for all the help he had given me over the years for his help in Brasilia, but especially so for the stepping stones he put in place for me to race in England, and everything he did to help me progress in my career. It was so nice to be with Nelson again on the podium, my friend, the man I see as my brother.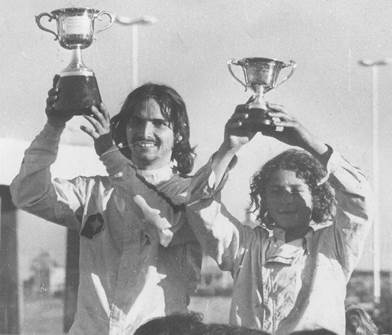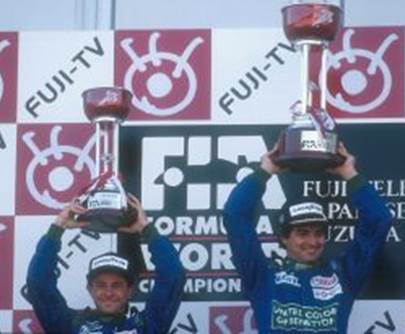 I just want to say, whilst I?m talking about Benetton, that despite people thinking I might be, I was never bitter about losing my drive to Schumacher. I?ve never been a bitter person, not at all. But the other reason I was never bitter was that Benetton gave me a unique opportunity, especially when you consider that I was 31 years of age when I got the Benetton drive, to show my talent in Formula 1, especially when a lot of people thought that my chance to drive for a top team had passed me by, not least because of my age (Schumacher is 10 years younger) and I will never forget that. I left them on the very best of terms when I swapped seats with Michael. Bernie Ecclestone really helped look after me at that time, he was very influential in making sure that the move away from Benetton was done with dignity, and I?ve always appreciated that, but never actually thanked him. So, twenty-five years on, I?d like to put the record straight and say a huge thanks to him, and how much I appreciated his role in making things happen in a good way.
RJ: Perry McCarthy has built a career in public speaking about Andrea Moda and the trouble he had there, but when I met Alex Caffi in 2006, he said that the team had a lot of good employees and obviously Enzo Coloni originally put the car together before Andrea Sassetti took over, so there were positives. Was it as bad as Perry has said it was or is the truth somewhat different?
RM: I?ll be honest, I haven?t read his book. I admire, though, Perry?s efforts to go racing - his efforts to sell his house, putting his family in financial jeopardy and so on, just to raise enough money to go racing and generally I like him as a person. However, there was a bit of history between Perry and myself. I?ll need to rewind again and expand a little bit to explain ? When I was in Formula 3000 and trying to put a team together (Bromley Motorsport) with Gary Anderson, Ron Salt and a couple of mechanics on a race-by-race basis, the way we kept going was at the third race, I won at Pau and the cheque for the winnings was enough to take us to the fourth race at Silverstone, and then the winnings from Silverstone was enough to get us to Monza, and then I got a testing contract with Ferrari which allowed us to finish the season because John Hogan at Phillip Morris sponsored us, so you then see me wearing a red suit with Marlboro on. Anyway, at Silverstone, just after I had won the race, Perry went to Gary Anderson. Gary, like a good Irishman, was having a few pints of beer at the pub in the paddock. Gary told me later on that Perry said to Gary that he should hire him for the Bromley Motorsport drive, not this Brazilian driver that couldn?t drive! So that sort of put an alarm bell in my head about Perry. I didn?t think much of that, what he did then. Here we are trying to find enough money to survive and try to fight for the championship, which as you know, we eventually won, and here is someone trying to get my ride! So that didn?t go down very well.
I just want to talk about Gary briefly before I go back to Andrea Moda. Gary is a good friend, who again has done a lot for me in my career. I first met him in 1985, when both Gary and I were in America. Gary was working with Rick Galles because he needed to make money from racing again. (RJ Note: Anderson relaunched the Anson car with Bob Simpson, which raced in Formula 3 and Formula Vee. However the project came to a halt when Anson had no more money to continue) Gary lost his house to the bank. We gelled well together and it was almost like we?d known each other for years. Ron Salt, at Bromley Motorsport, was formerly the Anson factory manager and Gary negotiated with Ron to give me a drive with Bromley at Birmingham in the 1986 International Formula 3000 series. This gave me a stepping stone back into European racing, and helped lead to Ron Tauranac signing me up for the 1987 season. Meanwhile, Ron Salt gave Gary a role with Bromley and in 1988, when I again left without a drive, Gary helped me. We both took a gamble, as did Ron, because I couldn?t bring any money into the team. But Gary persuaded him that I had enough talent and that the talent would mean good results that might allow the team to take on a paying driver from the fourth race onwards. I mean, to highlight how little money Bromley had, we used to turn up to events in a truck, one of Ron Salt?s trucks that normally carried chickens around, but the trouble with the truck is that you couldn?t fit the car in properly and close the door! You had to fit the car in a certain angle and the truck looked tiny when you compared it to other teams. Gary was a pivotal figure in the success of the car as he was ? and is ? a brilliant designer, I rate him as one of the best in the World.
About Andrea Moda ? well, to summarise, it was this shoe manufacturer guy who decided to go for Formula 1. The car was extremely well designed but never finished the proper way! The people who finished the car were not the people who should?ve finished it! So, some things were not done the right way, and this was just regarding the one car. The second car was an even worse situation, there was not enough money for that car, but the team had to field two cars or otherwise they would be thrown out of Formula 1 and get a fine. So Perry went into a situation where he was never going to start a Grand Prix unless a big sponsor came in to change the situation, which would give us the money to finish the first car, and then we could go on to finish the second car, which was Perry?s. Unfortunately Perry went into this situation without knowing ? I thought he knew ? but later I understood that this wasn?t the case. There were a bunch of good people there at Andrea Moda. Hayden Burvill was my engineer, a great friend of mine, a great engineer who I respect a lot, plus a couple of great mechanics as well.
I don?t recall Enzo Coloni building the car though ? when I was there, the car building was split into two ? an English crew and an Italian crew both tried to build the car. I tried to help them ? I went to Ferrari and Benetton to get parts for the car. For example, a set of springs out of Benetton, some bits from Ferrari, anything I thought we would need from my old friends at the other teams. They would happily help me, and the respect I had was shown when I was able to qualify the car in Monaco. When I drove into the pit lane after my qualification attempt, most of the mechanics and engineers on the Formula 1 pit wall, stood up and applauded me as I drove past them for what I had just achieved. You remember earlier, when I mentioned about enjoying the success and achievement, regardless of what the actual result may be? Well, this was definitely one of those moments. It was such a unique sensation where I had overcome a huge challenge, and that memory will stay in my mind forever.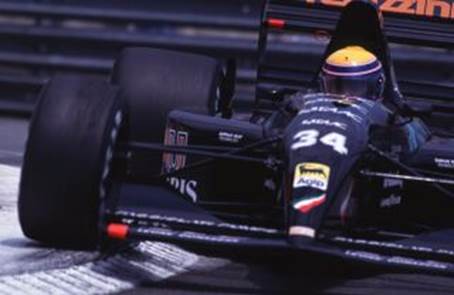 That was, probably, my best ever achievement in racing ? firstly to pre-qualify and then to qualify that car in the Monaco Grand Prix. But it was a team effort as all the guys there worked so hard, but we just had very, very little money from Sassetti. I remember that Elf (the petrol supplier) at the time were making special fuels at the time for the top Elf-supplied teams and I was able to convince Bernard Dudot - and his female assistant, who loved Brazilians and loved the attention I gave her - to give me samples of the special fuel Elf supplied, so that we could use it for the Andrea Moda cars so we could attempt to qualify. That certainly helped us qualify at Monaco. Bernard came up to me after qualifying there and said ?Roberto, that?s one of the best efforts in racing that I?ve ever seen?. In essence throughout the season, the problem was that the car would overheat after just five laps due to a cooling issue, so I had to do a lap time with the tyres before the tyres were in the best condition, which were usually lap five and six, but that?s just how it was. You know, it was essentially still a good car, but we just had no money.
RJ: It was a pleasant surprise to see you back in Formula 1 with Forti in 1995 - how did this opportunity come about?? What was Guido Forti like to work with - not much seems to be written about him?
RM: I was a little fed up with Formula 1 racing after Andrea Moda, so when it all ended, I wanted to go back to America. I felt that was best for me at this particular stage in my career because I had picked up a lot of knowledge in Formula 1 which I thought would help me in a competitive racing series. My wife was saying to me, let?s go to America. So I thought, let?s chase an Indy car drive now, especially as my wife was pregnant with my second daughter. For the first time in my career, I decided, I would produce a colour brochure about my career, in three different languages, which showed all the Indycar teams what I?d done since I?d been away since 1986. So, we moved to America, and I thought, if nothing else comes out of this, at least my daughter will be born in America and have an American passport ? and she did, she was born in the Methodist Hospital in Indianapolis.
Anyway, whilst I was there, I met an old friend called Carlo Gancia. Carlo told me that he was trying to get Pedro Diniz into Formula 1. His dad, Abilio dos Santos Diniz, owned the huge chain of supermarkets and hypermarkets we have in Brazil, and so Carlo, Pedro and Abilio were working on this Formula 1 plan. They were working on getting the supermarket sponsors to give them the backing for this. At the time, Diniz was racing for Forti in Formula 3000 and so they then got in touch with Guido. I was supposed to be involved as Pedro?s coach, mentor and co-driver to get him involved in the Formula 1 process and to learn quickly. Sergio Rinland also came along, who I knew as well. ?Sergio had been working on a project to design a Formula 1 car for about two years, so he met Carlo and Guido and convinced them about his project - his car idea - to them. Unfortunately the car was no good, it was too old, it was two years out of date. Unfortunately the time it took Sergio to go with the plan and get it in Formula 1, it was too late.
Sadly, the whole Formula 1 experience affected Guido. He wasn?t as involved as people think ? it was much more Carlo and Sergio and the Diniz family, but obviously it was his team. He suffered a lot of health problems as a result of the stress and the pressure and I feel that most likely contributed to his death a few years back.
RJ: What was your personal highlight of your time racing in America? What did you, personally, see as your biggest achievement ? and I say that because I sense that again, you enjoyed the challenge just as much as the success?
RM: Well, of course, Cleveland in 2000 (Roberto won the race) was a great achievement, one of my biggest achievements, certainly, the biggest achievement I had in Indy Car. What a sensation, it was amazing! It was my first win since Formula 3000, 12 years previously and that too was emotional, the end of a 12 year drought. I can?t really put it in words properly, but it was sensational.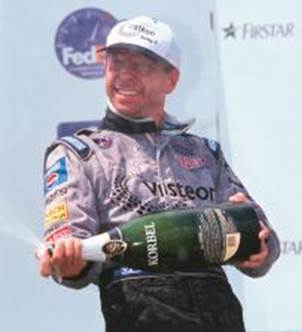 But I want to tell you about when I qualified for Indianapolis in 2007. This was with the Chastain Motorsports team. Tom Chastain is a great person, an electrical contractor in Indianapolis, who put his team together for the Indianapolis 500 because he loved the race so much. He trusted me without really knowing me well ? a lot of people said good things about me, but he still had to put a lot of blind faith in me. Now initially Tom went with a French driver, Stephane Gregoire, but he crashed and was ruled out of the event with concussion, so the team got in touch with me and asked me to help them. So I got in, but I had missed the whole first weekend of qualifying, as well as all the two weeks of practice prior to qualifying, so I was two weeks behind everyone else. As well as this, Chastain had already called in favours from other people to help rebuild the car. So, I had the last two days of qualifying left and I did 5 laps and then came in. I told them ?I know why Gregoire crashed, the car is an evil-handling car?. Remember I had no running in the car until the bump weekend and that was my first attempt here since 1999, a long time ago, and I had to try and remember everything about the track. ?Gregoire crashed on Thursday. The team built the car on the Friday, and then I tried to qualify it on Saturday. Unfortunately when I told the engineer about the car?s handling, he was very upset. He was sulking like a kid when I told him this.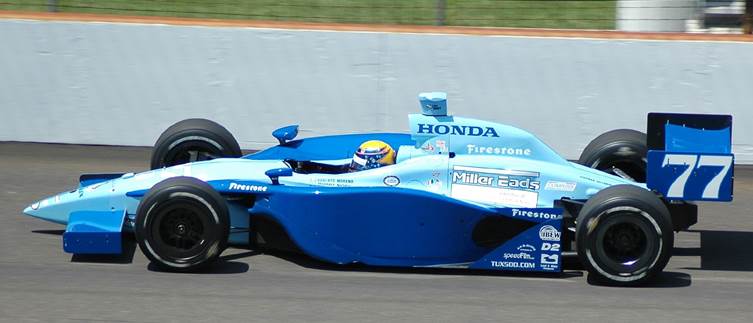 So I tried to qualify with only 1 hour?s running in the car, with a changed setup and having been eight years away ? well that was a big challenge! You don?t want that kind of challenge there on top of everything else. So I went round in 216.229 in qualifying, which was pretty slow, really, for me it was a shit time. However, I got out of the car and engineer from another team said to me ?How did you do that? That?s amazing, that?s one of the greatest things I?ve ever seen!? He explained to me that he could see that the car wasn?t handling very well, yet I was still going flat-out in every corner. He was convinced I would crash and he was astonished I had the balls to go flat out. However, for me, it didn?t seem like much of an achievement. To be honest, I really only went out so I could record a time in case it rained the next day and by fluke, we?d qualify.
Well, anyway, after this attempt, I went to my engineer and said to him ?Look, we?re in this together, I?m sorry if I hurt your feelings when I said the car wasn?t handling well, but I just wanted to express what the car was doing, let?s try and make this qualification happen?. That?s when I had the idea, as there were three G-Forces on the grid trying to qualify, why don?t we go to the engineer who was with them last year ? and now involved with the Dallara car - and ask for their old setup of their car and we?ll start Sunday with that setup? After all, we had limited time and nothing to lose!
My engineer agreed with me, we made peace, and the engineer from Bobby Rahal?s team who was linked with G-Force was pleased to help us with the setup. So we started with a car that I was so pleased with, I was able to suggest new ideas quickly and we were able to qualify, 220.299, the quickest qualifying run of the day. We were on the grid! It made everyone so proud and me so proud to qualify. That for me was something really special, a real challenge which I overcame and especially when I hadn?t raced there for a while, the car?s evil handling, the engineering issues, especially considering the lack of time, with a team who hadn?t really hoped to be on the grid, especially after Gregoire?s accident - I was really proud of that one and rate it as one of my finest achievements.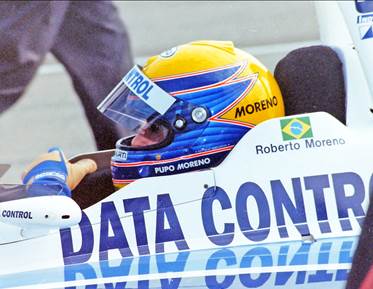 RJ: Finally, one of the reasons it was really good to see you at Goodwood was because we don't often see you at historic events, or certainly not in the UK. What did you enjoy the most about the weekend and do you think you'll attend more events at Goodwood, whether it's the Revival or the Festival of Speed?
RM: I?ve never been to Goodwood before because I?d never been invited! I?ll certainly be at future events if I?m invited. It was partly to do with Ron Maydon, who got me interested in the historic scene. Ron, as you know, he runs the Masters Series, the UK historic series, and whilst I was driving a Formula Ford car, he saw me and came up to me. Then Ron said to me, would I like to drive his Mini at Oulton Park with him? ?Yes please, let me have it?! I said. Oh, I was over the moon to race it and compete in historic racing, it?s super. So, he reminded the Goodwood people, and so I appeared there this year. Oh, I LOVED the event. I have never seen anything like Goodwood, I loved it. Great cars, great people, just amazing. I would go back if I?m invited. It was also really fantastic to be back in England, I lived there for seven years, I have fond memories of England. It was really special.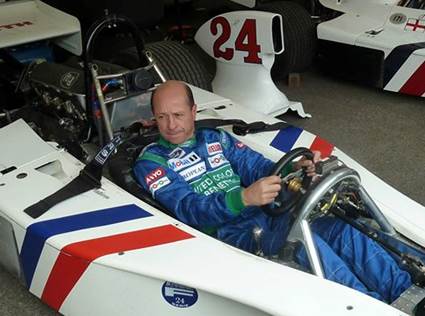 Many thanks to Roberto for his time, friendliness and good humour. I consider the interview one of my personal highlights of doing Where Are They Now? Roberto has given permission for this all to be used, even though his autobiography (the English version) is due out in 2017, and some of these recollections, which will be in the book, haven?t been mentioned before, or certainly not in English. If this interview is anything to go by, the book will be a must-read. It must be said that Roberto mentioned a few other stores in the interview which can?t be published at this present time, so there will be plenty more to read in the book! Thanks also to Jamie O?Leary, at the Media Department at Goodwood, who helped try and put this interview together there.
References used other than Roberto:
All text copyright &copy Richard Jenkins 2015
Photo copyright:
1. Jiri Innemann
2. Roberto Moreno
3. Keith Sutton, Sutton Motorsport Images
4. Roberto Moreno
6. Keith Sutton, Sutton Motorsport Images
7. John Townsend
9. LAT Photographic
10. LAT Photographic
11. Michael Levitt
13. James R Gauerke
14. Gergely Gabris
Roberto Moreno supplied photographs 5, 8 and 12, which he was given in good faith. www.oldracingcars.com will be happy to credit the photographer or agency accordingly.