March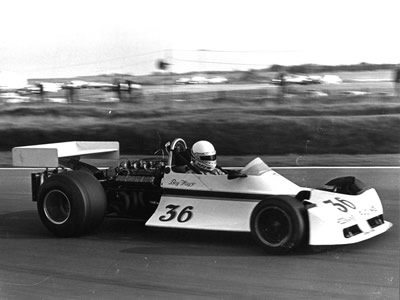 March is one of the legendary constructors; maybe not a F1 legend but a dominant force for many seasons in F2 and Indy racing and winner of many championships in F3, Formula Atlantic, Formula B and European Hill Climbs. March cars won races in series as diverse as Can-Am and Formula Ford and had produced nearly 1500 cars from 1970 to the company's final collapse in the early 1990's.
F5000 should have been an ideal series for March, given their experience in F2, but it took a privateer, John Cannon, to first suggest mating a F2 March with a large lump of Oldsmobile. March then built a run of F5000 cars for 1973 but they flopped and the 1974, 1975 and 1976 F5000 cars were built to order. The 1975 75A won a few races in the UK and the 76A won one in the US, briefly breaking Lola's long domination of the US series. In the few seasons that the SCCA's US Formula 5000 series allowed F1 cars to compete, a March 701 and a March 711 took part.
All and any help would be gratefully received. Please e-mail Allen at allen@oldracingcars.com if you can add anything.
As well as the official March production listed above, a single ex-F1 car appeared in F5000. In March 1975, Toine Hezemans bought the ex-Hesketh/James Hunt March 731, installed a 3.4 litre Ford GA V6 and ran it car for 1974 Dutch FF champion Boy Hayje in the Shellsport F5000 series. Hayje debuted the car at Zolder in April where a poor first heat was followed by the engine overheating in heat two. He was closer to the pace at Zandvoort, qualifying sixth and finishing fifth, but then crashed n practice for the Thruxton round at the end of May. A simple battery lead then put the car out before the start at Snetterton. The team missed the next four races, returning at Silverstone at the end of September to do another three races. They seemed to slip further back with each race and failed to complete a timed lap in practice or even a lap of the race in the final race at Brands Hatch.
The production table above is drawn primarily from The Story of March (Mike Lawrence, 1989), with the addition of the March '741/A' from reports in Autosport.
These histories last updated on 29 August, 2023 .