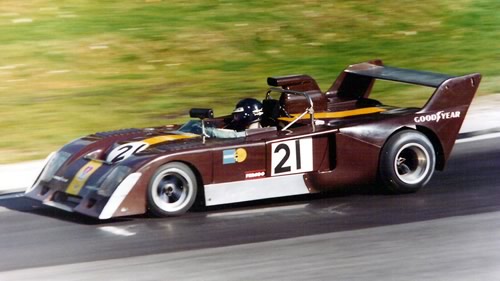 European 2-litre Sports Car racing 1974
Alpine dominated 2-litre racing in 1974 to a degree that few had predicted. Although the cars' reliability record wasn't good, they were significantly faster than anything else so if Jean-Pierre Jabouille's works Société Alpine cars retired, Gérard Larrousse's pair of Team Archambeaud Alpines could pick up the pieces. Either Jabouille and Larrousse took pole position at every round, the final score being 4-3 in Jabouille's favour, but reliability meant that they only won five races between them; the others falling to Archambeaud's Alain Cudini and Société Alpine's Alain Serpaggi. Although Serpaggi wasn't as quick as his teammates, his car was the most reliable and his three second places were sufficient to secure the drivers' title.
Chevron's new monocoque B26 was a huge step forward after the struggles of 1973 and when equipped with Brian Hart's new alloy block 420R engine, it was almost a match for the Alpines. But with Red Rose Racing having closed, it was left to John Lepp in one of Roger Hire's Forge Mill Racing B26s to lead the Chevron fleet. The quickest Lolas were the hire-drive cars run by Martin Raymond and Roger Heavens but the most successful were the two new T294s run by Fred Stalder's Racing Organisation Course and fitted with ROC's Chrysler-Simca engines. Although focused more on Le Mans than the 2-litre series, it was Stalder's T294 that picked up the bulk of Lola's points. March only fielded three cars in Europe, a works car for Jean Ragnotti, which swapped from BMW power to FVCs during the season, and two from Paulenco Racing.
For Osella Abarth, the season was a disaster, new team drivers Chris Craft and Jean-Louis Lafosse unable to find either speed or reliability in the new PA2. In Germany, Jörg Obermoser's big-budget operation reworked his GRDs into TOJ SS02s and with the experienced Dave Walker in the second car, showed impressive speed.
The races
07 Apr 1974 > Trophée International Paul Ricard
23 Jun 1974 > Trophée d'Auvergne at Clermont-Ferrand
21 Jul 1974 > Trofeo Etienne Aigner at Misano
11 Aug 1974 > Coppa Città di Enna at Enna-Pergusa
25 Aug 1974 > Preis Der Nationen at Hockenheim
22 Sep 1974 > Gran Premio di Mugello
20 Oct 1974 > Jarama 2 Hours
1974 European 2 Litre Sports Car Championship table
1
Alain Serpaggi
Alpine A441 - Renault
77 pts
1 win
2
Gérard Larrousse
Alpine A441 - Renault
75 pts
3 wins
3
Jean-Pierre Jabouille
Alpine A441 - Renault
73 pts
2 wins
4
Jean Ragnotti
March 74S - BMW
March 74S - Cosworth BDG
45 pts
5
John Lepp
Chevron B26 - Ford BDA Hart
Chevron B26 - Hart 420R
41 pts
6
Fred Stalder
Lola T294 - Chrysler-Simca ROC
38 pts
7
Jorge de Bagration
Abarth Osella PA2
Chevron B23 - Cosworth FVC
22 pts
8=
Alain Cudini
Alpine A440 - Renault
20 pts
1 win
8=
Dave Walker
TOJ SS02 - BMW Schnitzer
20 pts
10
Rafael Barrios
Chevron B26 - Ford BDA Hart
Chevron B26 - Cosworth FVC Alan Smith
18 pts
Manufacturers
| | | | |
| --- | --- | --- | --- |
| 1 | Alpine-Renault | 100 pts (140 pts gross) | 7 wins |
| 2 | Chevron | 49 pts (52 gross) | |
| 3 | March | 46 pts | |
| 4 | Lola | 41 pts (43 gross) | |
| 5 | Abarth | 30 pts | |
| 6 | TOJ | 23 pts | |
| 7 | AMS | 9 pts | |
Cosworth's old FVC engine continued to appear in large numbers from the workshops of Alan Smith and Geoff Richardson but its days of dominance were long gone and BMW engines and Cosworth's newer BDG were more competitive options for privateers. The Abarth engine continued to work well in Enzo Osella's cars but was no longer seen in customer cars at European level. The Cosworth-Chevrolet Vega engine had not been seen since mid-1973 but two new engines made an impact: Brian Hart's new all-alloy 420R engine which was seen in the works Chevron and ROC's Simca engine built by Max Funda and installed in Société ROC's fleet of Lolas.