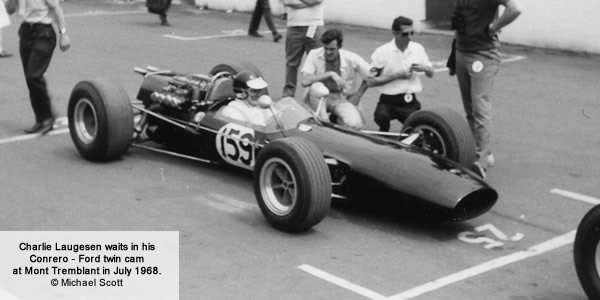 Canadian Eastern Zone Formula B 1968
Ontario's Bill Brack dominated the Eastern Zone series in a Lotus 41C, one of only two new Formula B cars. Series founder Peter Broeker won the opening round in his evergreen Stebro but the second round was a battle between Brack and Quebec's Jacques Couture in a Crosslé 12F. The Crosslé emerged victorious on that occasion but Brack won the next five races in the Hot Wheels-supported Lotus.
The races
12 May 1968 > Harewood Acres
26 May 1968 > Mont-Tremblant
08 Jun 1968 > Harewood Acres
06 Jul 1968 > Harewood Acres
21 Jul 1968 > Mont-Tremblant
25 Aug 1968 > Mosport Park
08 Sep 1968 > Trois-Rivières
1968 Eastern Zone Formula Car Championship for the Stebro Trophy table
1
Bill Brack
Lotus 41C - Ford twin cam
116 pts
5 wins
2
Peter W. Broeker
Stebro Mk 4 - Ford twin cam
68 pts
1 win
3
Jacques Couture
Crosslé 12F - Ford twin cam
62 pts
1 win
4
Brian McDonald
(FF) Lotus 51 - Ford Kent
56 pts
0 wins
5
André Leclaire
(FC) Moleba - Ford
(FB) Moleba - Alfa
46 pts
0 wins
This championship table has been constructed from the known results on the assumption that this series used the same 20-16-13-10-8 points system used by the Molson Quebec Region championship in the following three years. If a 9-6-4-3-2-1 system had been used, the first five positions would have been the same but Max Castleberg (Cooper-Ford) would have taken sixth ahead of Hochreuter.