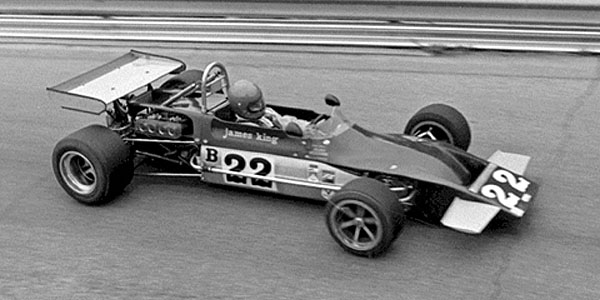 MidWest Division SCCA Formula B 1972
Bob Lazier concentrated on the Pro series in 1972, leaving 1971 runner-up Gordon Smiley to take the title from James King. Smiley stuck with his 1971 Merlyn and showed his talent with a couple of appearances in the Pro series, dominating the Road Atlanta race after beasting Lazier to pole and later finishing second at Road America.
James King had acquired the ex-Bob Lazier March 71BM and Bob Schutt had upgraded from his venerable Brabham BT18 to a BT35. Further back was Frank Dickerson who had acquired the 1964 Brabham BT9 that Chuck Grauel had raced in FC but had blown up the MAE engine so had fitted a twin cam and moved up to Formula B.
The Lake Garnett Grand Prix returned to the schedules for 1972, having been called off due to safety concerns in 1970. The return saw two accidents, involving the tragic death of Ralph Miller and serious injuries to Formula C driver Al Essig. It would never he held again, and Kansas City Region thereafter moved to being co-organisers of some of Kansas Region's Nationals at Hutchinson's Sunflower Aerodrome of Mid America Raceway.
Final standings
| | | | | |
| --- | --- | --- | --- | --- |
| 1. | Gordon Smiley | Merlyn [Mk 20] | Kansas City | 27 pts |
| 2. | James King | March [71BM] | S. Illinois | 22 pts |
| 3. | Bill Bachman | Lola [T240] | Colorado | 16 pts |
| 4. | Bob Schutt | Brabham [BT35] | St Louis | 16 pts |
| 5. | James Gutfreund | Brabham [BT35] | DMV | 7 pts |
| 6. | Frank Dickerson | Brabham [BT9] | Wichita | 4 pts |
| 7. | Gerald E Hudson | Lola [T60] | Wichita | 3 pts |
| 8. | Porter Brownlee | Merlyn [Mk 21] | Arkansas | 2 pts |
NB In 1972, SCCA tables did not show where points were earned out of home divisions.
1972 Schedule
23 Apr 1972
Stuttgart Airport
Grand Prairie Grand Prix (Arkansas Region)
07 May 1972
Mid-America Raceway
Falstaff Classic (Southern Illinois/
St Louis Region)
18 Jun 1972
Hutchinson Naval Air Station
Hutchinson Grand Prix (Wichita Region)
02 Jul 1972
Ponca City
Oklahoma Region
13 Aug 1972
Lake Afton
Wichita Region
03 Sep 1972
Lake Garnett
Lake Garnett Grand Prix (Kansas City Region)
24 Sep 1972
Mid-America Raceway
Fall Festival (St Louis Region)
08 Oct 1972
Fort Sumner
Rio Grande Region
Midwest Division sources
Race results for Midwest Division Nationals from 1970 to 1978 have been kindly provided by veteran MiDiv historian Rocky Entriken. We also have some background information from Competition Press up to about 1973, when its interest in such events waned considerably, but we know little of the goings-on away from these events and are are keen to acquire or borrow 1960s, 1970s and 1980s copies of SCCA regional publications from this Division. The key ones are:
Checkpoint (Kansas City Region)
Course Record (Arkansas Region)
The Echo (Southern Illinois Region)
Exhaust Notes (Nebraska) - full archive available at nrsccahistory.com.
Gasket Gazette (Oklahoma Region)
Neokla Observer (NE Oklahoma Region), renamed Sports Car Observer in 1980
The Offside Undo (Kansas Region)
Redline (Colorado Region)
Steerin' Column (Mid-South Region)
Wheelspin (St. Louis Region)
Witches Wail (Wichita Region)
We are also keen to get scans of entry lists from SCCA Nationals for this division.