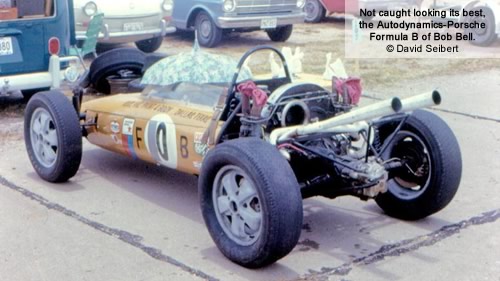 South West Division SCCA Formula B 1966
Formula B flickered into life in Texas in 1966 and three cars scored points in SWDiv Nationals races. Thanks to the SCCA points scoring system, the challenge in many of the divisions at this stage of FB's development was to have enough cars in the race for points to be awarded. In SWDiv this only happened often enough for Bob Bell to get a class win and a second, and for David Stroffolino and Gus Hutchison to get one win each. Bell therefore took the title in his Autodynamics-Porsche D3, a design based on Autodynamics' successful Formula Vee car but with a 2-litre Porsche 356 engine. David Stroffolino had a De Tomaso chassis, very probably one of three imported by Mecom Racing Team, which had been fitted with an Alfa Romeo twin cam engine.
The third competitor, Gus Hutchison, would go on to have the greatest impact on Formula B, winning the Continental Championship in 1967. His car was described as a Yancey Special but race reports referred to him driving a Lotus 22 or Lotus 31.
Final standings
| | | | | |
| --- | --- | --- | --- | --- |
| 1. | Bob Bell | Autodynamics-Porsche (D-3) | Texas | 15 pts |
| 2. | David Stroffolino | De Tomaso | Texas | 9 pts |
| 3. | Gus Hutchison | Yancey Special [Lotus 22/31] | Texas | 9 pts |
1966 Schedule
| | | |
| --- | --- | --- |
| 26 Mar 1966 | Seguin Airfield | Alamo Region |
| 18 Jun 1966 | Green Valley Raceway | Texas Region |
| 02 Jul 1966 | Galveston Airport (Scholes Field) | San Jacinto Region |
| 23 Jul 1966 | Ryan Field | Central Louisiana Region |
| 07 Aug 1966 | Austin Raceway Park | Lone Star Region |
| 01 Oct 1966 | Mansfield Airport | Red River Region |
A considerable number of the scheduled SCCA Nationals in Southwest Division did not go ahead leaving just these six. Four were held on airfields with just one dedicated facility, Green Valley Raceway, and the street races that were held as part of Austin's annual Aqua Festival.
Southwest Division sources
Coverage of SWDiv was much slimmer in Competition Press & Autoweek than for other Divisions. To make the historian's life even more difficult, a couple of the Regions that organised National events do not appear to have had their own newsletters for much of this period: Alamo Region in Texas and Central Louisiana Region in Louisiana. The known Regional publications are:
Deltagram (Delta Region)
Journal (San Jacinto Region)
Lone Star Draft (Lone Star Region) - from 1979
Roundup (Texas Region)
Spinout (Southwest Louisiana Region) - from 1978
Border Bulletin (South Texas Border Region)
For much of the 1960s, the most important publication for this area was Southwest Racing News, published from 1963 onwards by Bill Gay from Dallas and running on until at least 1974. We are exceedingly keen to acquire copies of any of these.
We are also keen to get scans of entry lists from all SCCA Nationals and Regionals in this Division.