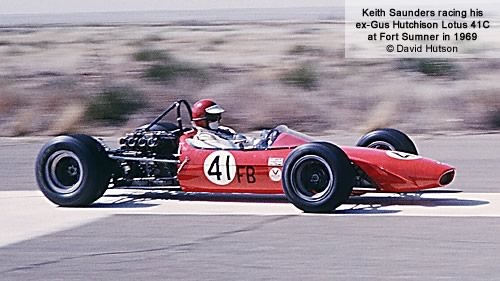 South West Division SCCA Formula B 1969
With 1968's leading drivers having moved up to the Pro series, their old Lotus 41Cs having been finally put out to pasture and the Lotus 51 Formula Fords now with their own class, SWDiv FB started the season with anaemic grids. In August, having virtually wrapped up the FV category, Butch Harris bought a new FB Winkelmann WDB1 and quickly won two events. Harvey Simon also moved into FB with a new Caldwell and a couple of Formula Ford Winkelmanns also competed in the class.
The top three, Harris, Simon and Joe Duran, were all entered for the Runoffs but did not race.
Final standings
1.
"Butch" Harris
Winkelmann (WDB1)
San Jacinto
28 pts

†

2.
Joe Duran
Winkelmann
Lone Star
26 pts

3.
Harvey Simon
BMC (/Caldwell)
Texas
24 pts

†

4.
Gordon Beavers
Winkelmann
Lone Star
21 pts

5.
Tom Frazier
Lotus [51]
Texas
15 pts

6.
Keith Saunders
Lotus 41
Rio Grande
6 pts

7.
Bob Rowley
Lotus 51
Texas
4 pts

8.
Jim Hall
Halfbreed
Texas
3 pts
† Indicates total includes points earned out of home division.
Keith Saunders also appeared in the MidWest Division table, the pointskeepers apparently being unsure which division owned the Rio Grande Region.
1969 Schedule
| | | |
| --- | --- | --- |
| 16 Feb 1969 | Green Valley Raceway | Texas Region |
| 04 May 1969 | Austin Raceway Park | Alamo Region |
| 18 May 1969 | Conroe | San Jacinto Region |
| 01 Jun 1969 | Chennault Field (Lake Charles Airfield) | Southwest Louisiana Region |
| 22 Jun 1969 | Green Valley Raceway | Texas Region |
| 06 Jul 1969 | Galveston Airport (Scholes Field) | San Jacinto Region |
| 03 Aug 1969 | Austin Aqua Festival | Lone Star Region |
| 31 Aug 1969 | Camp Gary AFB | Alamo Region |
Again there was a steady evolution of the SWDiv schedule. Texas Region again had two events at GVR, and Sowela, San Jacinto and Lone Star were fixtures at Lake Charles, Scholes Field and Austin Aqua Festival respectively. Alamo Region were refused permission to use Clear Springs Auxilary Field by the Federal Aviation Authority, so had to move their Carrera del Alamo event in May to Austin Raceway Park (called Austin Dragway Park at this time) before finding a new home at Camp Gary Air Force Base. Lone Star were down to just one event, and West Texas Region's race at Odessa was not repeated. San Jacinto kept the numbers up with an event at an airfield at Conroe.
Southwest Division sources
Coverage of SWDiv was much slimmer in Competition Press & Autoweek than for other Divisions. To make the historian's life even more difficult, a couple of the Regions that organised National events do not appear to have had their own newsletters for much of this period: Alamo Region in Texas and Central Louisiana Region in Louisiana. The known Regional publications are:
Deltagram (Delta Region)
Journal (San Jacinto Region)
Lone Star Draft (Lone Star Region) - from 1979
Roundup (Texas Region)
Spinout (Southwest Louisiana Region) - from 1978
Border Bulletin (South Texas Border Region)
For much of the 1960s, the most important publication for this area was Southwest Racing News, published from 1963 onwards by Bill Gay from Dallas and running on until at least 1974. We are exceedingly keen to acquire copies of any of these.
We are also keen to get scans of entry lists from all SCCA Nationals and Regionals in this Division.