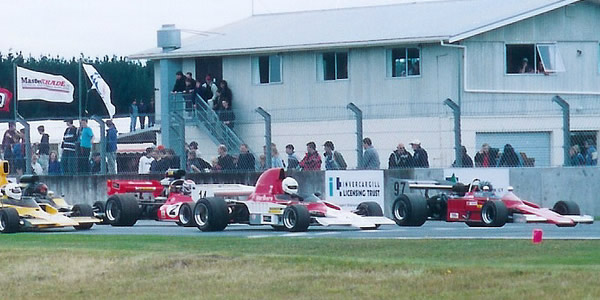 HRC Tasman Revival 2003/04
The Historic Racing Club/Formula 5000 Association was formed in New Zealand in 2003, and organised a series of races during that 2003/04 'down under' season, including one at a VHRSC meeting at Sandown Park in Australia.
A total of 22 cars competed during that impressive initial season: three Beggs; an Elfin MR5; four Lola T332s, three Lola T330s, two Lola T430s, single examples of T142, T190, T192 and T400; a McLaren M18; three McRae GM1s; and a Talon MR1. As well as the Kiwi drivers, Australian representation came from Aaron Lewis, Andrew Robson, and Bob Harborow; husband and wife Frank and Judy Lyons came over from England, and Murray Sinclair flew the flag for Hong Kong.
The races
21 Sep 2003 > Icebreaker meeting at Pukekohe
09 Nov 2003 > VHRR Historic Sandown at Sandown Park
01 Feb 2004 > Skope Classic at Ruapana Park
15 Feb 2004 > Classic Speed Fest at Teretonga Park
28 Mar 2004 > HRC/Auckland Car Club meeting at Pukekohe
02 May 2004 > Placemakers V8 Supercar support race at Pukekohe
F5000 Tasman Cup Revival Series events shown in bold
2003-2004 F5000 Tasman Cup Revival Series table
1
Ian Clements
Lola T332 - Chevrolet V8
161 pts
2
Murray Sinclair
Lola T332 - Chevrolet V8
151 pts
3
Roger Williams
McRae GM1 - Chevrolet V8
150 pts
4
Tony Roberts
Talon MR-1 - Chevrolet V8
127 pts
5
David Abbott
Lola T430 - Chevrolet V8
117 pts
6
Stan Redmond
Lola T332 - Chevrolet V8
McRae GM1 - Chevrolet V8
108 pts
7
Shayne Windelburn
Lola T400 - Chevrolet V8
80 pts
8
Poul Christie
Lola T190 - Ford V8
47 pts