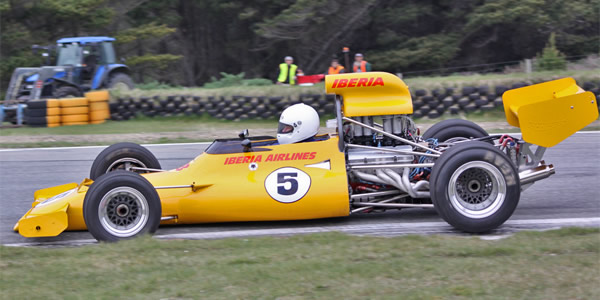 HRC Tasman Revival 2009/10
Former champion Chris Hyde returned to the series after a year away and won the opener and also the prestigous Australan Grand Prix support race in Stuart Lush's McRae GM1. Kenny Smith was his closest rival in David Abbott's Lola T430, and when the McRae broke, as it did at Hampton Downs and Pukekohe, Smith took victory, and wrapped up the title. Also very quick was Steve Ross, who had bought Alistair Hey's McRae GM1, the car that Hyde had used to win the 2008/09 title. Ross held a narrow points lead going into the final race but a half shaft sheared, and Smith took the points he needed to retain his title.
Grid sizes had surged, from less than 20 cars at each event in 2007/08, to 23 in 2008/09, and now to nearly 30 in 2009/10. The key reason was an enormous contingent over from England, led by the Lyons family with Eagle 74A, Lola T400 and Lola T332, and acccompanied by Daryl Taylor (Chevron B28), Mark Dwyer (Lola T332C), Greg Thornton (Surtees TS11), Grant Clearwater (McLaren M10A/B), Mike Whatley (Surtees TS8), Neil Glover (Lola T330), and Peter Dunn returning with his March 73A. Bruce Leeson was also back from the US with his McLaren M10B. Of the Kiwis, Warwick Mortimer had bought a Surtees TS5, Aaron Burson had bought Jay Esterer's McRae GM1, Stan Redmond had acquired a Lola T333CS from somewhere, and Brett Willis had a Lola T330 recently reconstructed by John Crawford.
The races
15 Nov 2009 > MG Classic meeting at Manfeild
10 Jan 2010 > Lady Wigram Trophy at Ruapana Park
24 Jan 2010 > NZ Festival of Motor Racing at Hampton Downs
31 Jan 2010 > NZ Festival of Motor Racing at Pukekohe
21 Mar 2010 > The Shannons Phillip Island Classic
28 Mar 2010 > Australian Grand Prix support race at Albert Park
2009-2010 F5000 Tasman Cup Revival Series table
1
Ken Smith
Lola T430 - Chevrolet V8
389 pts
2
Steve Ross
McRae GM1 - Chevrolet V8
373 pts
3
Ian Clements
Lola T332 - Chevrolet V8
284 pts
4
Chris Hyde
McRae GM1 - Chevrolet V8
262 pts
5
Sefton Gibb
Lola T332 - Chevrolet V8
249 pts
6
Roger Williams
Lola T332 - Chevrolet V8
197 pts
7
David Abbott
Lola T430 - Chevrolet V8
149 pts
8
Brett Willis
Lola T330 - Chevrolet V8
139 pts
9
Aaron Burson
McRae GM1 - Chevrolet V8
Talon MR-1A - Chevrolet V8
124 pts
10
Tony Richards
Lola T332 - Chevrolet V8
97 pts
11
Russell Greer
Lola T332 - Chevrolet V8
96 pts
12
Gregory Thornton
Surtees TS11 - Chevrolet V8
93 pts
13
Peter Dunn
March 73A - Chevrolet V8
86 pts
14
Aaron Lewis
Matich A50 - Repco Holden V8
Chevron B24 - Chevrolet V8
71 pts
15=
Timothy Rush
Begg FM4 - Chevrolet V8
McLaren M22 - Chevrolet V8
62 pts
15=
Mike Whatley
Surtees TS8B - Chevrolet V8
62 pts
17
Darcy Russell
Lola T330 - Chevrolet V8
59 pts
18
John Mackinlay
4.4-litre March "72A" - Oldsmobile V8
56 pts
19
Peter Burson
McRae GM1- Chevrolet V8
55 pts
20
Daryl Taylor
Chevron B28 - Chevrolet V8
51 pts
Most events
A total of 35 F5000 Tasman Revival events had taken place by the end of this season. The drivers who had taken part in the most were as follows.
| Driver | Events |
| --- | --- |
| Stan Redmond | 31 |
| David Abbott | 30 |
| Poul Christie | 30 |
| Ian Clements | 29 |
| Stuart Lush | 23 |
| Kerry Anderson | 23 |
| Tony Richards | 23 |