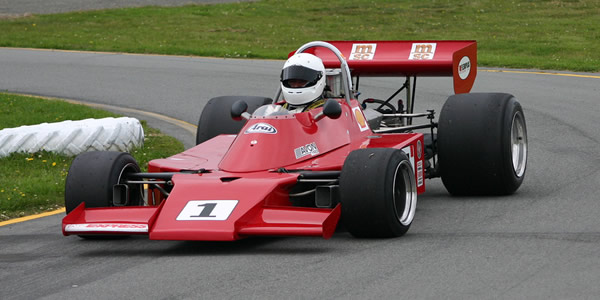 HRC Tasman Revival 2005/06
Among the changes for the new season, Aaron Burson appeared in the Talon acquired from Tony Roberts, and Noel Atley bought the Begg 018 from Phil Mauger, who replaced it with a McLaren M23 F1 car acquired from Denny Hulme's widow Greta. Australian regular Aaron Lewis had acquired a Chevron B24 to replace the damaged Matich A50, and fellow Australian Graham Smith appeared with an ex-Ray Gibbs March "73A". Steve Ward reappeared in his Lola T142, and Kerry Anderson had imported a second T142 from the US, which was restored for him by Barry Leich. Murray Sinclair continued to race his ex-Graeme Lawrence Lola T332, but had a poor season by his standards, and another newcomer Tony Richards appeared with the T332 previously raced by John Mann. Poul Christie, Ian Clements, Shayne Windelburn and David Abbott all continued to run their usual Lolas. Stuart Lush continued to race his McRae GM1, Alastair Russell bought Roger Williams' sister car, and Stan Redmond decided to swap over to his McRae, leaving his Lola T330/332 to be raced by visiting English racer/preparer Simon Hadfield.
At the opening race, Kiwi legend Kenny Smith was allowed to race his Formula Atlantic Swift DB4 with the F5000s and rather embarrassed the larger cars by winning the feature race, with Mauger's F1 McLaren second. Hadfield then blitzed the field at Pukekohe and Ruapana Park, where his only real opposition came from another overseas visitor, Michael Schryver, who had borrowed Todd Stewart's Lola T430. With these visitors having returned home and Kenny Smith absent, Ian Clements won all three preliminery races at the fourth event at Teretonga Park, only for Stan Redmond to win the final. In the final race at Pukekohe, Clements' Lola T332 broke its crankshaft in the second race, but Redmond generously loaned his rival his McRae GM1 for the feature race, which Clements duly won to wrap up the championship.
The races
13 Nov 2005 > Whittakers MG Classic at Manfeild
29 Jan 2006 > Tasman Cup Revival Series race at Pukekohe
05 Feb 2006 > Skope Classic at Ruapana Park
19 Feb 2006 > Classic Speed Fest at Teretonga Park
19 Mar 2006 > HRC Formula Libre Grand Prix at Pukekohe
2005-2006 Flexoplas NZ Express F5000 Revival Series table
1
Ian Clements
Lola T332 - Chevrolet V8
323 pts
2
Stuart Lush
McRae GM1 - Chevrolet V8
283 pts
3
Stan Redmond
McRae GM1 - Chevrolet V8
231 pts
4
Aaron Burson
Talon MR-1 - Chevrolet V8
188 pts
5
Tony Richards
Lola T332 - Chevrolet V8
161 pts
6
Murray Sinclair
Lola T332 - Chevrolet V8
154 pts
7
Shayne Windelburn
Lola T400 - Chevrolet V8
118 pts
8
Steve Ward
Lola T142 - Chevrolet V8
100 pts
9
Poul Christie
Lola T190 - Ford V8
97 pts
10
Aaron Lewis
Chevron B24 - Chevrolet V8
Matich A50 - Repco Holden V8
68 pts