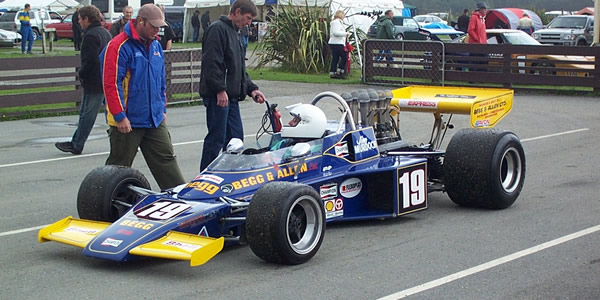 HRC Tasman Revival 2004/05
Despite plans to include the Philip Island Classic, the trip to Australia did not go ahead, and the only regular Australian visitor for the Tasman Revival's second season was Aaron Lewis. The Adelaide resident had an unfortunate season, badly damaging his Matich A50 against the tyre wall at Teretonga Park. The Skope Classic brought in some overseas visitors, including Abba Kogan from Monaco with his Formula 2 Brabham BT36, and original Tasman driver Bob Muir, who was on hand to drive Lewis's Matich.
The series was dominated by the three Christchurch-based Lola T332s of Murray Sinclair, Ian Clements, and Stan Redmond. There were few new cars taking place, and English visitors Frank and Judy Lyons went to the Philip Island Classic instead. Could the series make it into a third season?
The races
14 Nov 2004 > Whittakers Classic at Manfeild
06 Feb 2005 > Skope Classic at Ruapana Park
13 Feb 2005 > Classic Speed Fest at Teretonga Park
20 Mar 2005 > HRC Formula Libre Grand Prix at Pukekohe
2004-2005 Flexoplas NZ Express Formula 5000 Challenge table
1
Murray Sinclair
Lola T332 - Chevrolet V8
305 pts
2
Ian Clements
Lola T332 - Chevrolet V8
246 pts
3
Stan Redmond
Lola T332 - Chevrolet V8
220 pts
4
Roger Williams
McRae GM1 - Chevrolet V8
188 pts
5
Poul Christie
Lola T190 - Ford V8
181 pts
6
David Abbott
Lola T430 - Chevrolet V8
112 pts
7
Tony Roberts
Talon MR-1 - Chevrolet V8
111 pts
8
Shayne Windelburn
Lola T400 - Chevrolet V8
90 pts
9
Noel Atley
Begg 018 - Chevrolet V8
73 pts
10
Stuart Lush
McRae GM1 - Chevrolet V8
65 pts
11
Lindsay O'Donnell
Begg FM5 - Chevrolet V8
54 pts
12
Aaron Lewis
McRae GM1 - Chevrolet V8
Matich A50 - Repco Holden V8
50 pts
13
Phil Mauger
Begg 018 - Chevrolet V8
46 pts
14
Bob Muir
Matich A50 - Repco Holden V8
20 pts