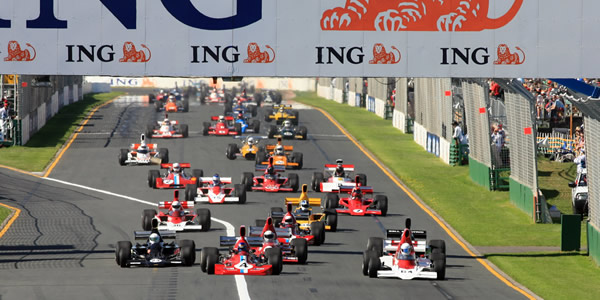 HRC Tasman Revival 2008/09
The growing profile of the F5000 Tasman Revival series was finally rewarded in March 2009 with a support race at the Australian Grand Prix meeting. This drew a huge field of 32 cars, including 18 New Zealanders, nine Australians, four from England including three members of the Lyons family, and a solitary American. Ten constructors were represented, and the models of car ranged from the Begg FM2 of 1969 to the Elfin MR8 of 1977.
Chris Hyde only appeared at the opening race of the 2008/09 season, leaving Kenny Smith to win most of the races from then on. He was challenged by Canadian Jay Esterer who had brought a McRae GM1 with him and won a race at the Lady Wigram Trophy meeting, and also by Englishman Mark Dwyer, who had brought over his Lola T400. Other new cars in 2009 included the Elfins of Tony Floreani (MR5), Paul Trevethan (MR6) and Ken James (MR8); and a Lola T332 raced by Ian Clements that remains sadly unidentified.
The races
09 Nov 2008 > VHRR Historic Sandown at Sandown Park
30 Nov 2008 > Tasman Revival meeting at Eastern Creek
18 Jan 2009 > Lady Wigram Trophy at Ruapana Park
25 Jan 2009 > Tasman Cup Revival Series race at Pukekohe
01 Feb 2009 > Tasman Cup Revival Series race at Taupo Motorsport Park
29 Mar 2009 > Australian Grand Prix support race at Albert Park
2008-2009 F5000 Tasman Cup Revival Series table
1
Ken Smith
Lola T430 - Chevrolet V8
398 pts
2
Tony Richards
Lola T332 - Chevrolet V8
318 pts
3
Aaron Burson
Talon MR-1A - Chevrolet V8
266 pts
4
Stan Redmond
Lola T332 - Chevrolet V8
232 pts
5
Sefton Gibb
Lola T332 - Chevrolet V8
230 pts
6
Ian Clements
Lola T332 - Chevrolet V8
228 pts
7
David Abbott
Lola T430 - Chevrolet V8
137 pts
8
Mark Dwyer
Lola T400 - Chevrolet V8
117 pts
9
Stuart Lush
McRae GM1 - Chevrolet V8
110 pts
10
Jay Esterer
McRae GM1 - Chevrolet V8
100 pts
11
Roger Williams
Lola T332 - Chevrolet V8
99 pts
12
Aaron Lewis
Chevron B24 - Chevrolet V8
Matich A50 - Repco Holden V8
96 pts
13
Andrew Robson
Lola T332 - Chevrolet V8
75 pts
14
Bruce Leeson
McLaren M10B - Chevrolet V8
72 pts
15
Tony Roberts
McLaren M22 - Chevrolet V8
64 pts
16
Frank Lyons
Begg 018 - Chevrolet V8
Lola T332 - Chevrolet V8
53 pts
17
Poul Christie
Lola T190 - Ford V8
50 pts
18
Alastair Russell
McRae GM1 - Chevrolet V8
50 pts
19
Hamish Paterson
Chevron B32 - Chevrolet V8
38 pts
20
Ken James
Elfin MR8-C - Chevrolet V8
36 pts
Although Chris Hyde won the feature race at the opening round, he does not appear in the pionts table. According to official points keeper Tony Richards, Hyde was standing in for Stuart Lush who was unwell, so was not eligible for points.
Most events
A total of 29 F5000 Tasman Revival events had taken place by the end of this season. The drivers who had taken part in the most were as follows.
| Driver | Events |
| --- | --- |
| Stan Redmond | 28 |
| David Abbott | 25 |
| Ian Clements | 24 |
| Poul Christie | 24 |
| Stuart Lush | 23 |