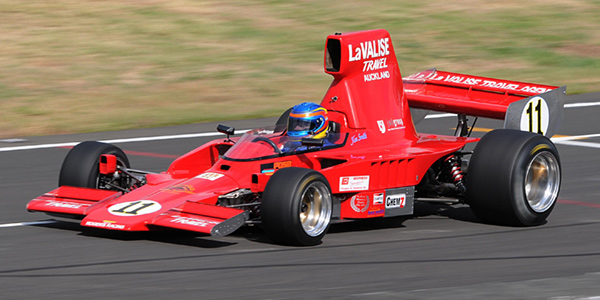 HRC Tasman Revival 2014/15
The separate Australian championship was abandoned after a single season, and the main Tasman Revival series for 2014/15 included VHRR Historic Sandown in November 2014 and a race at Sydney Motorsport Park a few weeks later before moving to New Zealand in January for four races, culminating in a support race for the New Zealand Grand Prix. Tom Tweedie continued his impressive form in the heavily modified Chevron B24/28, winning at Sandown from Clark Proctor (March 73A) and Steve Ross (McRae GM1). At Sydney Motorsport Park, Tweedie's Chevron broke its suspension as he went out for Saturday morning practice, so he missed that afternoon's race, allowing Proctor to take an easy win. Tweedie was back for the Sunday, and won both races comfortably. Tweedie did not travel to New Zealand, and it was Kenny Smith, who had skipped the Australian races, who dominated both weekends at Hampton Downs in his Lola T332, with Proctor and Ross picking up the minor placings. For once the Lyons family were not competing at Hampton Downs, so the very healthy turnout of 20 Kiwis was joined by just two Australians and three Brits, Only 13 cars turned up to the Skope Classic, where Ross was in charge, with Sefton Gibb (Lola T332) his closest rival, but Smith was back for the New Zealand GP meeting, winning all three races as Ross battled with Andrew Higgins (Lola T400) for the other podium places.
Of the leading runners, only Ross had competed in all six races, so he took the championship by a considerable distance.
The races
09 Nov 2014 > VHRR Historic Sandown at Sandown Park
30 Nov 2014 > HSRCA Tasman Trophy historic race meeting at Sydney Motorsport Park
18 Jan 2015 > Gulf Oil Howden Ganley F5000 Festival at Hampton Downs
25 Jan 2015 > Gulf Oil Howden Ganley F5000 Festival at Hampton Downs
07 Feb 2015 > Skope Classic at Ruapana Park
15 Feb 2015 > New Zealand Grand Prix at Manfeild
2014-2015 MSC New Zealand F5000 Tasman Cup Revival Series table
1
Steve Ross
McRae GM1 - Chevrolet V8
764 pts
2
Russell Greer
Lola T332 - Chevrolet V8
493 pts
3
Gregory Thornton
3.4-litre March 761/75A - Ford GAA V6
Surtees TS11 - Chevrolet V8
429 pts
4
Paul Zazryn
Lola T332 - Chevrolet V8
407 pts
5
David Banks
Talon MR1 - Chevrolet V8
402 pts
New cars
Four new cars appeared during the season: Geoff Munday's Elfin MR5B at Sandown Park, Peter Brennan's freshly rebuilt Lola T330, Philip Jewell's rarely-seen McKee Mk8 which ran at Sydney Motorsport Park, and Tony Roberts' recently imported McLaren M10A.
Most events
Including the four Australia Cup races in 2013/14, a total of 67 F5000 Tasman Revival events had taken place by the end of the 2014/15 season. The drivers who had taken part in the most were as follows.
| Driver | Events |
| --- | --- |
| Ian Clements | 48 |
| Aaron Burson | 48 |
| David Abbott | 43 |
| Stan Redmond | 42 |
| Ken Smith | 37 |