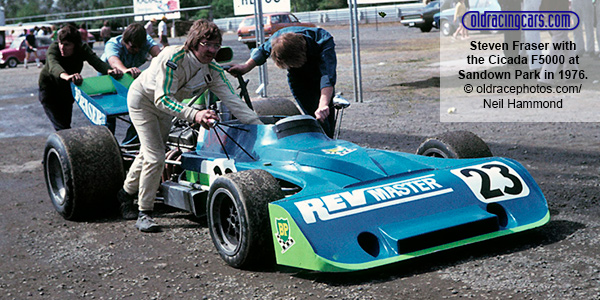 Rothmans International series 1976
Although no longer counting towards a combined Tasman Cup, the Australian Internationals followed straight on from January's New Zealand Internationals as usual and much of the field was the same, with top Australian drivers Bruce Allison, John McCormack, Max Stewart, Kevin Bartlett and Johnnie Walker joined by Kiwis Ken Smith and Graeme Lawrence. From further afield came Theodore Racing with a Lola T332 for Vern Schuppan, David Purley in a Lola T330 entered by Richard Oaten, and John Cannon with his March 73A/751 bitza from North America. By the third race at Sandown 20 cars were running in practice.
Lawrence and Allison were fastest at Oran Park but both went off when caught out by rain, then Cannon's March retired with waterlogged electrics, leaving Schuppan to win after a well-timed stop for wet tyres. Another wet race followed at Adelaide, where Purley led by two laps at one stage, having been the only person to start on wets, but he ran into the back of Terry Hook's Lola in the spray and was out. Smith then led, but was being caught by Schuppan at the rate of seven seconds a lap, only for Schuppan to have to pit twice to dry out the engine, leaving him just four seconds adrift of Smith at the flag.
Sandown was mercifully dry, and John Cannon led from start to finish, his competitors dropping out one after the other, Allison while he was in the process of overtaking him, to leave Schuppan in second. Both Cannon and Schuppan had engine problems in the closing laps but hung on to finish in that order. Australia's dreadful weather continued and after being postponed a week, the final race at Surfers was cancelled due to the continuous downpour. This confirmed Schuppan as champion, with Allison unlucky to come away with nothing more than two pole positions.
The races
01 Feb 1976 > Oran Park "100"
08 Feb 1976 > Adelaide '100' at Adelaide International Raceway
15 Feb 1976 > Sandown Park Cup
29 Feb 1976 > Surfers Paradise '100'
1976 Rothmans International Series table
1
Vern Schuppan
Lola T332 - Chevrolet V8
21 pts
1 win
2
Ken Smith
Lola T330 - Chevrolet V8
16 pts
1 win
3
John Cannon
March 73A/751 - Chevrolet V8
9 pts
1 win
4
Kevin Bartlett
Lola T400 - Chevrolet V8
8 pts
5
John Goss
Matich A51 - Repco Holden V8
6 pts
6
John Leffler
Lola T400 - Chevrolet V8
4 pts
7=
Terry Hook
Lola T332 - Chevrolet V8
3 pts
7=
Chris Milton
McLaren M18/M22 - Chevrolet V8
3 pts
9
Jon Davison
Matich A50 - Repco Holden V8
2 pts
10=
David Purley
Lola T330 - Chevrolet V8
Lola T400 - Chevrolet V8
1 pt
10=
John McCormack
Elfin MR6 - Repco Holden V8
1 pt
10=
Gil Cameron
McLaren M10B - Chevrolet V8
1 pt
Points table from Racing Cars News March 1976 p81.