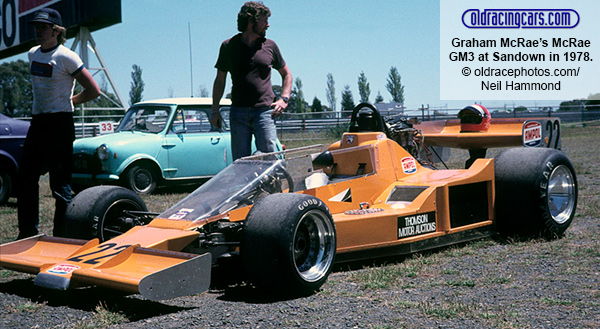 Rothmans International series 1978
The field for the 1978 Rothmans series was headed by three Australians returning home from successful overseas careers: Warwick Brown in VDS's 1977 Lola T333CS converted to T332 specification, Surtees F1 driver Vern Schuppan in one of the works Elfins and Grovewood Award winner Bruce Allison in his ex-VDS 1976 Chevron B37. Once again the series could boast few overseas "name" drivers to attract the fans. At the opening round, Brown won comfortably despite strong challenges from veteran Kiwi Graham McRae who set fastest lap in his late-1976 McRae GM3, and Alfredo Costanzo in the well-used ex-Brian McGuire 1974 Lola T332. Schuppan and Elfin teammate Garrie Cooper also went well in their 1976 Elfin MR8s, as did Canadian John Cannon in his 1973-1976 bitza March. Brown won again at Adelaide, but only after his engine began to smoke, allowing Schuppan and Johnnie Walker (Lola T332) to close up. McRae had a good run to fifth place, equalling Brown's fastest lap.
Allison led at Surfers Paradise until the Chevron's engine expired, after which Brown led, harried by John McCormack in his interesting Leyland-engined McLaren M23. The Leyland engine overheated, allowing Brown to seal the title with a third win and Schuppan to take another second place. Brown emphasised his dominance by leading the final race from start to finish although McCormack was again close behind until his engine failed him, a sadly common theme for the Australian-prepared F5000 racers. Allison took over second spot, and McRae again set fastest lap as he finished third.
The races
05 Feb 1978 > Sandown Park Cup
12 Feb 1978 > Adelaide '100' at Adelaide International Raceway
19 Feb 1978 > Surfers Paradise '100'
26 Feb 1978 > Oran Park "100"
1978 Rothmans International Series table
1
Warwick Brown
Lola T333/T332C - Chevrolet V8
36 pts
4 wins
2
Vern Schuppan
Elfin MR8B-C - Chevrolet V8
15 pts
3
Bruce Allison
Chevron B37- Chevrolet V8
9 pts
4
Johnnie Walker
Lola T332 - Chevrolet V8
8 pts
5=
Garrie Cooper
Elfin MR8-C - Chevrolet V8
6 pts
5=
Graham McRae
McRae GM3 - Chevrolet V8
6 pts
7=
John Cannon
March 73A/751 - Chevrolet V8
4 pts
7=
Don Breidenbach
Lola T332 - Chevrolet V8
4 pts
7=
John Goss
Matich A51/A53 - Repco Holden V8
4 pts
10=
Keith Holland
Lola T332 - Chevrolet V8
Chevron B24/B28 - Chevrolet V8
3 pts
10=
Alan Hamilton
Lola T430 - Chevrolet V8
3 pts
12
John David Briggs
Lola T332 - Chevrolet V8
2 pts
Previous: the 1977 Internationals
Points table from Autosport 2 Mar 1978 p7.