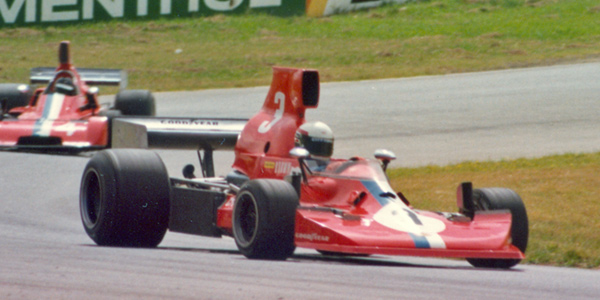 Rothmans International series 1977
Although F5000 was fast disappearing from the rest of the world, Australia attracted a strong field for the 1977 series. Team VDS arrived with a Lola T430 for Warwick Brown and a Chevron B37 for Peter Gethin, two of the three cars that VDS had run through 1976 in the US series. Theodore Racing returned with a nearly-new Lola T332C for Alan Jones and the local contingent was led by John Goss, in his Matich A51/A53, John McCormack's Leyland-engined McLaren M23, Vern Schuppan and Garrie Cooper in the new Elfin MR8s, and the older Lolas of Max Stewart, John Leffler and Kevin Bartlett.
Jones jumped the start at Oran Park and could not make up the minute penalty, so the Australian GP fell to the VDS pair of Brown and Gethin. Jones comprehensively wrecked the immaculate white Theodore Lola in practice at Surfers Paradise, and quickly arranged to hire Kevin Bartlett's much older T332 for the race. This left the VDS pair in control of the race, Brown leading the way in another 1-2. Theodore rushed a replacement Lola T332 out in time for Sandown Park, and Jones snatched the lead at the start in this, ahead of Gethin and Schuppan, but all three retired one-by-one leaving Max Stewart to take a surprise win. After so much disappointment, Jones' luck finally held at Adelaide, as he took pole position and then led from start to finish, lapping the entire field. Warwick Brown was second to secure the championship, with Goss doing well to split the VDS cars in third place.
The races
06 Feb 1977 > Australian Grand Prix at Oran Park
13 Feb 1977 > Surfers Paradise '100'
20 Feb 1977 > Sandown Park Cup
27 Feb 1977 > Adelaide '100' at Adelaide International Raceway
1977 Rothmans International Series table
1
Warwick Brown
Lola T430 - Chevrolet V8
24 pts
2 wins
2
Peter Gethin
Chevron B37 - Chevrolet V8
15 pts
3
Alan Jones
Lola T332C - Chevrolet V8
Lola T332 - Chevrolet V8
14 pts
1 win
4=
Max Stewart
Lola T400 - Chevrolet V8
11 pts
1 win
4=
John Goss
Matich A51/A53 - Repco Holden V8
11 pts
6=
Alfredo Costanzo
Lola T332 - Chevrolet V8
6 pts
6=
Garrie Cooper
Elfin MR8-C - Chevrolet V8
6 pts
8
John Leffler
Lola T400 - Chevrolet V8
4 pts
9=
Dave Powell
Matich A50/A51 - Repco Holden V8
3 pts
9=
John McCormack
McLaren M23 - Leyland P76 Repco V8
3 pts
Previous: the 1976 Internationals
Points table from Racing Car News March 1977 p64.
After the season, VDS sold both Lola T430s, the other having travelled out as a box of spares, to Alan Hamilton, and sold the Chevron B37 to Bruce Allison, who intended to take it to Britain for the Shellsport Group 8 championship. Jon Davison snapped up Alan Jones' Lola T332, and Chris Milton acquired Ken Smith's Lola T330 from New Zealand. John Goss, having used an updated A51-Repco for the Internationals, planned to use the Matich A53 fitted with a Ford V8 in the national series.