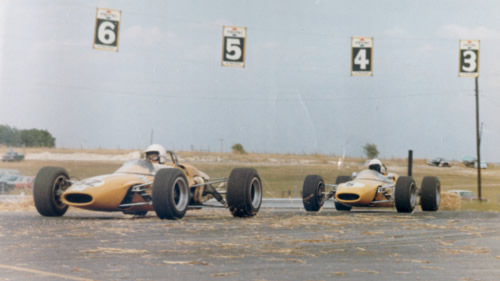 US Formula B 1967
1967 was Gus Hutchison's year, his team of yellow Lotus 41s sweeping the board in Southwest Division but also winning the new Continental Championship. Gus himself won four of the five Pro races, at Continental Divide, Bridgehampton, War Bonnet, to win the overall title.
The fifth race, at Mont-Tremblant was won by the Brabham BT21A of Fred Ashplant and it was two other BT21A pilots, Lou Sell and Mike Hiss, who provided Hutchison's most consistent competition. Peter Gethin was brought in as a ringer by Brabham importer Fred Opert and took pole at Mont-Tremblant but did not finish.
The only Formula A car to get close to the FBs was Al Pease's Eagle-Climax which qualified second to Gethin at Mont-Tremblant.
The races
14 May 1967 > Colorado Grand Prix at Continental Divide
20 May 1967 > Bridgehampton Continental Race
25 Jun 1967 > War Bonnet Continental Race
17 Sep 1967 > St Jovite Grand Prix at Mont-Tremblant
01 Oct 1967 > Lake Tahoe Continental Race
1967 SCCA Continental Championship for Formula B cars table
| | | | | |
| --- | --- | --- | --- | --- |
| 1 | Gus Hutchison | (Formula B) Lotus 41C - BRM-Ford twin-cam | 36 pts | 4 wins |
| 2= | Karl Knapp | (Formula B) LeGrand Mk 6 - Ford twin-cam | 12 pts | |
| 2= | Mike Hiss | (Formula B) Brabham BT21A - Ford twin-cam | 12 pts | |
| 2= | Lou Sell | (Formula B) Brabham BT21A - Ford twin-cam | 12 pts | |
| 5 | Bob McQueen | (Formula B) LeGrand Mk 3B - Ford twin-cam | 10 pts | |
| 6 | Fred Ashplant | (Formula B) Brabham BT21A - Ford twin-cam | 9 pts | 1 win |
| 7 | Mike Cronin | (Formula B) Lotus 22 - Ford twin-cam | 7 pts | |
| 8 | Harold Krech | (Formula B) Lotus 41C - BRM-Ford twin-cam | 6 pts | |
| 9 | Roger Barr | (Formula B) Crosslé 12F - Ford twin-cam | 4 pts | |
| 10= | Bill Gubelmann | (Formula B) Brabham BT18 - Ford twin-cam | 3 pts | |
| 10= | Peter W. Broeker | (Formula B) Stebro Mk 4 - Ford twin-cam | 3 pts | |
| 10= | Steve Griswold | (Formula B) LeGrand Mk 3B - Alfa Romeo GTA | 3 pts | |
| 13= | Chuck Dietrich | (Formula B) McLaren M4A - Ford twin-cam | 2 pts | |
| 13= | Barry Blackmore | (Formula B) Lotus 22 - Ford twin-cam | 2 pts | |
| 15= | Oliver Grant | (Formula B) Brabham BT18 - Ford twin-cam | 1 pt | |
| 15= | Harry Hester | (Formula B) LeGrand Mk 3B - Ford twin-cam | 1 pt | |
| 15= | Harry McIntosh | (Formula A) Brabham BT7 - Climax FWMV V8 | 1 pt | |
| 15= | Roy Grange | (Formula B) LeGrand Mk 3B - Ford twin-cam | 1 pt | |