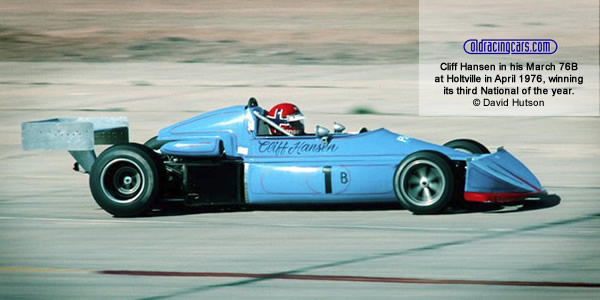 US Formula B 1976
Formula B, as the SCCA still called its category for Formula Atlantic cars, boomed in 1976, encouraged by IMSA's decision to run a Pro championship that season. Northeast Division saw the biggest change, with the two-year-old cars that had won in 1975 swept away by an influx of new March 76Bs, Chevron B34s and Lola T460s. In California, both divisions were won by 1976 equipment: Cliff Hansen in a March 76B in the south and Steve Jizmagian with a Lola T460 in the north.
Bill Kneeland won SEDiv in a 1975 Chevron B29, Robert Young won his third successive Midwest title in his 1975 Lola T360, John Kowalski took Central Division in a 1974 Lola T360, and the SWDiv title was shared by a couple of aged Brabhams.
At the Runoffs in October, the NEDiv rivals Ken Duclos and Bobby Brown were up against Jerry Hansen, who had a brand new Lola T460, Tom Pumpelly who had qualified in SEDiv despite spending the season with his March 76B in Pro racing, and Dorsey Schroeder, who had qualified in MWDiv in an old Brabham but had since bought a March 75B. These five were followed in qualifying by Caifornians Cliff Hansen, Dan Marvin and Dennis Firestone, but the champions of MWDiv, SWDiv, NorPac, CenDiv and SEDiv were all well down the grid. Jerry Hansen led from pole position but went off track, allowing Brown into a lead he held to the flag.