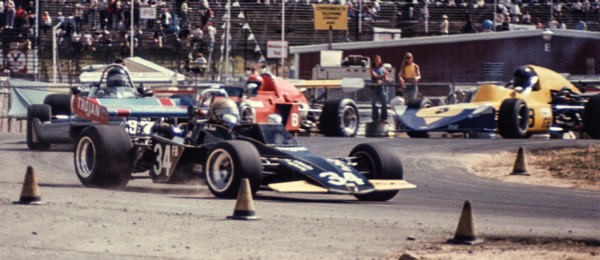 US Formula B 1974
The cancellation of the SCCA's Pro Formula B series after 1972 had been followed by the move by the Canadian series from SCCA Formula B rules to British Formula Atlantic rules for the 1974 season, leaving SCCA's amateur Formula B stuck in a rut of its own making. Many of the top American runners bought Formula Atlantic cars for the Canadian series that came with Ford BDA engines fitted, and few had the inclination to replace those with Ford twin cams so that they could compete in even the highest profile Formula B SCCA Nationals. Prominent defectors included Tom Klausler, second in Central Division in 1973, James King, second in Midwest Division, and Wink Bancroft, fourth in Southern Pacific. Faced with virtually no new cars being bought for Formula B in 1974, the SCCA threw in the towel and announced the the BDA would be legal for 1975, effectively adopting British Formula Atlantic rules.
USA Pro Formula B races
24 Aug 1974 > SCCA Formula Atlantic Race at Road America
22 Sep 1974 > Bahamas Grand Prix (PRRO event) at Waterford Hills
04 Oct 1974 > SCCA Formula Atlantic Race at Watkins Glen
The final all-twin-cam lineup competed in the end-of-season Runoffs in November. A 1-2-3 of Brabham BT40s was led by NEDiv champion Ken Duclos, from Central Division runner up Mike Hall, and NEDiv runner up Mike Rand, who had bought a BT40 to replace his wrecked regular-season Rondel M1. Central Division champion Chuck Dietrich could only finish fourth in his ex-F2 Brabham BT38, and a very impressive fifth was Dorsey Schroeder from Midwest Division in a 1971 Brabham BT35. None of the Californian runners made any impact, the highest left-coaster being Pat Walter's Elden.