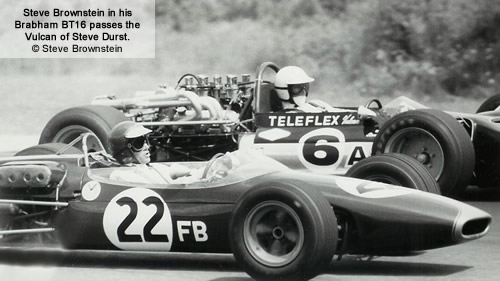 North East Division SCCA Formula B 1968
The influence of local dealer Fred Opert was being seen in the North East Division where 21 drivers scored points and 11 of them were driving Brabhams which were now flooding into the country via Opert's operation in New Jersey. Despite his customer base, Opert was trumped by two works-assisted teams finished first and second: Lotus agent Fred Stevenson won the title in a Lotus - a 20 according to Sports Car but actually the same 41C he had driven in the Pro series - and Roger Barr was second in his Crosslé, almost certainly a 12F.
Bill Gubelmann was a regular in the Pro series and had acquired a Formula B version of the successful BT23 Formula 2 car. Of the other Brabham drivers, Mike Hiss and Fred Ashplant were seen in the pro series in their BT21As, as were Carson Baird and Oliver Grant in older BT18s. Nick Craw, Bob Welch, Mike Hayman and Peter Goetz all had new BT21Cs but the Brabham of Bruce Kearsley is not yet known.
Peter Rehl converted his Cooper T88 from Formula C specification to FB during the season but it continued to be referred to as a Cooper-BRM. Two more Crosslés appeared further down the listing, driven by Bruce Klussman and George Faraghan. Both are believed to have been 12Fs.
Final standings
1.
WP Fred Stevenson
Lotus '20' [41C]
New England
45 pts

2.
Roger Barr
Crosslé 12F
Washington DC
36 pts

†

3.
Bill Gubelmann
Brabham [BT23F]
New York
27 pts

†

4.
Peter Rehl
Cooper-BRM [T88]
New England
24 pts

†

5.
Mike Hiss
Brabham [BT21A]
Washington DC
21 pts

†

6.
Carson Baird
Brabham [BT16]
Washington DC
15 pts

7.
Bob Welch
Brabham [BT21C]
Washington DC
15 pts

8.
Fred Ashplant
Brabham [BT21A]
NNJ
10 pts

9.
Mike Hayman
Brabham [BT21C]
Washington DC
9 pts

10.
John F. Sirmons
Lotus 22
New England
8 pts

11.
Howard Brown
Russell Alexis
Philadelphia
7 pts

12.
Steve Brownstein
Brabham [BT16]
New York
5 pts

13.
Nick Craw
Brabham [BT21C]
Washington DC
4 pts

†

14.
Bruce Kearsley
Brabham
New England
4 pts

15.
Oliver Grant
Brabham [BT18]
Old Dominion
3 pts

16.
Bruce Klussmann
Crosslé
Steel Cities
3 pts

17.
Don Burris
Cooper
Philadelphia
2 pts

18.
George Faraghan
Crosslé [12F]
Philadelphia
2 pts

19.
Don Campbell
Merlyn
Washington DC
1 pt

20.
Victor Franzese
Lola T63
Glen
1 pt

21.
Peter N Goetz
Brabham [BT21C]
Blue Mntn
1 pt
† Indicates total includes points earned out of home division.
1968 Schedule
| | | |
| --- | --- | --- |
| 07 Apr 1968 | Marlboro Motor Speedway | Washington Region |
| 21 Apr 1968 | Virginia International Raceway | North Carolina Region |
| 12 May 1968 | Cumberland Airfield | Steel Cities Region |
| 19 May 1968 | Bridgehampton | New York Region |
| 09 Jun 1968 | Thompson Speedway | New England Region |
| 06 Jul 1968 | Lime Rock | Northern New Jersey Region |
| 20 Jul 1968 | Lime Rock | Mohawk Hudson Region |
| 28 Jul 1968 | Nelson Ledges | Steel Cities Region |
| 11 Aug 1968 | Watkins Glen | Glen Region |
| 01 Sep 1968 | Bryar Motorsport Park | New England Region |
| 22 Sep 1968 | Marlboro Motor Speedway | Washington Region |
This points table above appears in Sports Car magazine which lists the Nationals included as Marlboro, VIR, Cumberland, Bridgehampton (both halves), Thompson, Lime Rock (NNJ), Lime Rock (Mohawk-Hudson), SCIR, Watkins Glen, Bryar and Marlboro. The first Marlboro was The Governors Cup; Cumberland would have been the Annual Cumberland Sports Car Races; Watkins Glen had SCCA Nationals supporting a Trans-Am race; and the second Marlboro was The Marlboro National Championships.
Northeast Division sources
Most of our knowledge of NEDiv racing comes from the SCCA's Sports Car magazine and from Competition Press & Autoweek. We are very keen to acquire or borrow 1960s, 1970s and 1980s copies of SCCA regional publications from this Division. These include:
Pit Talk (New England Region) - full archive available at pittalk.org
The Drift (Steel Cities Region)
Knock Off (Mohawk Hudson Region) - full archive available at mohud-scca.org
Regional Review (New York Region)
Spark Plug (Glen Region)
The Bulletin (North Carolina Region - full archive available at ncrscca.com.
The Spokesmen (Philadelphia Region)
The Straightpipe (Washington DC Region)
Top End Magazine (Finger Lakes Region)
Three regionals have scanned all copies of their newsletters and made them available online: New England Region's 'Pit Talk', Mohawk Hudson Region's 'Knock Off', and North Carolina Region's 'The Bulletin'.
Additionally, Racing Magazine was published as a Lime Rock track magazine.
We are also keen to get scans of entry lists from SCCA Nationals in this Division.